File information
Created by
Tinuvia and Myrmarachne
About this mod
Child of Atom themed power armor, 3 custom sets and a t45 paint job. Unique versions with custom rad enchantment added to the world and regular versions script-injected to vanilla CoA npc leveled lists from level 50+. ESL-flagged ESP.
Requirements

Permissions and credits

Translations

Mirrors

Changelogs

Donations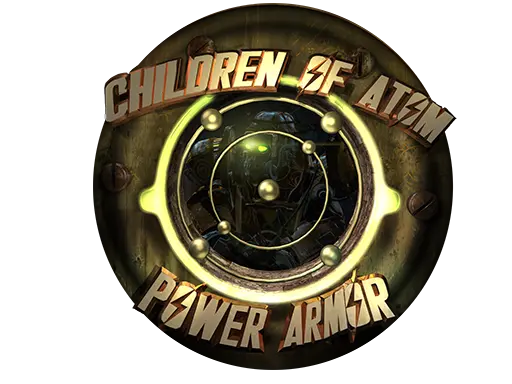 Requires Far Harbor DLC and Fallout 4 version 1.10.162 or later.
3 CoA themed Power Armor
1 paint job for the t45
Can be upgraded with linings, material and misc mods.
Separated from the
Sim Settlements Atom's Glory Liberator Faction Pack
.
Support for
Canary Save File monitor
if you have it installed.
If you use the PA overhaul
Some Assembly Required
, get the
patch
generously provided by Lonewanderer345.
How to start the mod
Expose yourself to a LOT of rads.

Unique armor sets
If you accept, three sets of armor with unique enchantments will be made available to you and the regular versions will be injected to vanilla CoA npcs leveled lists (level 50+).
Augur of Ashes: increases charisma the higher your rads
Bane of Bones: increases endurance the higher your rads
Rising Redeemer: increases perception the higher your rads
If you decline there will only be a script injection of the armor into the CoA npc leveled lists. 
Custom Rad-themed upgradesReworked Misc:
Tesla Coils --> Gamma Coils, deals rad damage instead of energy damage to nearby enemies
Tesla Bracers --> Gamma Bracers, adds rad damage instead of energy damage to unarmed attacks
Rad Scrubbers --> Inner Focus, fortifies crits by 10%
new Misc: "Atom's Ally", that adds the player to the CoA faction when using the Power Armor (adding it to one arm is enough to get the effect). If you enter the PA with already hostile CoA npcs in the area, they will still be aggressive.
new Misc: "Atom's Devoted", that has the same effect as the clothing item - where the radiation resistance increases as the wearer becomes more irradiated.
Reworked Materials:
Military --> Molecular (adds Strength)
Minutemen/Vault --> Orbital (adds Charisma)
Lead painted --> Organic Coating (Increases Poison Resistance)
CompatibilityCredits
Controller script from
Bethesda Mod School
series by kinggath
Outfit studio
by Ousnius
Nifskope
by jonwd7 etc
FO4Edit
by Elminster etc
Showcase of the mod by
DiscoGnome
,
Ace Antics
 and
Degenerate Dak
. Thank you!