File information
Created by
Magicockerel
About this mod
Highlight the reference that you've selected using the console in the color of your choice.
Requirements

Permissions and credits

Changelogs
Features
The FOMOD installer gives you the option to highlight the reference that you currently have selected using the console in a variety of different colours and transparencies. Specifically, these colours are:
Black
Blue
Cyan
Green
Magenta
Red
White
Yellow
All this mod does is change the
iConsoleSelectedRefColor
INI setting using an empty light-plugin, so as to not contribute to your load order. Therefore, you can easily add this setting to your Fallout4Custom.INI yourself instead of installing this mod, like so:
[Menu]
iCjavascript-event-stripped 0xAABBGGRR

The colour is written in a
hexadecimal format
, where:
AA: Alpha
BB: Blue
GG: Green
RR: Red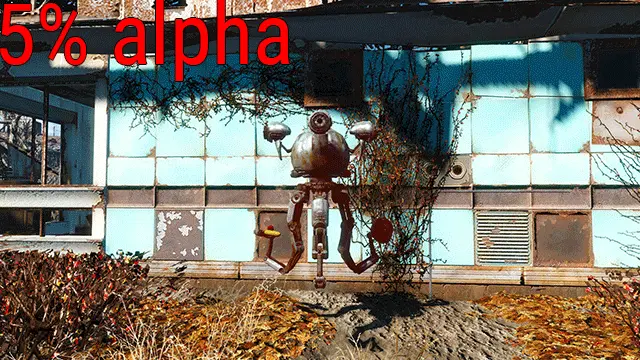 The console reference will remain highlighted for as long as it is selected, even when the console is closed. If you do not already have a Fallout4Custom.INI, or the setting itself, then you can go ahead and create them yourself.
To make things easy, all you have to do is use the FOMOD installer to pick the colour and transparency that you like, and then copy over the settings to your Fallout4Custom.INI. Once you've done that, you no longer need this mod. That is, unless you want to change your settings later.
Requirements
Fallout 4 version 1.10.162+
This requirement is only for the empty light-plugin that is used to apply the INI setting. Earlier versions of the game do support the INI setting itself, if you wish to manually add it to your Fallout4Custom.INI.
Credits