Go straight from Vault 111 to Fort Hagen to accelerate the main quest. Another SKK scripted bypass to skip the same old main quest act 1 grind, unlocking Diamond City, Vault 114 and Fort Hagen along with Codsworth, Piper and Valentine. Try killing Kellogg at level 2 ... 

"Endorsed, thanks a ton for doing this. Works exactly as advertised on the tin" steamcanuck
If you start new games to do different stuff in the Fallout 4 world and can't face the same old main quest scenes, or just want non-linear choice, this will bypass a significant chunk without affecting any other quests you may or may not want to do. That includes the rest of the main quest line with fragile Dangerous Minds, all working.
Player visible quests affected:


>  Jewel of the Commonwealth (MQ103) completed and closed.
>  Story of the Century (FFDiamondCity07) completed and closed.
>  Unlikely Valentine (MQ104) completed and closed.
>  Getting a Clue (MQ105) completed and closed.
>  Reunions (MQ106) active in the quest log with map marker.
>  Detective case side quests primed in Valentines office. 
Companions affected:


>  Piper is in Publik Occurrences ready to be a companion.
>  Nick is in Valentines Detective agency ready to be a companion.
>  Dogmeat is wherever you left him (not running to, or loafing at Hagen). 
>  Codsworth is wherever you left him ready to be a companion.
Worldspace affected:

>  Diamond City gate will open for you, fast travel map marker enabled.
>  Kellogg house is unlocked, player has key.
>  V114 sewer access is open, fast travel map marker enabled.
>  V114 vault gear door is closed, open animation is primed to play.
>  Fort Hagen command center is unlocked, fast travel map marker enabled.
> No hostile NPCs were harmed during the production of this mod, that's something you still need to do for yourself. Remember: trousers before shoes.
User guide  (RTFM)
This Fast Reunions mod must be enabled before you visit Diamond City or Vault 114, otherwise you will be notified that the state of your save game world is too complex for the mod to run. For a quick do-over use 
SKK FastStart
 to start a new game less than 3 minutes and this mod will run fine.
This mod will automatically run anytime after you exit Vault 111, completing in around 10  seconds with a message:
[ SKK Fast Reunions has unlocked Diamond ]
[ City, Vault 114 and Fort Hagen.                    ]
If you want to disable the mod for any reason, to allow a graceful shutdown with a notification message, you must either:
(A) Visit the Diamond City entrance so the gate animation can clear (there is a misc quest marker reminder), and;
(B) If you don't want to ever that door, and have access to the PC console [ cqf skk_fr "SKK_FastReunionsMainScript.ShutDown" ] 
[ SKK Fast Reunions mod has completed ]

Compatibility
The mod has no dependencies on extenders or DLCs and does not change any existing base game scripts, assets or objects. Yes that's right, no hacked base game scripts infecting your system. Wow!  As with 98% of SKK mods, its 100% pure new Creation Kit forms and intervention scripts. This means that it has no load order dependency and can be safely disabled once the door animation states meet your needs.
If you have a significant load order there can be a massive bottleneck of mod processing activity at Vault exit (MQ102 Stage 10/15) causing mods to block each other. Put SKK Fast* bypass mod at the top of your load order so they get processing priority to complete: SKK FastStart; SKK FastReunions; SKK FastStartSettlements.
If you have mods that already mess with the base game configuration using hacked scripts, quests, locations or companions covered by this mod, there are likely to be issues. Please do not try and use this mod, I don't know what issues as I don't touch invasive mods. 
Known Issues

(1) You may have to initiate dialogue several times with Nick, Piper or Dogmeat to clear out idle comments and crotch sniffs before they offer companionship option.
(2)  No XP is awarded for the auto-completed quests, and they are not logged in the PipBoy, as the sequential quest start and complete messages take far too long to display (8 real minutes back:back). This solution does not support bizarre desires like wanting to bypass the main quest grind, yet still have them all neatly logged. Go earn them the hard way. Again.
(3) Amazing Follower Tweaks (AFT) and this mod clash on enabling Dogmeat as a companion. If you want to run both, it is unlikely you can have dog as a companion. 
FAQ
> Can I run this back to back with SKK Fast Start new game ? Yes.
> Can I run this before or after the BOS arrives early with SKK Fast BOS ? Yes.
> Can I run this to collect the Kellogg CerialKiller companion ? Yes totally, one of the reasons for publishing this is to make Companion Kellogg more accessible for bad deeds and OverBossNess.
> Why is there no ESL version ? Because life already contains sufficient hassle. 
> Why is this not part of SKK FastStart ? Because it works with vault exit savegames as well, and I like choice. If this is successful I may merge all SKK Fast* units into a single mod.
> What about the coffee cups ? The in game coffee cup count is not affected.
Bethesda.net users:
 Disregard PC manual install, removal and console sections. I use this same description text on nexusmods.com and bethesda.net for PC & XBOX as I CBA to maintain multiple edits. 
Nexus PC manual download installation:
 Copy SKKFastReunions.esp and  SKKFastReunions – Main.BA2 to your...\Fallout 4\Data directory, enable in the Bethesda mod menu, mod manger or whatever.   
Nexus PC manual removal:
 is the reverse, as long as the shutdown conditions are met. Only remove mods if you are happy to accept potential conflicts from load order changes in a save game.  
*** THANK YOU FOR HELPING RATE THIS A NEXUS HOT MOD ***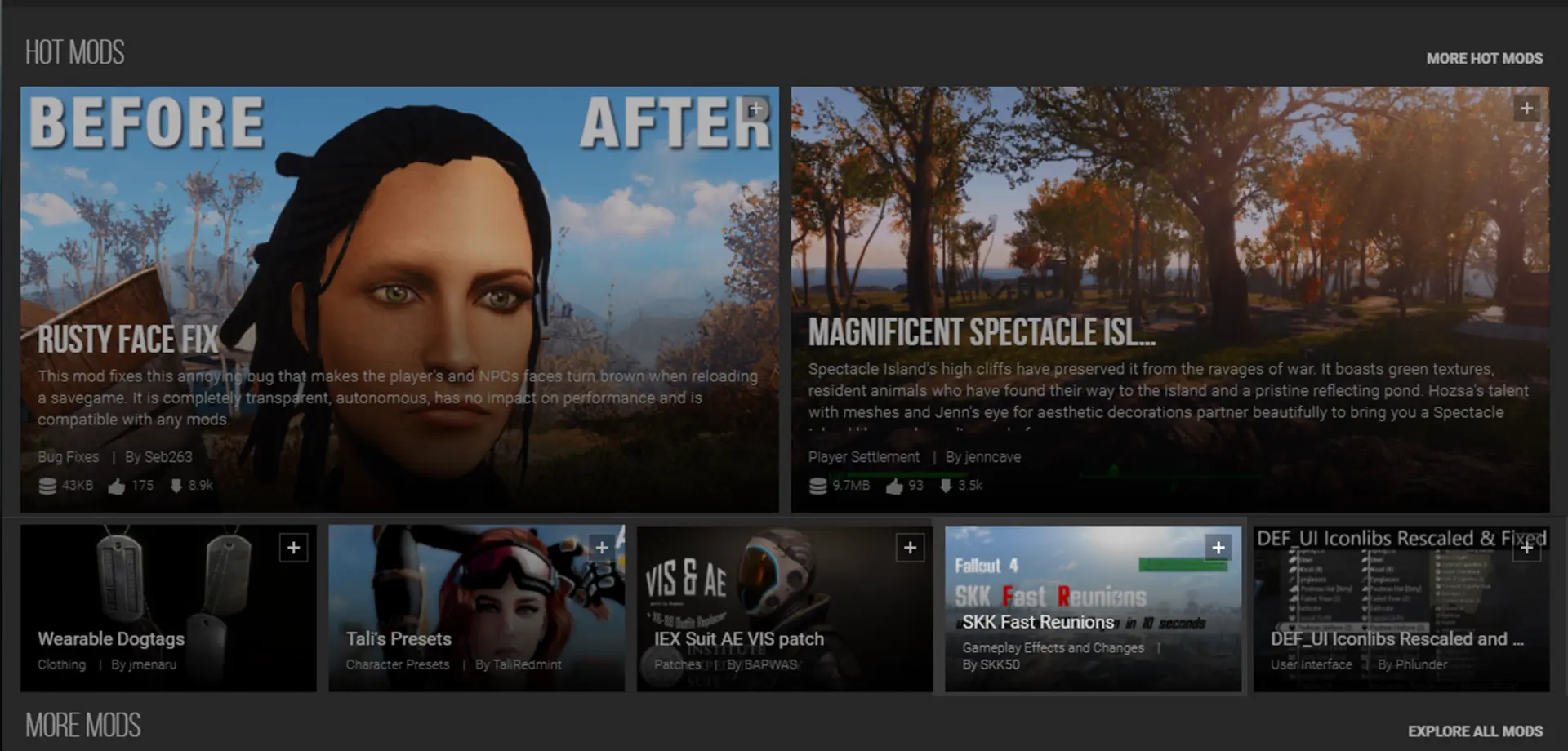 Platforms:

PC nexusmods.com or bethesda.net
XBOX bethesda.net
PlayStation® can not be supported due to Sony Corp. scripted content restrictions.