File information
Created by
Recluse
About this mod
From the Co-Creator of Fusion City Rising and Outcasts & Remnants comes a Completely New Adventure...

10 Connected Quests, Unique Rewards, Custom Player Home, Lore-Friendly Backstory, Lots of Explosions, and a Twist.
Requirements

Permissions and credits

Translations

Donations
"...it will blow your f**king mind, and then it will blow your f**king Commonwealth,
and then it will blow your d*ck off because of how amazing of a mod it was."
- 
MxR
 Review of 50 Ways to Die at Dr. Nick's
From the Co-Creator of
Fusion City Rising
and
Outcasts & Remnants

Comes a Completely New Adventure...
Short Release Trailer (1:36)Recommended for Player Characters level 30 or above

ATTENTION YouTubers: All Music used in this mod is Copyright and Royalty Free - Links Are in the Credits Section
Updates
:
08-20-2017: Update v.0.99c - Numerous small tweaks for better playability - No problem with current saves when updating from v.0.99b
What This Mod Features
:
10 Interconnected Quests
Around 5 Hours or so of New Gameplay
Multiple Custom Bosses
Unique Rewards - Including a working Auto-Doc that you can build in your settlements
Many Brand New Craftable Ingestibles
Detailed Custom Player Home that you can send your Companions to
Explosions. Yes, lots of explosions
Detailed Lore Friendly Backstory
And what I hope is an interesting story with a fun twist
What This Mod Requires
:
No DLC or other mods are technically required, however, 
CBBE
 is highly recommended for some of the custom armors to look right.
How to Start the Quests
:
The first quest in the series will automatically start when you load your game, and a second quest will be immediately available by talking to Dr. Nick. The remaining quests will unlock or will autostart as you progress through the initial puzzle/mystery quest at Dr. Nick's.
Possibly Helpful Articles
:
Installation
:
This mod uses and includes assets, with permission, from several other mods. When installing, you may be asked whether you want to overwrite these assets. The best choice is "
NO TO ALL
"
Important Notes:
The Custom Music adds tremendously to the atmosphere and experience, so it's highly recommended to keep the music on.
Advancing the Puzzle/Mystery quest isn't very difficult if you pay attention to the provided clues and observe the contents of Dr. Nick's place.
You WILL need to know one thing: Workbenches can be looted without activating them if you select the "Transfer" option.
Be prepared to die a few times at the beginning of the Puzzle/Mystery quest, though. Saving your progress is a good idea.
Using the AutoSave Button (Cerebral Recorder) placed just inside Dr. Nick's entrance is recommended for those playing on Survival difficulty.
It's best to start and complete the vanilla quest Synth Retention either before or after playing the quests in this mod, not during.
Using God Mode while playing this mod WILL cause problems that require loading a previous save. Don't use God Mode.

Only click on this if you want complete spoilers for the puzzle quest.
Hey, We made #1 on the Hot Files!!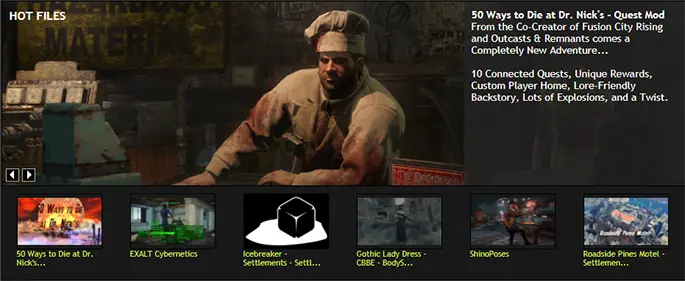 Huge Thanks to Everyone for the kind Comments, Endorsements, Votes and generous Donations.
I appreciate the support and I'm glad you're enjoying the mod.
AlChestBreach
plays 50 Ways to Die at Dr. Nick's - Thanks Al!
MxR
 Reviews 50 Ways to Die at Dr. Nick's - Starting at 6:16 - WARNING: SPOILERS
Thanks 
MxR
 for the Stellar Review!
Known Issues
:
Performance
:
Compatibility
:
FAQ
:
Credits
: (Possible Spoilers)
For a number of reasons, this mod will NOT be available for console on Bethesda.net, so please stop asking.