||| Newsflash |||

25.03.18 ||
The Slog
- release
13.03.18 ||
Croup Manor
- release
06.12.17 ||
Sanctuary Hills
 - release
19.09.17 ||
The Castle
- release of 2 performance-friendlier versions
14.09.17 ||
Coastal Cottage
- release
13.09.17 ||
Outpost Zimonja
- release


||| Greentop Nursery |||

An ancient greenhouse next to a rotten villa, thats what most people were thinking about Greentop Nursery. Besides its two original inhabitants, no one wanted to invest time in a location without defences and only few options to trade around.
That´s until the MinuteMen came along: By fortifying Greentop, they not only left their stamp, but also encouraged further development by attracting more settlers. In it´s current state, the village is one of the Big 5 that stabilize the entire trade network, connecting Sanctuary, County Crossing and Far Harbour. Moreover Greentop Nursery supplies the Starlight Facility with additional food and offers the most advanced clinic in the north-eastern region of Boston.
Greentop Nursery in Details
||| Installation |||
If you want to test the blueprint and save time - you can download the provided savegame instead.
||| space2jump |||
My general goal is to deliver high quality content. That means I invest a high portion of my leisure time into this project. For that reason any endorsement is highly appreciated.
If you consider supporting me financially, you can donate directly to my paypal account.
If you have need help, have improvements in mind or want to address critique, feel free to use ´comments` section.
++My Blueprints++||| Credits |||

Personal thanks to the two people who supported me financially and thus encoruaged me to get this done.
Further thanks to
CDANTE
, who is the author of Transfer Settlements. A great mod by a competent and helpful modder. In addition, thanks to:
¯¯¯¯¯¯¯¯¯¯¯¯¯¯¯¯¯¯¯¯¯¯¯¯¯¯¯¯¯¯¯¯¯¯¯¯¯¯¯¯¯¯¯¯¯¯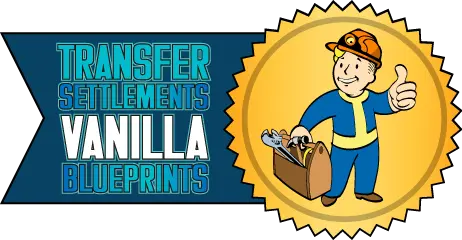 Making your Transfer Settlements experience easier!
Blueprints with this badge are confirmed Vanilla Blueprints which were built using
only
settlement objects from the main game and official DLC.  
No settlement objects from 3rd-party mods or the Creation Club are used in these blueprints.
F4SE
,
HUD Framework
, and
Transfer Settlements
are the only mods required to use them.  
Check out the confirmed Vanilla Blueprints by the following builders:
Blueprint creators who display this badge are part of the Vanilla Settlement Blueprints Association, a group of creators who offer
high-quality
and
mod-free
settlement blueprints. This group does not burden users by forcing them to track down and install endless mods in order to import a blueprint.
______________________________________________