About this mod
Castle walls need fixing? Have I got the blueprint for you.
Requirements

Permissions and credits
Probably the biggest and most difficult build I've done in Fallout 4 so far. Yes, the walls are fixed.
Before You Install


This takes up slot #4 of Transfer Settlements so if you already have a blueprint there back it up first before installing this. 
Required Mods

Transfer Settlements


Now With Wiring!... Mostly.

Thanks to the awesome work cdante has done on Transfer Settlements it's now possible to simply import the blueprint and have it work immediately. The only exception is the little shed where the Minuteman radio announcer does his show - you'll have to do a few seconds of work there but that's about it.


If You Encounter Crashing

If you have the problem where the game crashes if you try interacting with some of the settlement objects or can't assign settlers to jobs it means the game is still adjusting to the new blueprint. To fix this, travel as FAR away from the settlement as possible, save, load, and wait or sleep for 4 in-game days then save and load again. Once you've done that your new settlement should be in working condition.


A Small Warning

This settlement goes way beyond the normal build limit and even though I'm not getting any major performance problems for it folks with more modest rigs should be careful. If you do get problems just remove parts of the settlement you can live without.



¯¯¯¯¯¯¯¯¯¯¯¯¯¯¯¯¯¯¯¯¯¯¯¯¯¯¯¯¯¯¯¯¯¯¯¯¯¯¯¯¯¯¯¯¯¯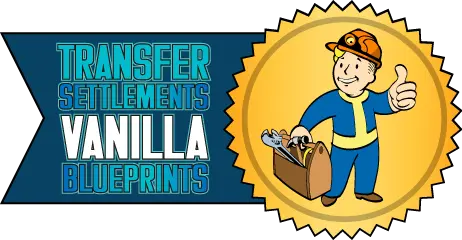 Making your Transfer Settlements experience easier!
Blueprints with this badge are confirmed Vanilla Blueprints which were built using
only
settlement objects from the main game and official DLC.
No settlement objects from 3rd-party mods or the Creation Club are used in these blueprints.
F4SE
,
HUD Framework
, and
Transfer Settlements
are the only mods required to use them.
Check out the confirmed Vanilla Blueprints by the following builders:
Blueprint creators who display this badge are part of the Vanilla Settlement Blueprints Association, a group of creators who offer
high-quality
and
mod-free
settlement blueprints. This group does not burden users by forcing them to track down and install endless mods in order to import a blueprint.
______________________________________________