File information
Created by
Deserter X - Mitosuke
About this mod
Will you be the one to fulfill the widow's last wish?
Requirements

Permissions and credits

Translations

Spanish
Russian
Portuguese
Polish
Mandarin
German

Changelogs

Donations

Wildwood cemetery hides a long forgotten treasure.
One of the graves has a sad story buried with in.
Will you be the one to fulfill the widow's last wish?
- A great backstory written by
Mitosuke
- Open world
loot location
- New Armor and Hood
- Works with every body type
- Male version available
here
- Pipboy re-texture
- Widow Shotgun re-texture
(many thanks to Corvalho for allowing me to
color match this awesome weapon with the armor)
- The ability to change between the
normal
world and the
underworld
to detect the souls of your enemies.
Reduces the resistances of those whose souls are exposed. Visit the armor workbench to enable it.
(affects humans, ghouls and super mutants)
- Different 1st and 3rd person view of the world with transition sound
- Fully customize-able armor and hood (at armor workbench)
- Ballistic Weave that doesn't require the railroad affinity
- Coat physics (not perfect but still ...)
- A badass look!
Check out MxR's episode for the showcase
and other awesome mods as always!
Thank you! :D

If for any reason you can't find the loot location in the cemetery type
help "black widow" 4
in console to see the id numbers.
Known issue:
When sitting the coat defies the laws of gravity.
Can't do much about it. There are very few polygons
to work with in this mesh and I can't make it both
work when standing and when sitting.
To enable modding you need to add the following lines to FO4 ini files:
Fallout4Prefs.ini
[Launcher]
bEnableFileSelection=1
Fallout4Custom.ini 
[Archive]
bInvalidateOlderFiles=1
sResourceDataDirsFinal=

Weapon
The Widow Shotgun by Corvalho
Weapon on the back 
Just Visible Holstered Weapons by friffy

Boot and leg accessories original meshes:
Rogue Outfit - CBBE by Alecu - Elianora
and
UNP Rogue Armor HD by Alecu
Bodysuit mesh:
Caliente's Beautiful Bodies Enhancer -CBBE- by Caliente and Ousnius
Widow Shotgun:
The Widow Shotgun by Corvalho
Dragonporn for the awesome screenshot!
B.A.E. - Bethesda Archive Extractor by Jonwd7
FO4Edit PreRelease Alpha by ElminsterAU
Material Editor by Ousnius
Outfit Studio by Ousnius
Intel® Texture Works Plugin for Photoshop
Many thanks to
Bethesda that made all this possible.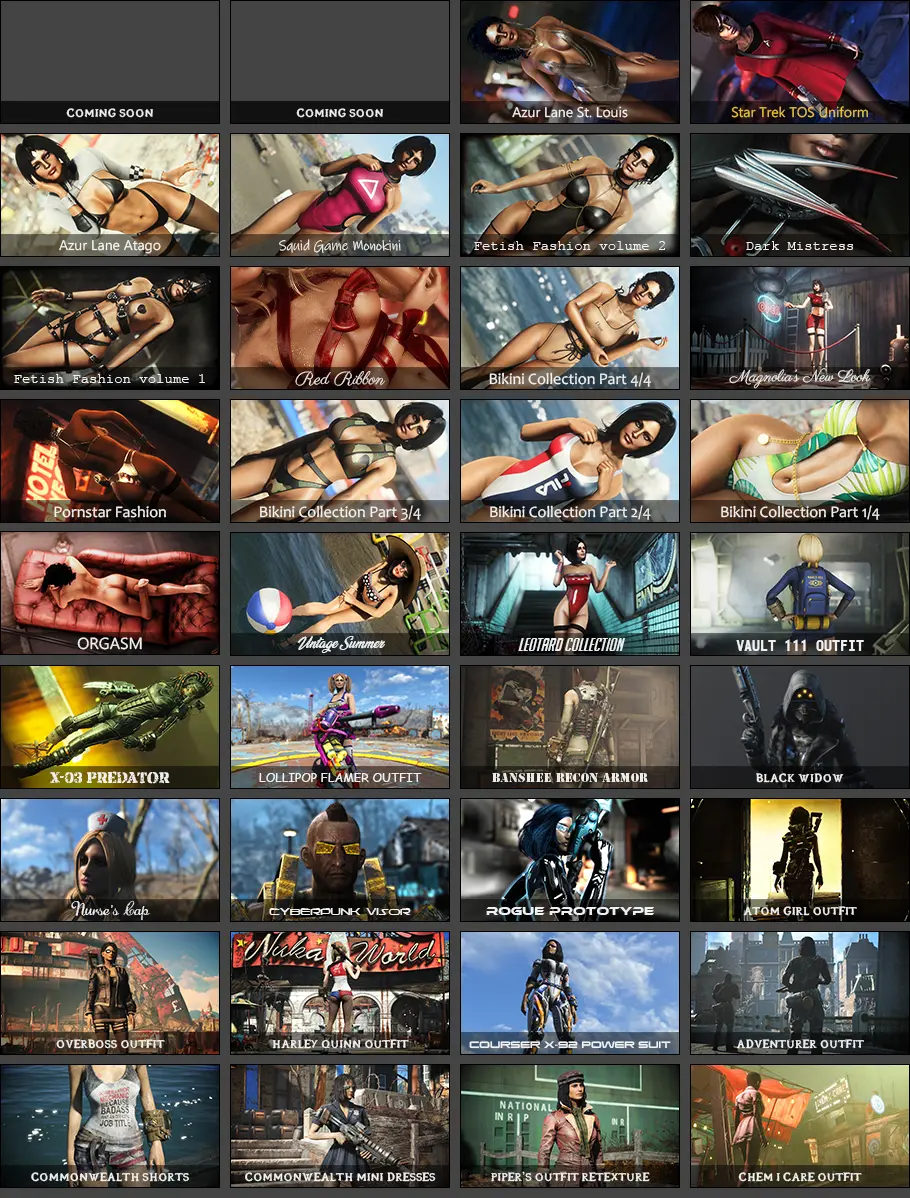 You can find our Skyrim SE mods 
here
.