Vortex 1.6 was released into the wild a few days ago, shipping with the latest batch of new features, UI improvements and a boatload of bug fixes. Here's a rundown of what's new in the latest version.





Dashboard improvements

In the previous version of Vortex, it was a bit too easy to accidentally mess up your dashboard layout by clicking and dragging in the wrong place or dismissing a dashlet. We've remedied this by adding a dedicated "Customise my dashboard" button in the top-right of the screen. While in edit mode dashlets can be repositioned, resized and toggled to your heart's content. Clicking "Done" will lock everything in place so you can get back to modding your game.





Streamlined Tools dashlet

The "Starter" dashlet has been replaced with a new Tools dashlet. This allows you to re-order your tools using drag and drop, set and unset primary tools easier and add the detected tools to the title bar in Vortex so it can be accessed from any page. If no tool is set as primary Vortex will start the game itself when clicking the top-left play button.





New tutorial videos

Written documentation is great, but we also know that many of you would prefer to watch a video instead. With that in mind, we've been working hard on producing more video-based tutorial content for Vortex. The latest round of videos focuses on getting started with Vortex, covering everything from managing a game to downloading your first mod. These videos have been added to the dashboard for easy access and can be marked off as complete as you go through them.




We've had a lot of positive comments on YouTube since releasing these and we'd love to know which areas of Vortex you'd most like to see videos for so we can prioritise future tutorials.


Simplified Games page

When looking through the feedback sent in by you all there were quite a few users who struggled with managing their games. They found the "Scan" feature a bit confusing and didn't really know what to do if Vortex was not able to auto-detect the game.

To streamline the process, the scan feature has been removed from the UI and will run automatically in the background when you select a game. Now it's as simple as searching for the game and clicking on the tile to manage it. Vortex will then guide you through any extra steps such as downloading an extension or manually defining the installation folder.


Batch reinstall actions

Reinstalling mods en-masse doesn't have to be hard work anymore. We've made it so that when you reinstall multiple mods at once you can choose to replace the existing entry or install a variant for everything rather than making the decision on a per-mod basis (you can still do it per-mod if you prefer though). This should drastically improve the workflow for users who like to reinstall ALL THE THINGS!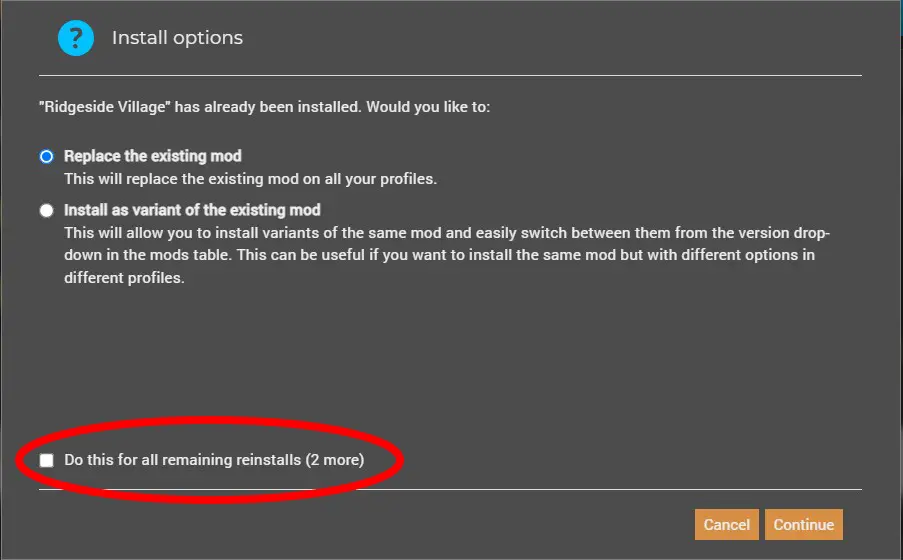 Collections - Binary patching

One of the features that many curators really wanted for their collection was the ability to preserve small edits to files in their collection so that the users don't need to follow a laundry list of instructions at the end of the installation process. This can be super handy to mark plugins as light, adjust settings or optimise problematic assets. Vortex now features an option to save these edits as a binary patch and apply it automatically for the user during installation. You can read the documentation for this feature here.


Safer mod installs

Vortex now features an updated security sandbox for mod installations to protect your PC against potentially malicious mod installers. This means that any mod installer that runs a custom C# script will be blocked from accessing areas of your system that are outside of the scope of a mod installation. This mostly applies to older mods for Fallout 3, New Vegas or Skyrim (2011) but the FOMOD format is still in use today.

This change has also allowed us to upgrade to .NET 6 (from the older .NET Framework). Vortex will prompt you to install if it's missing or corrupted on your machine. We have a pinned thread in the Vortex Support forum for anyone having a problem with this installation.


And more…

These changes weren't big enough to write a whole section about but are still worth noting:


The built-in Knowledge Base now points to Modding.wiki instead of the old Nexus Mods Wiki.
Game version detection has been improved for many games.
Themes can now import custom fonts and images.
Optimised Blade & Sorcery support for U11 (the version number going from 10.0.0 to 0.11.0 caused some technical issues related to version checks)
Improved the detection of Stardew Valley mods creating new files while the game is running.
50 new games have been added since January (200+ total!) including Spider-Man Remastered, the Yakuza series, Elden Ring and Ready or Not.
The Cyberpunk 2077 extension has been taken over by a new team and is getting even better with each update.
We're currently supporting the BUTR team as they look to improve upon the existing Bannerlord extension.


What's next?

We're starting to plot out the roadmap for Vortex into 1.7 and beyond. This is all subject to change based on the needs of the community, but here are some of the notable entries:


Recently we ran a survey across the site, Discord, Reddit and Vortex itself for Stardew Valley players to give feedback on what they liked and didn't like about the support for the game. We'll be making some updates based on this feedback in the coming months.
We're working with GOG to improve the modding experience with Vortex and GOG games.
There will be a focus on improving the way instructions from the curator are displayed to the user before, during and after a collection installation.
We've entered the early planning stages for Vortex 2.0 which will focus on overhauling the UI/UX of the app to be more streamlined.
Once we reach the full release of Collections, one of our next big projects is to overhaul mod pages and mod metadata, which will include significant updates to Vortex. 

Thank you all for sending in your feedback to help us make Vortex even better! If you need some help using Vortex please check out the support forum or join us on Discord.