File information
Created by
Vonum
About this mod
A graphical enhancement ReShade preset for the Witcher 3 game. Check it out!
Permissions and credits

Changelogs

Donations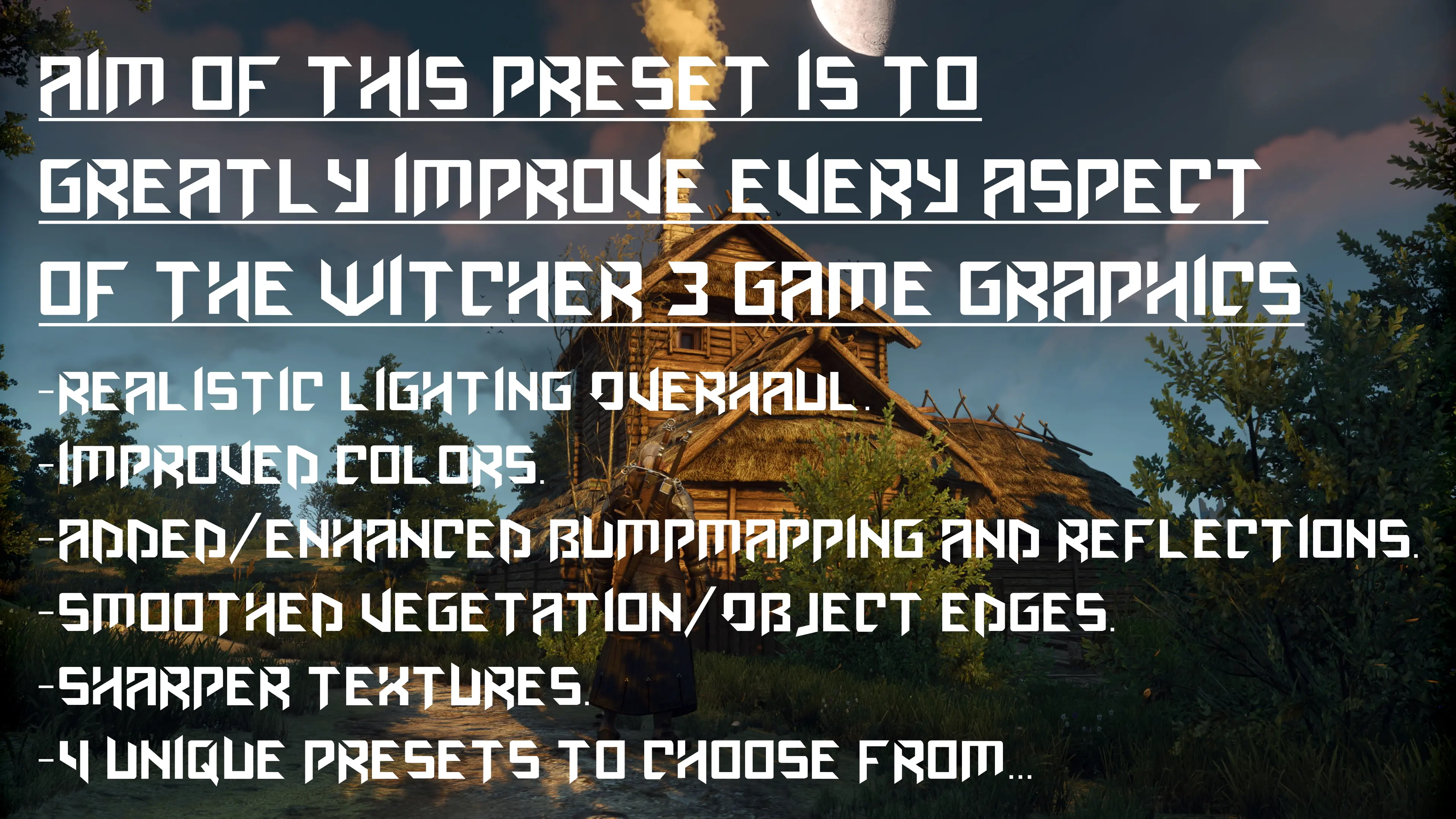 2.1 Version contains:
5 Unique atmosphere presets.

[Original,Natural,Cinema,Witcher 2 Edition,Medival]

Optional presets adjusted for other lighting mods.

[Phoenix Ultimate 7.0,Serenity Lighting,Immersive Lighting Nudel,VeronaLM]
Installation, setup and tips.
Installation for older ReShade(4.5.4 and older).
(I am using this one, strongly recommend if you will only be using this preset.)
1. Download Enhanced Visuals 2(ReShade 4.5.4 Compatible)
2. Install Reshade 4.5.4 to your 'witcher3.exe' select directx10/11/12 and make sure
to have crosire/reshade-shaders window ticked🗸☑ at the end of installation and download.
3. Go to your ...\The Witcher 3\bin\x64\... directory and delete 'reshade-shaders' folder to avoid unnessecary shaders(loading time).
4. Extract all files from Enhanced Visuals 2(ReShade 4.5.4 Compatible) to ...\The Witcher 3\bin\x64\... replace if asked.
5. All done! Installation for latest ReShade(4.9.1 and newer).1.Download and unpack Enhanced Visuals 2(Latest ReShade compatible) to your  ...\The Witcher 3\bin\x64\...
2.Download latest ReShade and install to your 'witcher3.exe'
3.Please do the same as in the images.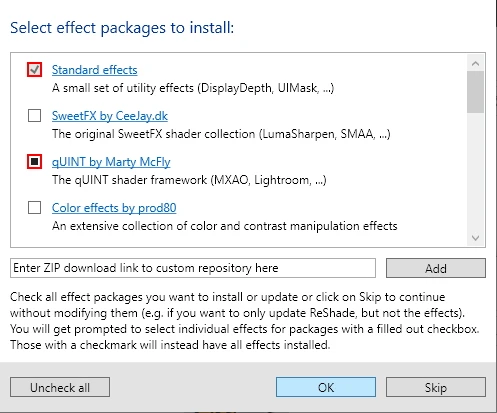 4.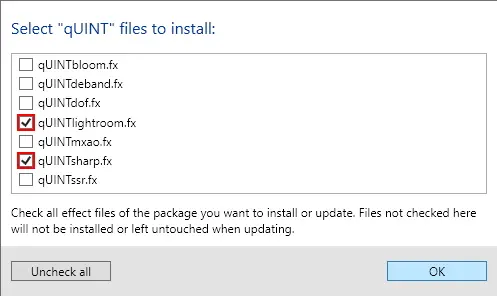 5.All Done!.In-Game open up ReShade Panel('Home') and choose the preset file.
.In the Post Processing options turn OFF Blur, Vignetting and Chromatic Abberation.
.Motion Blur and Sharpening is up to your preference.
.Best to have the Anti-Aliasing, Bloom, Depth of Field and Light Shafts ON!
.Ambient Occlusion set to HBAO+ IS A MUST!
.In your ReShade Panel 'home' go to settings and change your overlay key
from 'home' to 'numpad 3'(or any-other button) to avoid in-game HUD hiding problems.
.While in the game to turn OFF or ON all the effects simply press 'numpad 1'.
.To activate/deactivate spotlight effect(useful in dark areas) press 'numpad 2'.
.EV2 will cause a loss of FPS!
.Mods I Recommend The Witcher 3 HD Reworked Project, Meadows Grass mod, 4K Clouds, Wiedzmin Lighting Mod, PLM Ultimate 7.0, IL Nudel Edition, E3 Depth of Field, Serenity Lighting.
.This preset was made with using Wiedzmin Lighting mod and Serenity Lighting!(My favorites)
.Don't forget to endorse if you like my work!

My previous releases for The Witcher 3...
Enhanced Visuals 1

Enhanced Visuals Remastered