File information
Created by
Karpfenfrosch
About this mod
Adds a new grandmaster armor set.
Requirements

Permissions and credits

Translations

Changelogs
Raven Armor Set1. What this mod does:
This mod adds a new set of Grandmaster equipment: Raven's Armor. It is translated into English, German, Portuguese, Polish and Russian. A French translation is available as well. NG+ is also supported.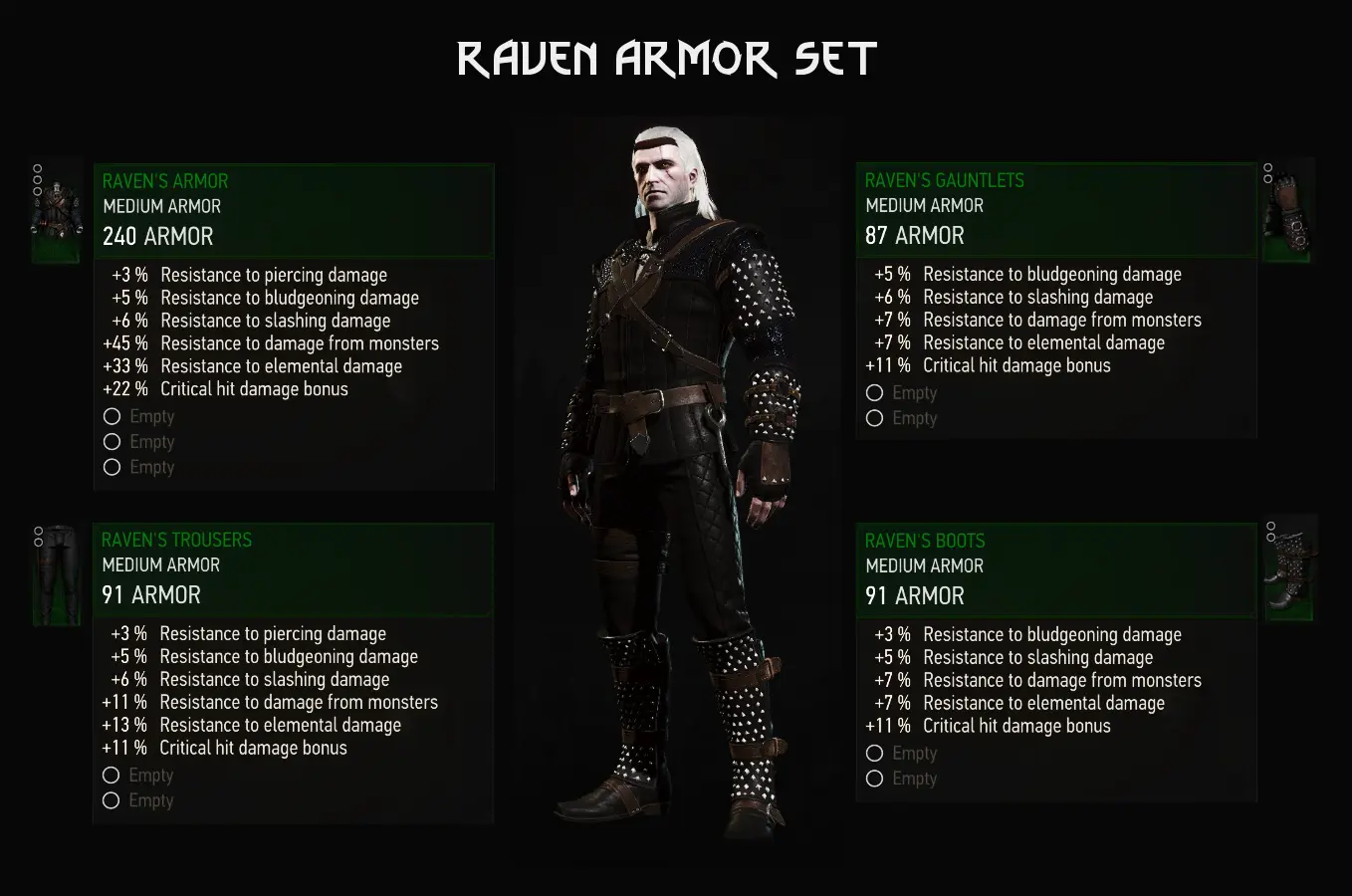 Raven lived during a time when witchers were honored and praised as the defenders of the weak. Confrontations with humans were not as common for a witcher, which is why this armor set relies a lot on resistance against monsters.
To add a bit of personality to the armor this one – like all the other witcher sets do – supports a specific playstyle. It aims to improve Axii which in my opinion got too little love in the vanilla game.
Note: I do know that someone already added Raven's Armor from "The Witcher 2" but I never liked the way it looked in that game and always thought it looks nothing like the one from the first game.
This version of Raven's Armor looks closer to the one from the first game, though there are differences. Like in the first game, where every
craftsman added his own touch to the armor, this one too has a unique flavor to it.
2. How to install / uninstall:
Install: Unpack
raven_armor.rar
and copy everything inside into your Witcher 3 main folder. If you have other mods installed, please run Script Merger to resolve possible conflicts. Without this step, the set bonuses might not work.
To uninstall, just delete the
dlc__raven_armor
folder in your DLC folder and the
modRaven_armor
folder in your mods folder.
3. How to obtain:
The schematics needed to craft the whole set can be bought from Lazare Lafargue (Grandmaster armorer).
Most crafting components needed can be found in Toussaint. The special ore that is required for the chest piece can be bought from
Dulla kh'Amanni (Ofieri merchant).
4. Notes and Tips:
Please note that you can't change this armor's colour. Applying dyes won't change the appearance at all and waste your precious dyes.
Raven's Armor Set Bonus improves the effectiveness of Axii (mostly Alternate Sign Mode). Therefore it has great synergy with
Axii Glyphes and the Glyphword Posession.
If you intend to play an Axii build I recommend this fix to be able to have both "Delusion" and "Puppet" equipped:
Try this:
Easy workaround
(I have not tested if this really works)
If this doesn't work, do this:
Fix
(This works - I tested it).
If you intend to use the Axii Skill "Domination" I highly recommend using this
Fix
.
Need any swords to go along with your new armor? How about this:
Raven Swords

5. Debug Console Commands:

If you have enabled the debug console you can add items directly into your inventory by opening it and typing:          additem("itemID")
for example: additem("Raven Armor")
Item IDs:

6. Credits:
Thanks to the Witcher 3 Modding Discord (especially rfuzzo) for helping me a lot with adding set bonuses.
Thanks to literally everyone who created all these great modding tools (Sarcen's Mod Editor, ModKitchen, ...).
Thanks a lot to:
-
Enkviz
for the Russian translation
-
FsocietyElliot
for the Polish translation
-
KBtheKiller14
for the Portuguese translation