File information
Created by
Karpfenfrosch
About this mod
Adds new Skellige themed crafting materials, sets of armor, horse saddles, two new weapons and changes the stats of Winter's Blade.
Requirements

Permissions and credits

Translations

Changelogs
Who wants to taste Skellige Steel?1. Foreword:
I originally wanted to change the stats of Winter's Blade a bit. Well... it ended up being quite a bit more than that...
After I was almost done, I realized that some of these armor sets already exist more or less like that in the game, but since I already adapted the NPC armor pieces to fit Geralt I decided to keep them.
In order to enjoy this DLC to its fullest you have to own the Expansions "Hearts of Stone" and "Blood and Wine".
This DLC is only intended for the regular New Game. Some of the stats might not be well balanced in New Game Plus.
If you have any suggestion concerning balancing just let me know. I have a lot of difficulties with balancing so let me know if you feel like some of my equipment is over / underpowered. I really appreciate your help.
2. What this mod does:
Winter's Blade now has a static level and aims to be a viable alternative to Superior Witcher Gear.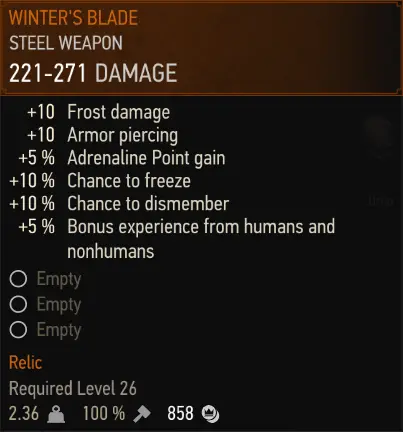 You can now upgrade Winter's Blade twice to further increase its damage and change its appearance.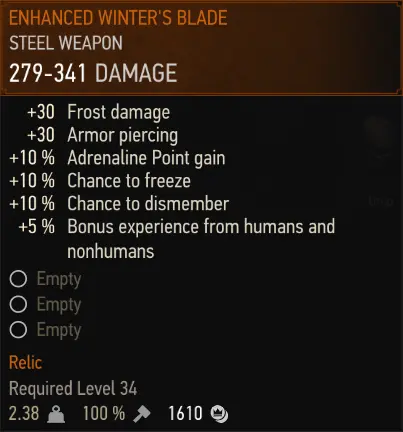 There are 6 new sets of armor, each representing a clan of Skellige. Each set also has a high level variant.
Since they are Master Items, they gain additional random stats once crafted.
There are four new saddles in the colours of some of the clans of Skellige.
Most of the items added with this DLC require a new crafting components: Skellige Steel. And that's not the only new crafting component!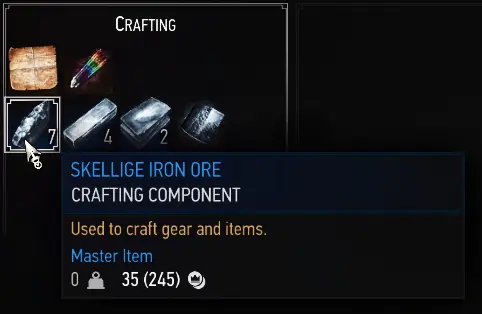 3. How to install / uninstall:
Unpack
skellige_steel.rar
and copy everything inside into your Witcher 3 main directory.
If you use Version 1.0.3 or higher, please run Script Merger to resolve possible conflicts. Be aware that this version might not work with overhaul mods like Ghost Mode or Witcher 3 Enhanced Edition. If that's the case, you could consider using an older version.
To uninstall, just delete the
dlc__skellige_steel
folder in your DLC folder and the 
mod__skellige_steel
folder in your mods folder .
4. How to obtain:Crafting Components:Weapons:


Armor Sets:


Saddles:

Crafting Diagrams:


Misc:

5. Known Issues:
The blacksmith of Kaer Trolde seems to be a bit bugged which sometimes prevents the player from being able to buy items from him.
-> Workaround: Talk to the blacksmith. If the dialogue doesn't start, just meditate till 12PM. Now he should be selling his goods again.
Equipping some of the newly added Clan Armor pieces with other pieces of equipment might cause clipping.
In the crafting diagram the Enhanced Winter's Blade and Mastercrafted Winter's Blade are shown to be Level 1. Just ignore that, as it will actually be level 34 and 40 when crafted.

6. Debug Console Commands:
If you have enabled the debug console you can add items directly into your inventory by opening it and typing:additem("itemID")
for example: additem("q402 Skellige sword 3")
Item IDs: