File information
Created by
Skrip
About this mod
Extends the functionality of the console and chat commands. Admin and trainer commands featured in this mod are all accessible from the console or chat, via a / prefix. This mod allows you to take control of your game-play regardless of cheats being enabled. Now includes terrain modification commands!
Permissions and credits

Changelogs

Donations
SkToolbox for Valheim
is a fully
clientside
utility meant for improving the gameplay experience, by enabling the player to modify their character or the environment to their liking. The mod
enables features in both singleplayer and multiplayer
that could allow
any
player (who has the mod installed) to drastically change their character or others.
Features
This mod works by extending the functionality of the console and chat commands. Most of the commands shown below are usable in both the console and via chat. Some of these functions are redundant along side the standard in-game cheats. These are included in case the developer makes a change to the standard cheat list, or removes them.
This mod modifies the console to allow scrolling back through unlimited previously entered commands. Cycle through commands with up and down arrow keys!
SkToolbox commands can be chained! Execute unlimited commands on one line!

For example: "/nocost; /god; /fly" with no quotes would execute each of the three commands one after the other!

Commands can now be run automatically upon joining a server!

This only occurs on first server join after starting the game each time. This is to ensure commands don't run multiple times and cause unintended consequences.
See the settings file created after first launch with the mod. (\Valheim\BepInEx\config\com.Skrip.SkToolbox.cfg)

COMMAND LIST
            /alt - Use alternate on-screen controls. Press HOME to toggle if active.
If alternate controls are used, HOME toggles the menu, INSERT chooses a selection, PgUp/PgDn to change selection, DEL to go back.
            /coords - Show coords in corner of the screen
            /clearinventory - Removes all items from your inventory. There is no confirmation, be careful.
            /detect [Range] - Toggle enemy detection
            /farinteract [Distance=50] - Toggles far interactions (building as well)
            /findtomb - Pin nearby tombstones on the map if any currently exist
            /fly - Toggle flying
            /ghost - Toggle Ghostmode
            /give [Item] [Qty=1], OR /give [Item] [Qty=1] [Player] [Level=1] - Gives item to player. If player has a space in name, only provide name before the space. Capital letters matter in item / player name!
            /god - Toggle Godmode
            /heal [Player=local] - Heal Player
            /imacheater - Use the toolbox to force enable standard cheats on any server
            /infstam - Toggles infinite stamina
            /killall - Kills all nearby creatures
            /listitems [Name Contains] - List all items. Optionally include name starts with. Ex. /listitems Woo returns any item that contains the letters 'Woo'
            /listskills - Lists all skills
            /nocost - Toggle no requirement building
            /nores - Toggle building restrictions (build anywhere except ward zones)
            /nosup - Toggle building support requirements  - WARNING! - IF YOU REJOIN AND THIS IS DISABLED, YOUR STRUCTURES MAY FALL APART. USE WITH CARE. MOD AUTHOR TAKES NO RESPONSIBILITY FOR YOUR ACTIONS WITH THIS COMMAND.
            /portals - List all portal tags
            /q - Exit the game quickly
            /removedrops - Removes items from the ground
            /repair - Repair your inventory
            /resetwind - If wind has been set, this will allow the game to take control of the wind again
            /revealmap - Reveals the entire minimap
            /set cw [Weight] - Set your weight limit (default 300)
            /set difficulty [Player Count] - Set the difficulty (default is number of connected players)
            /set exploreradius [Radius] - Set the explore radius (default = 100)
            /set jumpforce [Force] - Set jump force (default 10). Careful if you fall too far!
            /set pickup [Radius] - Set your auto pickup radius (default 2)
            /set skill [Skill] [Level] - Set your skill level
            /set speed [Speed Type] [Speed] - Speed Types: crouch (def: 2), run (def: 120), swim (def: 2)
            /spawn [Creature Name] [Level=1] - Spawns a creature or prefab in front of you. Capitals in name matter! (Use /give for items!)
            /stopevent - Stops a current event
Terrain Modification
Please note that excessive terrain modification can eventually cause some lag in your world. This game was meant for some terrain modification, but this can enable a lot of modification. Use this as you would like, but be careful with large areas. Please backup your world before using the terrain modification commands.
            /td [Radius=5] [Height=1] - Dig nearby terrain. Radius 40 max.
            /tl [Radius=5] - Level nearby terrain. Radius 40 max.
            /tr [Radius=5] [Height=1] - Raise nearby terrain. Radius 40 max.
            /tu [Radius=5] - Undo/reset all terrain modifications within the radius. Radius 40 max.


            /tame - Tame all nearby creatures
            /tod [0-1] - Set time of day (-1 to unlock time) - /tod 0.5
            /tp [X,Y] - Teleport you to the coords
            /wind [Angle] [Intensity] -Set the wind direction and intensity
            /whois - List all players



Is there a feature missing you would like to see? Is there a change you want to suggest?
Head over to the forum, and let me know!
On-screen controls have now been incorporated to make the use of many commands more convenient.
Press Numpad 0 to open the on-screen controls. Try /alt if you don't have numpad keys!


Enemy Detection - Colored by Range
Portal Detection
Terrain Modification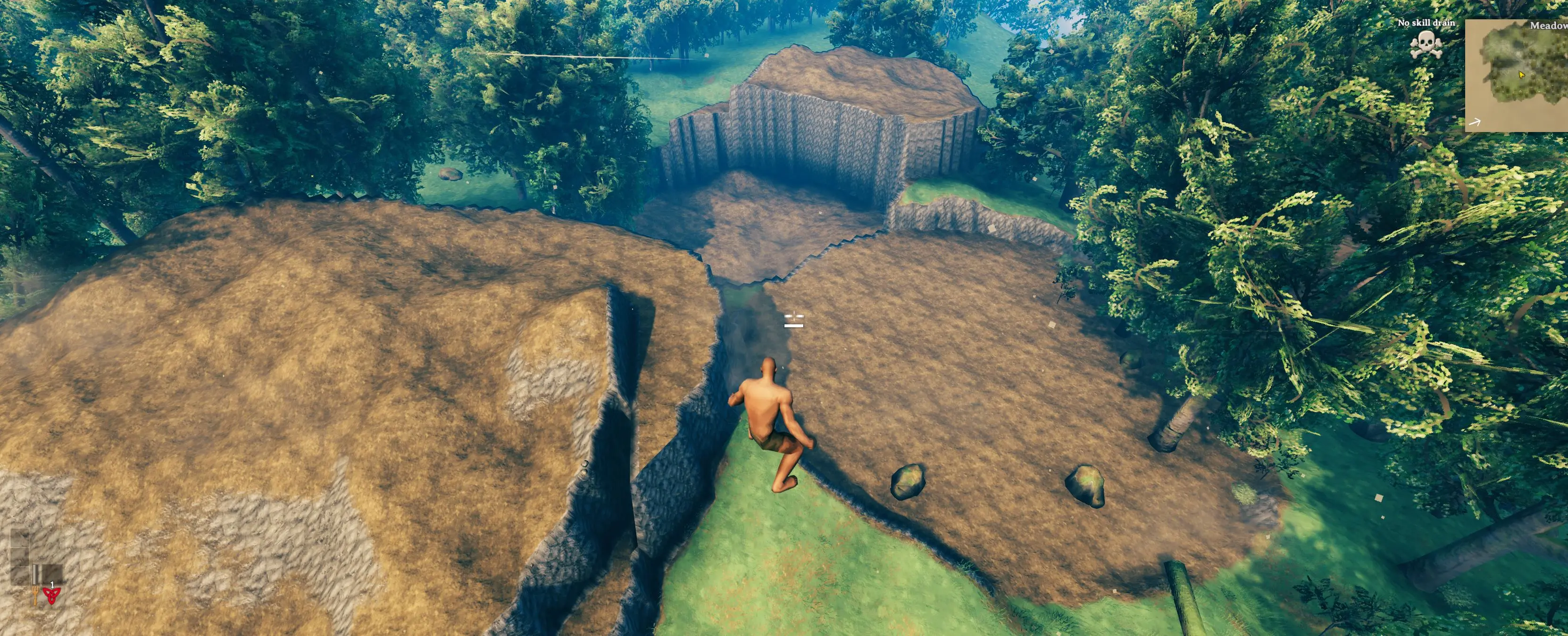 Auto-Run Commands and Command Chaining ("/nosup; /god" shown here!)
How To Use

When you are ready to use the mod, you'll simply type "help" in the console (F5) to see the available commands. Note you'll see the default commands, and a new one at the bottom!
If you then enter /? to see the Toolbox help, you'll see a list of available commands, their usage, and a description:

How To Install

This mod is installed to your
client
not a server.
•
Method 1 (recommended):
    • Simply open the zip file and extract all contents to the game's root directory (You'll see valheim.exe and UnityPlayer.dll in this folder).
After extraction, in the game root folder, you should see the Valheim.exe file, and the BepInEx folder in the same folder. (Example: https://i.imgur.com/kXnpAib.png)
    • Run the game and enjoy.

• Method 2 (
Standalone
):
    • If you use a standalone injector, here is the necessary injection information. Injecting from the main menu is the optimal place to inject, as if you wait until in-game, this can sometimes cause a crash.
    •
Namespace:
SkToolbox
    •
Class:
SkLoader
    •
Method:
Init    
• I just need to update! What do I do?
    • Extract the .dll file to the plugins folder, run the game.
• Mod Compatibility Q/A

What mods is this compatible with?
All of them. This mod is not known to interfere with other mods.
Is it compatible with Vulkan?
Yes!
The game had an update! Do I need to download a new version of this mod?
No. This mod is designed for maximum compatibility. It is unlikely a game update will break this mod. If there is a break, it is likely that only specific commands will break. So far this has not occurred on any version!


Extra Tags: trainer, menu, mod, cheat, unity, modmenu, hack, creative mode, modification, terrain editor, player, worldedit, world edit