House Remodel - Interior Design
House Remodel - Interior Design
File information
Created by
Minakie
About this mod
Edits the kitchen area, fireplace, wall column, double and single beds, and crib.
It also allows you to add decorations, birds or cats atop the fireplace.
Requirements

Permissions and credits

Changelogs

Donations


I made the chocolate version inspired by my real kitchen. Then I decided to add the beige version as well since that was the color scheme I was using on my game at the time. The rooms look the same on both versions. There's also an optional fireplace. And a column that can have different looks for different House Upgrade levels.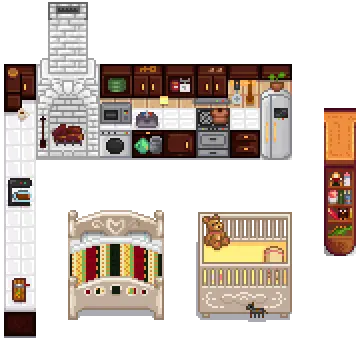 And... there's a little "Easter egg" teaser hidden somewhere. I wonder if anyone can find it. ;)
The teaser was the green parakeet hidden in the .png file but not visible in the print screens. Budgie and his friends are now available to turn on/off at will on the CP version. I've also added cats and 7 new options for the column.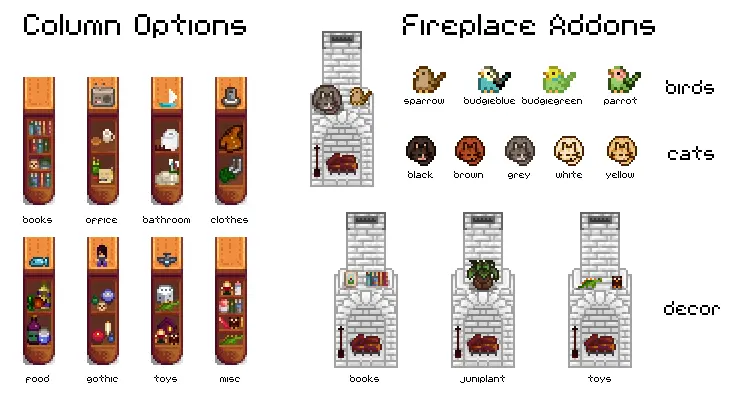 You can have a bird, cat, or decor piece atop the fireplace. You can have both the bird and cat simultaneously, but the decor items are meant to be used separately and might look funny if you try to use them at the same time as one of the animals.
The beds and crib also have configurable options. The "config instructions" file will (hopefully) tell you all you need to know.


-
Gweniaczek
for letting me use the pigeon from their
Pigeon Mailbox
mod
- 
hushsmile
for letting me use the color palettes of their 
Calcium's Nyangcarecrow
mod


- Make sure you have 
SMAPI
 and 
Content Patcher
 installed as well
- Download my latest file and unzip it
- Navigate to your "
Stardew Valley\Mods"
 folder and drop the extracted folder there
- Run the game to generate the config file (just leave it as-is or tweak the options to your liking)
- Have fun :)
Update: 
I took a break from Stardew and this mod is unbelievably outdated. Not sure if I'll ever make an update, I'm still figuring out how the new CP mods work. Meanwhile (while I try to see whether or not I can get my brain to understand coding) you can use an unofficial update kindly provided by coldazrael. :)
This mod is now updated for CP and is fully compatible with the latest 1.4 patch.