File information
Created by
Goldenrevolver
About this mod
Replaces the weird survival burger cooking recipe with new foraging based crafting and cooking recipes
Requirements

Permissions and credits
This mod is now a part of Forage Fantasy
 as a non content patcher version along with more forage based features. Please remove this mod if you are using it.
You might also like 
A Tappers Dream - A Tree Overhaul
 for more balanced features and quality of life changes to trees.
You reach foraging level 2 and unlock the survival burger recipe. You think "Great! The field snack was fantastic, let's see what this is!" Then you see it "A cave carrot from mining and an... eggplant? You can only get that in fall and only by farming. Why is that a level 2 foraging reward?"
If you had that internal dialogue countless times too, then this is the mod for you. It replaces the old weird survival burger cooking recipe with 4 forage based crafting recipes, one for each season! Buy yourself some bread (or find it in trash cans) and begin crafting!
The crafting recipes grant the sweet foraging buff (early game quality raises and axe proficiency) but are barely/ barely not energy efficient. However if you have the kitchen unlocked you can use cooking recipes that yield 2 burgers instead of 1 (less waste when preparing food on a countertop with a good knife compared to doing it with your hands) and you can get cheaper bread too!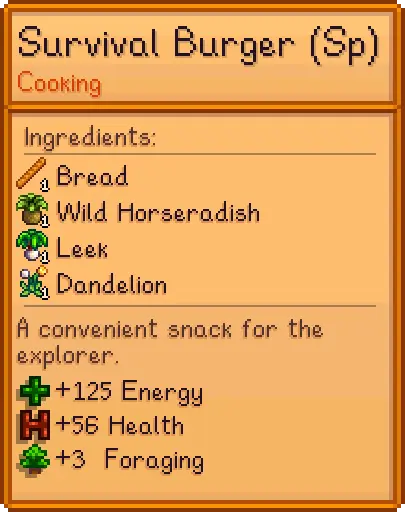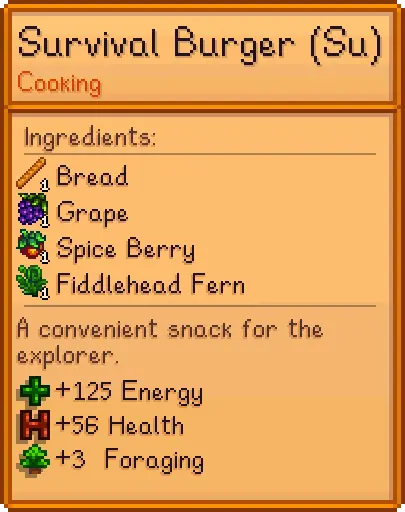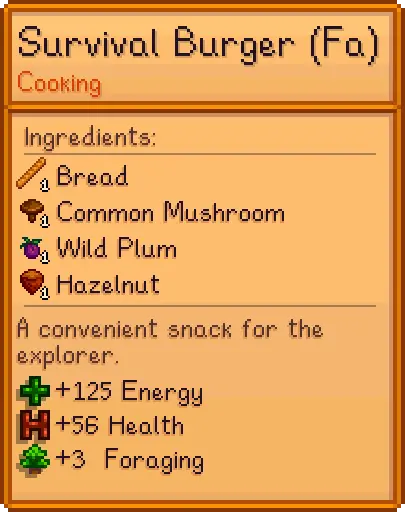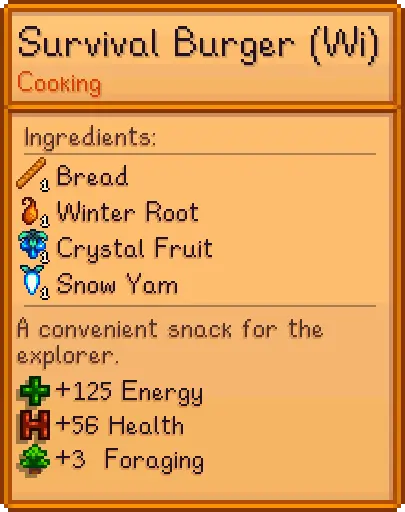 Installation:
Install
SMAPI
 and
Content Patcher
. Then simply extract the content of the downloaded zip file into the SMAPI mods folder.
Updating: 
Simply delete the prior version and install the new one.
Uninstallation:
Simply delete this mod from your mods folder.