Toshinori Yagi - All Might - NPC - Hero Academia
Toshinori Yagi - All Might - NPC - Hero Academia
File information
Created by
FuzzyMittens - AeolianMode - Dylawa
About this mod
This mod adds a complex, fully featured new NPC to Pelican Town: a gentle, older man from the Far East with a severe chronic illness. Inspired by Toshinori Yagi / All Might from My Hero Academia.
Requirements

Permissions and credits

Changelogs
This mod is ONLY on Nexus. If it is uploaded anywhere else, please report to us.
Some websites are stealing Nexus mods and reuploading them elsewhere for profit. Our mod is completely free, and only supposed to be downloaded here. If you wish to donate to support our efforts,
click here.
Your donations will be added to a pool which is split evenly between this mod's team of 3.
This mod adds a new dateable NPC to your town inspired by Toshinori Yagi "All Might" from My Hero Academia. Befriend the resident sickly sunflower and learn all about his joys and tragedies. He's a complicated man with a debilitating chronic illness. He might look intimidating, but he's got a heart of gold and lots of love to give. 
He will add hours of content to your game in the form of new events, lovingly crafted dialogue, and an absurd amount of letters to cram into your mailbox. He's designed to provide a constant stream of fresh content to experience as you play the game normally, giving you reasons to keep coming back. 
You might enjoy him even if you've never seen My Hero Academia, as he is designed to be approachable by all players and written to fit in seamlessly with the rest of the Valley. 
Trigger Warnings:
Chronic Illness (gastrointestinal + respiratory condition, disordered eating), Mental Illness, Mild Blood (can be disabled in config), Heavy Emotional Content in Heartbreak Mode (disabled by default, read on to learn more)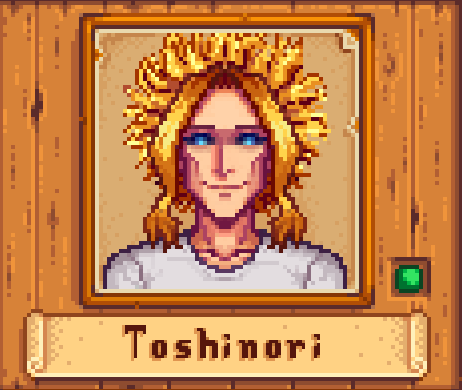 CONTENT: Toshinori has over 3,000 lines of dialogue, over 40 events and over 100 letters peppered throughout 4 in-game years. His dialogue changes based on what he's going through.
CHOICES:  A few events have alternative endings, and Toshinori's over-all story has a "good ending" and a "bad ending." 
STORYTELLING: He has a developing plot which lasts for 4 in-game years. The things he does and says year-by-year will be different as he becomes more involved with Pelican Town. There are many surprises awaiting you in his story. Toshinori comments about vanilla NPCs, and vanilla NPCs will comment about him. He is recognized as an active, valued part of the community. 
OLDER BACHELOR: He's a great romance option in the 40-60 year old category, for those of you looking for sweet older men! (His actual age in this range is ambiguous, for your imagination.) He has just as much content, if not more, than vanilla bachelors.
ART: There are 5 different art styles of his portrait to choose from, and some of these art styles even have variants, such as wearing a medical mask, or a version that removes blood from some of his portraits. Aeo's original portrait set has animations. The new portraits will have animations soon. (See Configs in the Installation section below.) He has outfits for every weather, season, and festival.
*NEW IN 1.0.4* PREGNANCY AND CHILDBIRTH (NEEDS TESTING!): With the optional configs enabled, there are now (family friendly!) pregnancy and childbirth related events and dialogue for farmers who can get pregnant. Thanks for the help, Lemurkat! Check out Jasper, we borrowed some code from this.
*NEW IN 1.0.4* BNHA Easter Eggs: Some rare and random letters acknowledge Toshinori's students and mentions every single kid from Class 1-A.
*NEW IN 1.0.4* CHILDREN: Optional config will update the Toddler sprites to take after Toshinori, giving them blond hair and blue eyes. Available for both light-skinned and dark-skinned children.
You absolutely need all of them, and they must be up to date. The mod will not work correctly if you skip downloading or updating one.
Gives Toshinori a patio outside the house like vanilla marriage candidates. Install this with [CSP] Toshinori Patioonly needed if you plan to use his Animated Portraits (read about the config below!)

It is recommended to install manually. Vortex is known to cause strange issues.
Open the archive, open Toshinori 1.0.4.zip, and place the Toshinori NPC folder in your /Mods folder in your Stardew Valley root directory. (You do not need the other files and folder inside your /Mods folder.)
Optional: Install [CSP] Toshinori Patio if you want him to have a spouse patio outside your house after you marry him, but it needs the Custom Spouse Patio mod to work. Not necessary if you have no plans to marry Toshinori.

Optional: Dylawa's Portraits and Aeo's Old Portraits overwrite Aeo's New Portraits, the default portraits for Toshinori. There are also more user-submitted portraits in the mod's "Optional Files" section. Read below to see a comparison. To install them simply overwrite the contents of /assets with the contents of one of these folders. Do not place these folders in the /mods directory as it won't do anything.

Carefully read the Configurations section below. Since this mod is complex, and we want it to be accessible to all kinds of people, there are a lot of config options to set. Config.json will not appear in [CP] Toshinori NPC until you launch the mod and play for one in-game day.
Then: play the game by launching SMAPI (StardewModdingAPI.)
To change the artstyle: Overwrite the /assets folder with the contents of the Portraits folder that you want to replace the artwork with. Currently, there are 5 different sets of portraits you can choose from, each with their own unique styles, from newest to oldest.
Dylawa's Portraits, Aeo's Original Portraits, and White Sclera Portraits are included in the mod's main file in a folder called "Alternative Portraits". Peachy and Smasher's portraits are optional downloads in the Files tab.
PEACHY
: By KirakiPeachy.
 NoMask only. No Animations.  An anime-style portrait. While it had to be scaled down for the normal resolution of the game, the High-Res version is also included if you use 
Portraiture
to increase the resolution of the portrait art, but it is only currently compatible with his default white shirt outfit. To change Toshinori's outfit you must do so manually. All high-res portraits have been included. Rename the outfit you want him to wear to "Toshinori.png" and replace the file in /Peachy.  
SMASHER: By SmasherLuvEeviee.
 All Variants. No Animations. A Harvest-Moon style portrait, made to go with
Dong's Harvest Moon Style Portraits.
Includes all variants and all 'special' situational portraits. No animation support. 
DYLAWA: By mod co-author Dwala.
 All Variants. No Animations. Changes Toshinori to an art style between the anime style and more realistic Stardew Valley-inspired Aeo version. No animation support.
AEO (DEFAULT).
 All Variants. Animations will be added when 1.0.4 fully releases. White sclera option. This portrait was Aeo's best attempt at matching the Stardew Valley art style while bringing in Toshinori's anime features, like the ghostly glow in his hollow eyes. If you want him to have white sclera, the option is in the "Alternative Portraits" folder.
AEO (ORIGINAL).
 All variants. Animation support. This was Aeo's first attempt at matching the Stardew Valley art style. While Aeo likes the new ones better, use this if you're more fond of the old look, or if you want to have animations now. New animations for the new portrait set are in development.
*NEW* 
ORANGEPIE
: NoMask Only. No Animations. Made in the style of the popular DCBurger high-resolution Stardew Valley portraits. Go here to download: https://www.nexusmods.com/stardewvalley/mods/9182


OrangePie: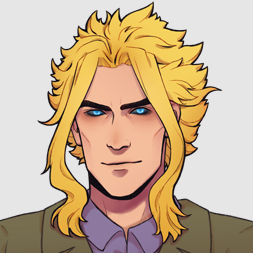 NOTE: config.json will appear in the [CP] Toshinori folder in your /Mods directory after playing with the mod for 1 in-game day. This is to ensure your config.json will not be overwritten in future updates.
To tailor the mod to your needs, open config.json in '[CP] Toshinori NPC' in a notepad and change these values:
Toshinori's Portrait Variants: Comes with Aeo's art as default. Choose between "Mask", "NoMask" and "NoBlood."
NoMask= The default. 
Mask= Gives Toshinori a medical mask which changes patterns with the seasons. (See example above.) Does not have blood.
NoBlood= The default, but there is no blood on some of his situational portraits.
Erasermight Mode: Set to "false" by default. Set to "true" if you are playing as Shota Aizawa. This disables some of Toshinori's dialogue from referencing Aizawa in an immersion-breaking way.  
NPC Dialogue Edits: Set to "true" by default. Allows other NPC's base dialogue edited to acknowledge Toshinori. Set to "false" if you want to preserve compatibility with other dialogue-editing mods.
Heartbreak Mode:  Set to "false" by default. Set it to "true" for the full experience of this mod's story. No spoilers, but only turn this on if you consent to viewing some emotionally heavy content. This content causes a very sad and irreversible change to your savegame after certain story conditions are met after approximately 4 in-game years! ONLY change this config to "true" if you are ABSOLUTELY OKAY with having your 'heart broken' for the sake of a unique story in your little pocket of Pelican Town. 
NEW IN 1.0.4: Pregnancy Talk (family friendly!): Set to "true" by default. Set to "false" if this content bothers you. Allows some situational dialogues to occur when the farmer is pregnant.  (Needs testing! If things break or act weird, please leave bug reports or comments in the Posts tab.)
NEW IN 1.0.4: Pregnancy And Childbirth (family friendly!):  Set to "true" by default. Set to "false" if this content bothers you. Similar to the above, but contains even more content, events, and dialogue. May be triggering to people who do not like pregnancy-related content. It is recommended to set this to 'false' if you are playing with heartbreak mode on 'true', as some odd things might happen. (Needs testing! If things break or act weird, please leave bug reports or comments in the Posts tab.) Thanks for letting us borrow code, Lemurkat!
NEW IN 1.0.4: White Toddler/Black Toddler: Set to "false" by default. Set one of these to "true" to change the default toddler sprites to have Toshinori's hair and eye color. One is for a light-skinned parent farmer, and one is for a dark-skinned parent farmer. Choose one or the other, not both! If you would like a different skin tone of the toddlers available, shoot me a PM. 
Animated Portraits: Set to "true" if you want to see his portrait animate. You must have the mod "Content Patcher Animations" installed for them to work. Currently only available for Aeo's Original NoMask version of his artwork (which has blood!) If you are playing with Mask or NoBlood portraits, or any other set of portraits for that matter, keep this "false" or your game may crash when you talk to Toshinori!  
Animations have a relatively low frame rate and are rather simple. Here's an example of one of his rare expressions.
Q. Is there an event guide?
A. Yes, check out the spoilers document: 
https://tinyurl.com/ToshiModSpoiler
Q. How much content is there? I want to see it all!
A. Our goal with storytelling in this mod was to treat Toshinori more like a visual novel character and give him a more robust amount of content than canon NPCs have. If you don't like a heavy amount of events and story content in your game, you might want to skip Toshinori. There is fresh content throughout 4 in-game years, designed to start triggering after the mod's installation (it does not rely on the in-game year. For example, you can install him when you're already on y3, and fresh content will continue to occur through y6-7.) If you want to be sure you don't miss any part of Toshinori's story, simply stay in touch with him once in a while. Your savegame doesn't have to revolve around him; play the game normally. Just don't neglect the fact that he exists, and you should be able to experience the full impact of his story from beginning to end. If you find that things progress too quickly or too slowly, we value your feedback! We want to make sure his story is comfortably paced.
Q. Does he have his muscle form from the show/manga?
A. No, he doesn't. We felt it might be in conflict with the spirit of Stardew Valley. He does occasionally reference other MHA characters, however, as they are his friends from when he lived in the city. He won't do it often, so hopefully it won't be a bother to those of you who haven't seen MHA.
Q. So he's not really All Might.
A. We like to consider this an "AU"! If you install this mod expecting a faithful copy of MHA's All Might you will be disappointed. Our take on Toshinori in Stardew Valley is essentially a unique character who shares the name, appearance, and building blocks that made My Hero Academia's Toshinori likeable to us. Don't worry, though, he references other MHA characters as his "friends from the city" so there are plenty of MHA easter eggs to discover while you play the mod. But he's also not jarringly like an anime character, and he doesn't reference things that happened in the anime, because he's also intended to be a character anyone can pick up and play with! You don't have to like MHA to find something to like about this mod (hopefully!)
Q. One of the portraits doesn't look right.
A. If it is an error in the artwork (such as causing him to clip, misplaced pixels or animations with bad frames), please let me (Dev Aeo) know. If you are having an issue installing  user-submitted portraits, there may be an error in a name or folder within these folders, so let me know if something does not appear correctly in game. All mod authors and artist contributors worked hard on their portraits. If you don't like any of the art styles available, consider making your own and feel free to submit it.
Q. Does this mod contain anything NSFW?
A. Nope, it maintains the spirit of Stardew Valley's content and age rating.
Q. How heavy is the content in Heartbreak Mode?
A. It doesn't deal with anything like moral ambiguity, suicide or self harm and it's not NSFW. It's just very sad- sadder than anything in vanilla Stardew. So some people might not like it in their game.
Q. I seriously need to know what Heartbreak Mode does.
A. Here is the spoiler for the faint of heart, but I recommend you don't read this spoiler for the sake of the storytelling.
https://tinyurl.com/ToshiModSpoiler


There are more FAQs in the Spoiler document, including Developer Notes. We put them there because they are specific to people who have either read the spoilers already, experienced the mod's content, or have development-related questions.
SVE Compatibility:
 Yes, though please report if you encounter any problems.
Ridgeside Village:
Toshinori clips through some of the Ridgeside Village NPCs in his schedule. This will be addressed in the future. See below!
NPC Compatibility:
As an additional NPC, Toshinori may be incompatible with other NPC mods as there may be conflicts in schedules. Please report if you experience any issues while loading Toshinori with other NPC mods. We would like him to be as compatible as possible with other people's hard work!
BNHA Mod Compatibility:
As a character inspired by existing media, Toshinori occasionally references characters like Izuku, Bakugo, Aizawa, Present Mic and more. This, obviously, means these characters are based on our own personal headcanons for this Stardew Valley AU. If you add a mod by someone else that adds these characters to the game, your mileage may vary, and it will likely be a conflict of storytelling interests (even if the mods function fine side-by-side.) That being said, if you are making or have made a MHA character that you would like to be compatible with Toshinori, let us know, we will look into making a patch where Toshinori properly acknowledges your version of the character. For various (spoiler-heavy) reasons, this will be hard to do for the character Izuku. So we might not be able to do much with that if you're making a Deku mod.

Map Compatibility:
There's a new room in Harvey's Clinic, but we also needed to replace all the doors in there to get his room door to function properly. Therefore, if you use a mod that alters the function of the doors in Harvey's clinic, or extends the map to add new content to the top right corner, it will be incompatible with Toshinori's room and schedule. There is one more map edit made, but it is a spoiler involving the aforementioned Heartbreak Mode.
https://tinyurl.com/ToshiModSpoiler
Canon NPC Writing:
This mod features some canon NPC elaborations. Edits to canon NPC Dialogue can be turned off in the config file to preserve compatibility with NPC dialogue-editing mods. However, some event cutscenes (that can't be disabled) expand on the lore of existing NPCs by making some logical assumptions about them. We did our best to keep each NPC as close to canon as possible. If you add mods that expand on the character of existing NPCs, there may be a conflict of storytelling interests. Please report if you experience anything jarring about how these characters are handled and we will do our best to address it in a patch. These NPCs have the most "logical assumptions" made about them for the interests of our storytelling, from most heavily expanded to least: Kent, Harvey, and Evelyn
Acknowledges NPCS:
Toshinori talks about Lucikiel, the Abandoned Bride, and Jasper. He will acknowledge more community NPCs in future updates. Want him to talk about your NPC? Shoot us a PM with your NPC's conversation topics.
SECTION MOVED TO POSTS TAB. IT'S THE FIRST STICKY POST! Please read it before reporting bugs!
Found a problem? Please feel free to reach out to any of the mod developers- you can find their social media accounts in the credits below, feel free to DM them. Dev Aeo can also be found in the Stardew Valley Community Discord as Aeolian#9732.
Toshinori is a full-fledged NPC in his current state, but we're planning on expanding him even more for a future update. They are arranged in order of priority. Here's what you can expect:
Gender Neutrality: An additional config which will cause Toshinori to refer to the farmer as they/them.
Custom Music: There are a few events that we feel would be more impactful with our own custom music. Aeo and Dylawa plan to compose something new for the mod.
More Detailed, Polished Events: A lot of his current cutscenes are very bare-bones, lacking in polish and animations. We plan to fix this for 1.1.
More Animated Portraits: Some images don't have animations yet. 
NPC Adventures Compatibility: Toshinori will be allowed to follow the player to safe locations, but will refuse to follow them into dangerous locations. 
Even More Letters and Events: Toshinori already has a whole lot of events- but why stop there? We already have ideas for more scenes!
Easter Eggs: It's a secret, but there's some easter eggs we wanna sneak into the mod.
Custom Items for Toshinori: We plan to provide Toshinori with his own homemade gifts that he will give the Player Character, through Json Assets.
Ability to toggle off seasonal outfits: Added by suggestion from a user.
Independence Mode: An optional config which allows Toshinori to romantically pursue another villager if the player does not pursue him or his romantic interest by y3.
Compatibility with Happy Birthday Mod: Added by suggestion from a user. (Since the Happy Birthday mod is currently broken as of writing this message, we have put this on the bottom of the priority list.)
CHECK THIS OUT:
This cute mod replaces the default female toddler with Eri! Great for EraserMight farm AU roleplaying: 
https://www.nexusmods.com/stardewvalley/mods/6320?tab=files&file_id=28416


FURNITURE RECOLORS:
This mod recolors some furniture to fit Toshinori's spouse room:
https://www.nexusmods.com/stardewvalley/mods/10327
CREDITS:
TEAM:
Portrait Art, Maps, Additional Sprites, Programming, Writing, Nexus Banner and Footer: AeolianMode
(
twitter.com/AeolianMode
|
instagram.com/aeolian_mode/
)
Additional Portrait Art, Concept, Writing, Bug/Play-Testing: Dylawa
(
https://twitter.com/dylawa
|
https://dylawa.tumblr.com/
|
https://archiveofourown.org/users/Dylawa
)
Concept, Programming, Writing, Sprite Art: FuzzyMittens
(
https://twitter.com/mittens_fuzzy
|
https://fuzzymittens.itch.io/
)   
ADDITIONAL CODE:
Pregnancy, Childbirth, and Farmer Collapse Codes:
Lemurkat 

Portuguese Translation:
BrasileiroTop 
(
https://www.youtube.com/channel/UCRKNxOTeyqA7QcsUuE7PT2g
)   
ADDITIONAL ART:
Sunflower Dress: Inspired by artwork from blackmoonrose13 (
https://twitter.com/blackmoonrose13
/
https://www.patreon.com/blackmoonrose13?ty=h
)
Harvest Moon Portraits by Smasher (
https://twitter.com/Smasherluveviee
)
Anime Portraits by KirakiPeachy (
https://twitter.com/KirakiPeachy
)
The Modding Junimos and the Stardew Valley Modding Community for their support!
Lovingly based on the series "My Hero Academia"/"Boku no Hero Academia" by Kohei Horikoshi and Shonen Jump
CALL TO ACTION:
Don't like our portraits? Feel like he needs a different look? Feel free to submit your own portrait art and we will add it as an optional download, with proper credits given to you. Your portrait art for him must match the same template of his existing artwork (which can be found in [CP] Toshinori NPC/assets/image/portraits). We will only be accepting submissions that fulfill all 17 outfit variants with all 12 expressions. (Animating them all is a huge bonus!) Just reach out to one of us here or on social media.
We're also looking for translators. The mod contains a whole lot of content, however, so this is understandably a daunting task. We have recently simplified the mod to allow for i18n for every single line of English, however, so hopefully this makes the idea of translating Toshinori easier. Please reach out if you are interested in translating the mod. The only 2 files that need translations are [CP] Toshinori NPC/i18n/default.json and [MFM] Toshinori NPC/i18n/default.json.

https://ko-fi.com/teamsdvyagi

This mod is the product of several weeks of 18+ hour work days to bring you free content. If you feel your game has been enhanced by having Toshi in it, consider supporting us. It will motivate us and fuel us to continue improving the mod so that you can get an even better experience.