File information
Created by
Minakie
About this mod
Dressers inspired by the GetDressed mod.
Requirements

Permissions and credits

Changelogs

Donations



These dressers are recolors for the Get Dressed or Kisekae mods and you'll need one of them for my dressers to work. You can only have one of these working at the time, so you'll need to choose the color you want and replace the one on the original file (GetDressed or Kisekae).
GetDressed and Kisekae broke in the 1.4 update but you can still use the Customize Anywhere mod, which is a partial replacement.

Get Glam
is the new replacement for those mods. Install it if you want the dressers to be functional. :)
Minakie's dressers are now updated for Content Patcher!
This means you can now choose from two different models (floor or wall) or even have them both at the same time!
(The Floor version replaces the
Modern End Table
and the Wall version replaces the
Dancing Grass
painting.)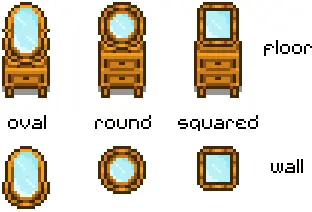 Each model comes in 11 colors: beige, birch, black, chocolate, modern, mahogany, oak, silver, vanilla (GetDressed original), walnut, and white.
For further customization, you can also add some accessories to the Floor version or a butterfly to the Wall version.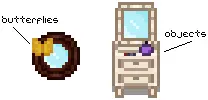 If you have the
CJB Item Spawner
mod installed, you can use it to spawn your cutie of choice by looking up "dresser" in its search bar.



- Make sure you have
SMAPI
and
Content Patcher
installed as well
- Download my latest file and unzip it
- Navigate to your "
Stardew Valley\Mods"
folder and drop the extracted folder there
- Run the game to generate the config file (just leave it as-is or tweak the options to your liking)
- Have fun :)



If you want to use one of these dressers with
Get Glam
, you'll need to navigate to 
[CP] Minakie's Dressers\assets\dresser_floor
 and rename the dresser of your choosing to "dresser.png". Then, you need to grab that renamed dresser image, drop it inside
GetGlam\assets
 and let it override the existing image.