File information
Created by
Mabel
About this mod
Farmhouse Redone grants map-makers much more freedom when making Farmhouse maps, allowing for a complete restructuring.
Requirements

Permissions and credits

Donations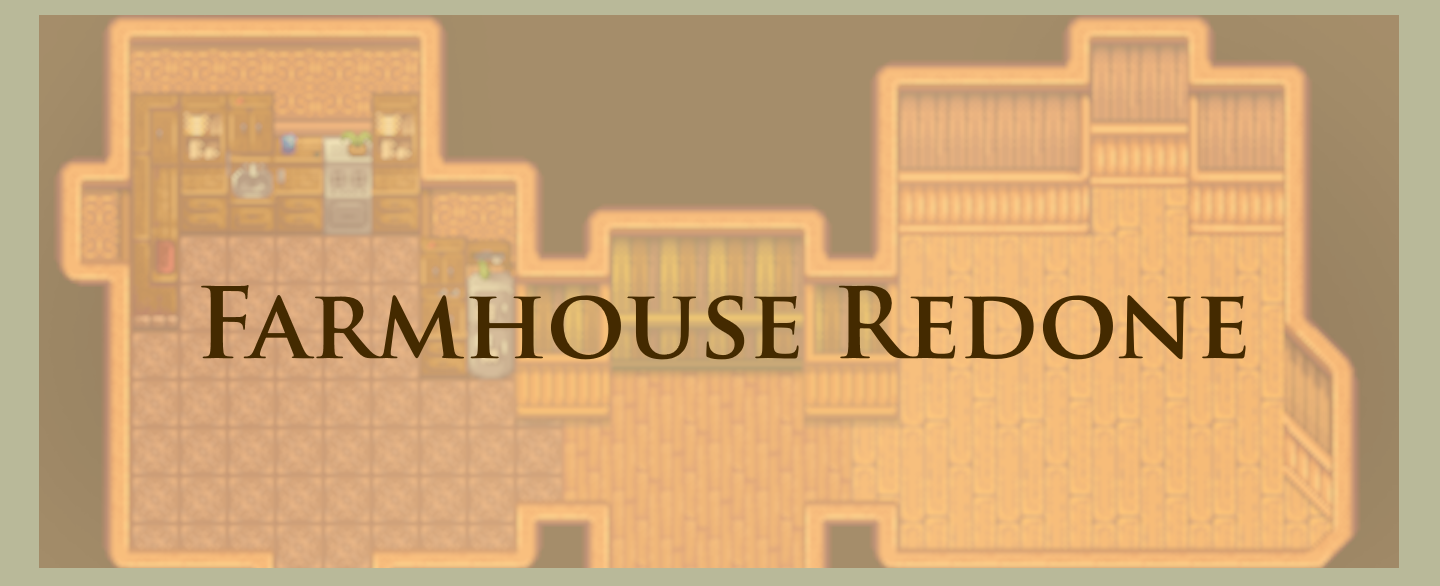 Farmhouse Redone is now in 0.3!
Farmhouse Redone grants map-makers powerful control over many hard-coded aspects of the Farmhouse.  Features ranging from moving the front door to mapping out unique locations for each spouse's spouse room are now at your disposal!
Farmhouse Redone currently offers the following features:
Define your walls and Floors - create any layout, with complex non-rectangular rooms, while keeping the ability to change them with wallpaper and flooring
Relocate the Kitchen, Front Door, Bed, Spouse Room, and Cellar Stairs
Fine Control over Spouse Rooms - Tweak the spouse room, add another one, add a study, add 20 spouse rooms, remove the spouse rooms altogether.
Level 3 House Upgrades - Relocate the cellar steps, make five of them, or even add a complete level 3 upgrade.
Farm layouts - move the farmhouse, the greenhouse, the mailbox, the shipping bin, even the patio, each with just a single map property!
Building collision maps - you can now make the farmhouse an entirely different shape!
Custom spouse patios, and custom spouse animations for those patios!
This mod relies heavily on map properties.  For a comprehensive list and guide to these custom map properties,
please visit the wiki
.
This mod is currently in
open beta
.  There will be bugs.  While the mod was extensively tested by multiple users up to this point, our time and bug-hunting skills were limited.  If you discover a bug, please let me know!  I'll try to iron out issues as quickly as possible, and get this mod into its first real release!
If you enjoy my work and want to support me, 
consider buying me a coffee
!
Update 0.3.5 - The Outdoors Update
Reworked for Stardew Valley 1.4
Added ability to redesign the Farm map
Added custom spouse patios
Various stability tweaks
Update 0.2.0
Logging moved to Trace. (No more console spam!)
Removed the daily chest hide-and-seek minigame.  (Chests no longer constantly believe they are stuck, even when not.)
Multi-tile furniture should no longer appear stuck inside a wall.
Spouse rooms will now carry over properties when pasted in.
You may now use the -destructive property for spouse rooms to completely clear the area it is pasted into.