Nordic Carving - Great Portal of Dragonsreach SE
Nordic Carving - Great Portal of Dragonsreach SE
File information
Created by
MikeyNexus
About this mod
Adds a monumental carved wooden doorway to the entrance hall of Dragonsreach. Based on the 12th century Great Door of Urnes Stavekirk in Norway. UHP awesomeness.
Permissions and credits

Donations
Also check out my Nordic Wallbaskets.

Carved by the legendary Oddleifur, personal craftsman to Olaf One-Eye, the Great Portal of Dragonsreach was created to humble even the mightiest of warriors who came to beg an audience with the powerful Jarl of Whiterun. To this day, it remains one of the Wonders of Tamriel, and a highlight of any visit to Skyrim.
                                                                                                                                                                                                        -Mikael the Bard
This places a monumental carved wooden arched doorway in the entrance hall of Dragonsreach, just as you get through the front door, heading toward the Jarl's throne. The concept is based on the traditional "screen door" or altar screen used in many large official, religious, or royal buildings of the early mediaeval period, through to the Renaissance era.
It is as close as I could get to an exact copy of the Great Doorway of Urnes Stavkirk (stave church) in Norway, carved c.1130AD; one of the finest surviving examples of Nordic wood carving. NB: There is no Christian iconography, so it is lore friendly.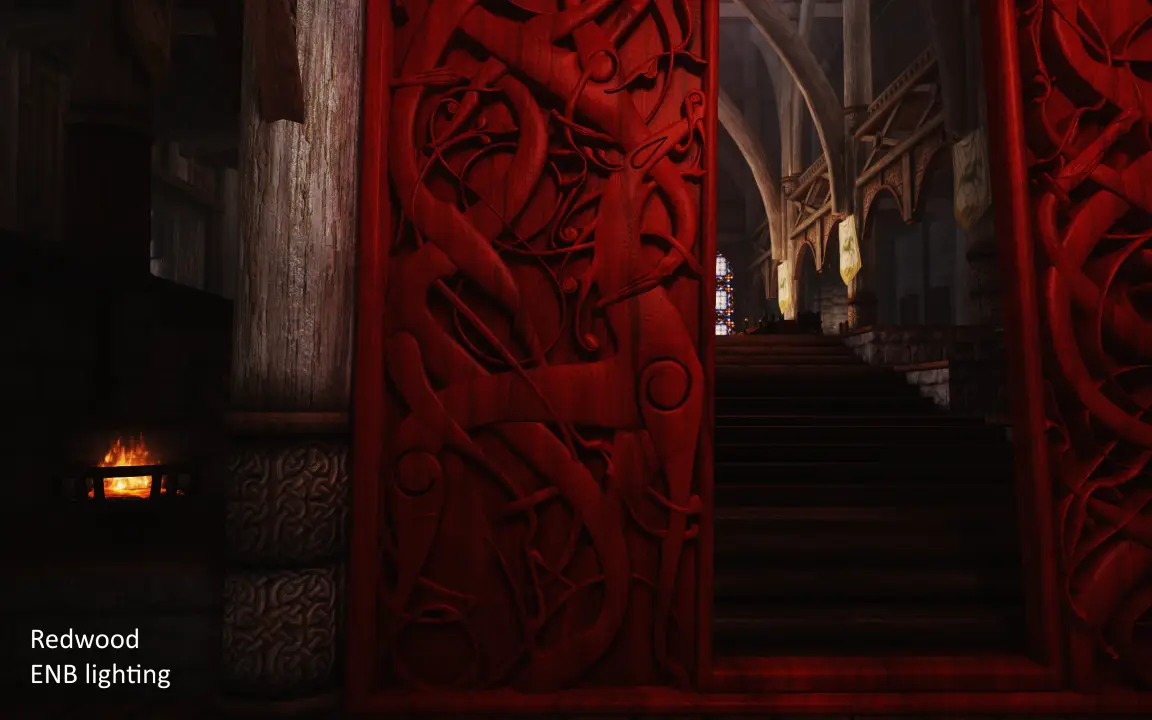 This is NOT just a rectangular block with a texture on it. This is 245,555 triangles of pure UHP awesomeness, so it is recommended for high-end systems only. I will not be releasing a "light" or low-poly version; that was not the goal of making this mod.
There are several options for the wood texture of the door, to suit your taste or lighting setup (see the Images section). All texture options are 4K/2K. If you are able to handle the polygon count you should be OK with one 4K texture, and an object of this size really needs it.
The main file includes open and closed versions of the Portal, and all meshes and textures are free to use as a modder's resource for UNPAID mods only. All I ask is credit for the (enormous) time it took to create the mesh from photographs. My original Blender files can be made available if anybody wants them, too.