File information
Created by
Ronnie Magnum
About this mod
New player home in Falkreath - Yeomville Estate. SSE version.
Requirements

Permissions and credits

Translations

Donations
WARNING! THIS MOD CAN BE INCOMPATIBLE WITH ANY MODS THAT ALTER THE FALKREATH EXTERIOR CELLS!
USE IT AT YOUR OWN RISK!
ALSO,
This mod have some of my earlier mods integrated, namely
THIS
 and
THAT
. So, before installing Yeomville Estate mod, please be sure you have them uninstalled, or it will cause the object duplication or other funny things that are not actually funny.
If you're OK with this, I'm happy to present you...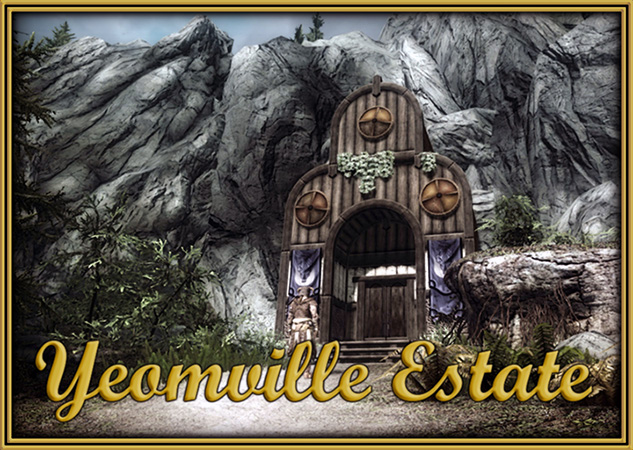 Yeomville Estate for SSE V1.0 Eng
LE version HERE.


CREDITS:
Author: Ronnie Magnum - meshes, textures, music
Works of painters used in this mod for making ingame paintings as a free-to-use-resources:
Carlo Bossoli, Ivan Shishkin, Ferdinand Kuss, Ivan Aivazovsky, Rembrandt Harmenszoon van Rijn, Yefim Volkov


***
It was a cold and eerie morning when Ebenezer Denrin, an ore merchant and philanthropist, fled to High Rock from the horrors of the Civil War, leaving his rich estate behind. Without informing anyone of his departure, he told his wife and his butler to get ready for the road, pawned the carriage and left, leaving only two of his subordinates in the estate. A couple of dozen moons later, several horse-drawn carts arrived in Helgen, carrying prisoners with the new owner of the estate among them... Guess who it is?
***
This mod adds new player home - Yeomville Estate. It is located in Falkreath, behind the guard barracks.
It features the following:

- Player home built with new custom meshes and textures, technically a new interior tileset.
- Several containers to stock your stockpilings, along with weapon racks and displays.
- Alchemy workbench, Enchanting workbench, Cooking workbe... pot.
- Beds, sleep is the best medicine.
- New soundtrack for interiors (remastered music tracks from my old Krirg Manor mod).
- Several new items, including new weapons and shield as well as a couple of pointless items for collectors of pointless items.
- And your own Ebony mine, now you don't need to bother the inhabitants of Narzulbur.
List of new items:
Questions and Answers:
***
Creating mods requires effort, and replenishment the effort requires food, so if you want to support me, you can
buy me a coffee
or join my Patreon: