Follower Genba Khajiit for SE
Follower Genba Khajiit for SE
File information
Created by
MightyChopsticks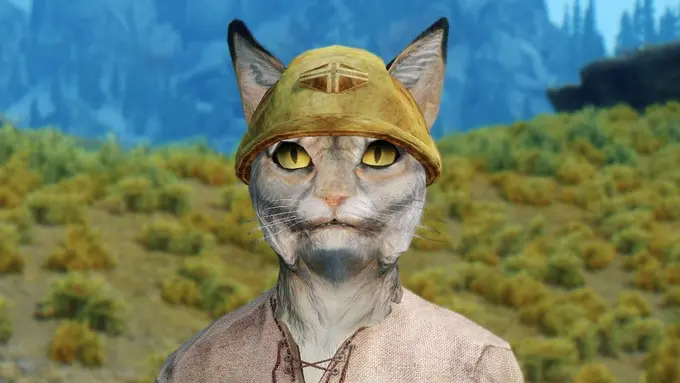 Please uninstall the old version before updating.
Clean save isn't required.
UPDATE
V1.0>V1.1
White werebear summoning spell has been made playable. 
You can obtain spell tomes from Genba Khajiit in the possession exchange.
Fixed an issue where white werebear would quickly become hostile in friendly fire.
Added support for Wrye bash.
Genba Khajiit works in Iron-Breaker Mine ,in Dawnstar.
His body is environment dependent.
He is not strong, but summons a white werebear during battle.
This werebear freezes the enemy with a power attack.
##############################################################################################
旧verをアンインストール後にアップデートしてください。クリーンセーブは不要です。
UPDATE
V1.0>V1.1
ウェアシロクマ召喚魔法をプレイアブル化。所持品交換で現場カジートから呪文の書をぶんどってください。
ウェアシロクマがフレンドリーファイアですぐに敵対してしまう問題を修正。数発までなら我慢してくれます。
SE版Wrye Bashに対応。
現場で働いてる某猫さんモチーフのフォロワーです。
ドーンスターのアイアンブレーカー鉱山にいます。
キャラ的に強くしすぎるのはなんか違うかなあと思ったので弱めに設定してます。
性格は慎重タイプなので割と頻繁に逃げ回ります。
レベルキャップ30。
体のメッシュとテクスチャは独立しておらず、環境依存です。
フルフェイス系兜以外の頭装備には対応していません。
戦闘中、白いウェアベアを20秒間召喚することがあります。次の召喚まで約25秒。
このウェアベアのパワーアタックは氷晶と同じ効果があり、敵を冷凍させてサクサクにします。(ドラゴン等には無効)
Credit ;
Enhanced Character Edit
/ by tktk
kitty-lized khajiit
/ by User2966462
The Eyes Of Beauty
 / by Gabriel Mailhot
DwarvenElectricTools
 / by m
XP32 Maximum Skeleton Special Extended - XPMSSE
 v4.80 / by Team XPMSE
SSE NIF Optimizer
 / by ousnius
NiNode Transform Tools
 / by opparco
Thanks for wonderful mods!