About this mod
This is the ported to Skyrim Special Edition version of Sleep Tight created by Isoku.
I spoke with Isoku for permission and it was given. So all credits goes to Isoku for making this mod.
Requirements

Permissions and credits

Translations

Changelogs
CHECK MY OTHER FILES FOR SKYRIM SPECIAL EDITION!!
A very big thanks for endorsing this mod. As result, this mod was #1 in the Hot Mods....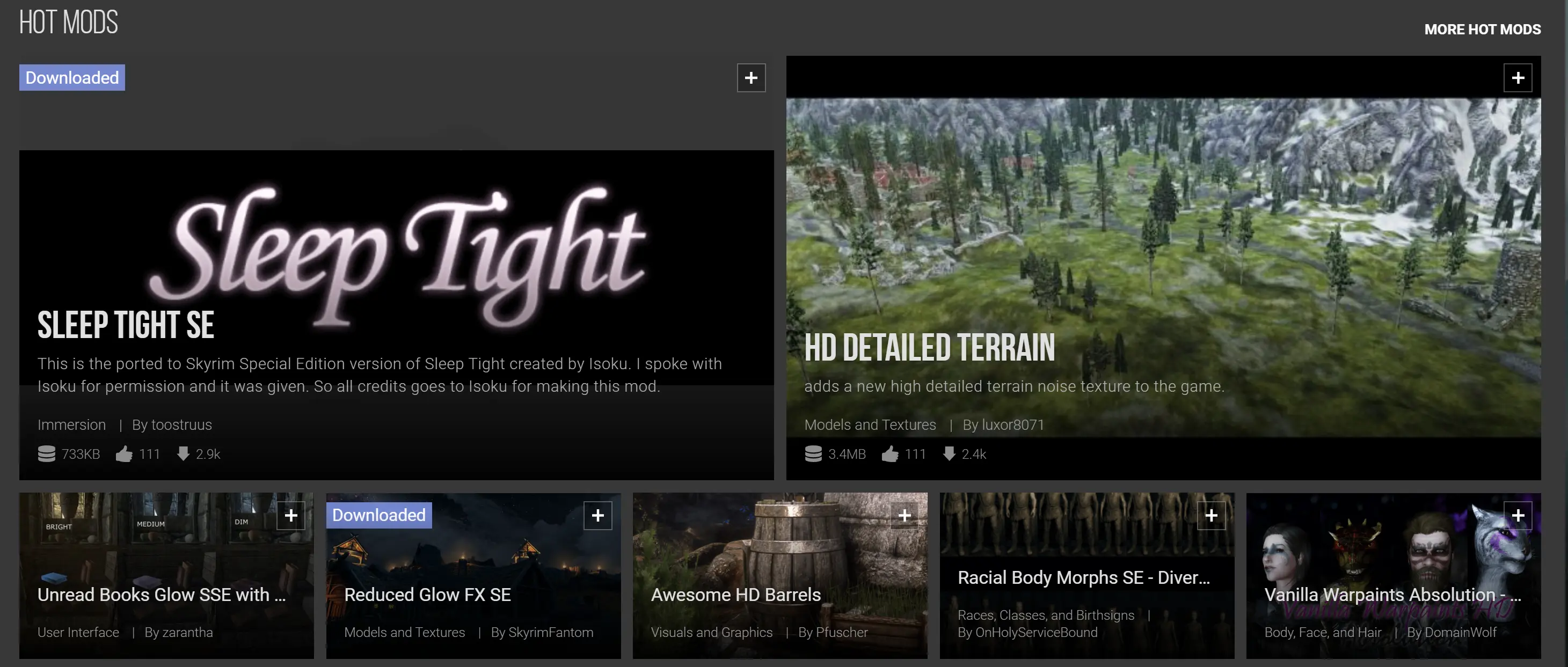 It includes a Loose Files version and a .BSA version. As optional an .ESL version.
All three files are "standalone" so you need only one to choose from.
Sleep-related enhancements to NPCs.
I have used (and still am) this mod in SE with no issues. Also workes with the latest SKSE64 (current build 2.0.12.).
It needs SKSE to work properly. It comes with a MCM menu.
This is the latest 1.04 ported to SSE version.
Video original version from Brodual
Here is a
link
 to the original mod page for Oldrim.
And original description.
Version:
1.04
Fixed an issue where NPCs would fail to re-equip their armors. Special thanks to vestan for testing.
Fixed an issue where the mod would sometimes fail to function. Known issue that cannot be currently fixed: NPCs will sometimes fail to remove all parts of their armors when sleeping.
Your weapon damage should no longer increase while you are sitting.
Minor optimizations.
Compatibility:
Should be compatible with everything.
Dependencies:
Optional: 
SKSE
 SKSE is only needed for the equipment features to work and configuration through SkyUI's MCM.
Overview:
Friendly NPCs will switch their equipment to naked or robed before getting into bed in interiors.
Hostile NPCs such as bandits, warlocks, etc. in interiors will switch their equipment to naked or "Keep Chest" and can now be found sleeping at night as opposed to having the same schedule 24/7.
While sleeping there is a chance NPCs will begin to snore.
Sleeping NPCs will take 3X more damage if struck. Sitting NPCs take 2X more damage. You can enable/disable this feature in MCM menu.
Follower support can be toggled off. A 'Sleep Tight, Good Night Story' book can be crafted at a tanning rack with 1 ruined book then given to a specific follower to exempt him/her from this mod without turning this feature off for all followers.
Install:
Manual installers drop the files into your Data folder. NMM/BAIN: download the main file and add to your respective programs.
Update:
Remove all files from the previous version and install the new version.
Uninstall:
Make a save outside then remove all installed files.