Hey guys.  I AM BACK!!!  Over a year ago, I have lost all vision in my right eye and there is now getting it back.  So I am done with the DR.s and moving forward with modding again.  Sorry it's been a while.  I will be working on my other mods to get them cleaned up and updated.  Possibly redo them from the ground up.  So look for some updates in the near future.  Have fun and keep gaming.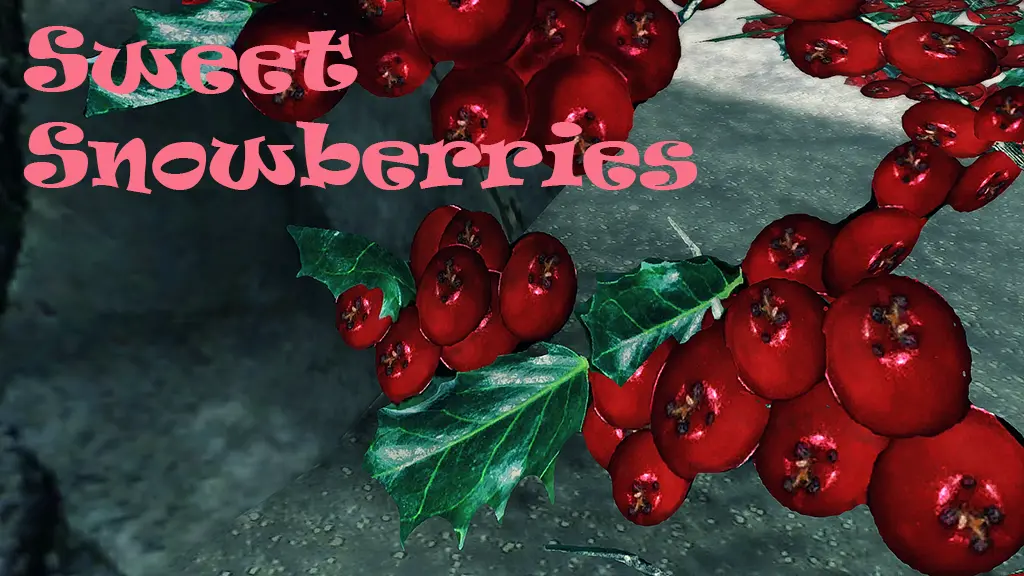 Skyrim Legendary Edition Version
Description


This is a 1K and 2K texture replacer for the snowberries plus a less saturated version.  
This is the very first mod created by me so please, be gentle.  LOL!!
This mod is also included in my new mod
D.E.R.P. - DarShonDo's Eyesore Retex Project
.

Installation


NMM and MO Users:  Download by clicking 'Download By Manager' button.  Install as you would for you mod manager.  Follow instructions in installer. 
Mods Used In Screenshots
Ruins Clutter Improved
Static Mesh Improvement Mod - SMIM
Skyland - A Landscape Texture Overhaul
Skyrim Floral Overhaul Se - Trees Only
Veydosebrom - Grasses and Groundcover

Dolomite Weathers - Natural Lighting Vivid Atmospherics II
Sin Xtreme Realism ENB
My Mods


Deathbell By Mari SE
High Quality Food And Ingredients SE
Mountain Flower By Mari SE

D.E.R.P. - DarShonDo's Eyesore Retex Project
Sweet Snowberries SE

Sweet Snowberries LE
Neurotic Nightshade SE
Silky Spider Eggs SE

Silky Spider Eggs LE
Simple Sacks SE
Simple Sacks LE


Tools Used
Photoshop
NifSkope
Crazy Bump
FOMOD Creation Tool