File information
Created by
Anduniel
About this mod
A modest makeover of Dragonbridge Four Shields Tavern
Requirements

Permissions and credits

Donations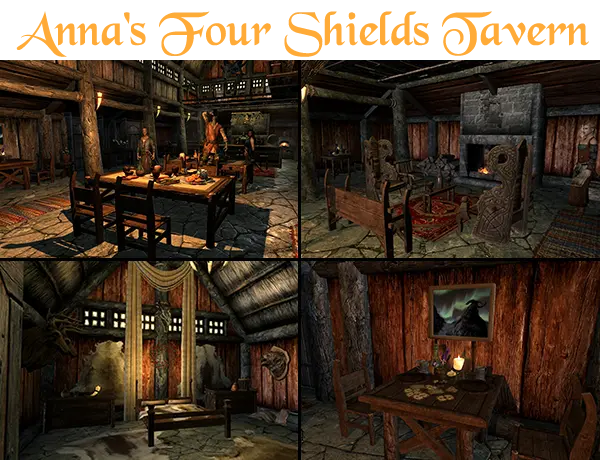 Part 1 of "Anna's Unique Inns and Taverns" project!
Tired of all those village inns looking the same?  Shouldn't Dragonbridge's tavern at least be somewhat exciting?  After all, it's kind of a big deal as the border town between Imperial and Stormcloak held Holds, with the inhabitants afraid war will break out over control of the Bridge.  This mod makes a few modest changes to the Four Shields Tavern interior to make it unique and add some Dragon flavor.  If you like it please Endorse, and don't forget to add your own images!! :)
REQUIREMENTS:
- Skyrim
- Update
- HearthFires DLC
- Dragonborn DLC
Don't have DLCs?  Why not??  They're super cheap now.  Just get them, they are fun to play too!
Adjustments:
- Inn walls are darker, richer wood
- Tables rearranged, more seating, better dining!
- Furniture upgraded to "upper" versions
- Loft added with more seating
- Barstools added (why the hell didn't they have any?)
- Massive central fireplaces replaced with Fireplaces at either end, and HearthFires oven
- Foods from HearthFires & Dragonborn DLCs
- Rent Room upgraded
- General "Dragon" accents added in the decor
- Static dice game and cards added (for visual interest)
NOTES:
- Only the Inn's interior is changed, exterior mods will still work.
- All References, static markers, and Navmeshes have been adjusted, nothing deleted that shouldn't be.
- Lighting mods *should* still work, no lighting was changed.
- Texture mods (other than the Inn architecture) *should* still work, no other textures were replaced.
- NPC mods *should* still work, no references were removed, only shifted if anything
- Thoroughly cleaned in TESV-Edit, NO errors!  (Although if you load this in CK, it might give a loading error about the Navmesh not being Finalized.  I don't know why this continues to happen, as I DID Finalize it, several times.)
- Something weird may happen to 3rd person camera view if you use the cooking pot behind the bar.  Not sure why, but it still works.
- No scripts, no loose files, safe to Install/Uninstall as you please.
Also see:
Part 2:  Anna's Frostfruit Inn

Thanks to BoxofBeer, from 3:00 to 4:50)
Credits:
Oaristys - clutter resources
Shrike - canvas conversion from Oblivion, modified inn architecture
Jokerine - painting canvas normal maps
Anduniel - painting texture dds conversion (from internet pictures)
If you enjoy my mods and voice acting, please consider supporting me on Patreon!