File information
Created by
RopeSander
About this mod
'Orion' Standalone Follower, Norine the Temptress. Fully voiced by KiKiapplus (Kerstyn Unger) https://kerstynunger.com/. Star Trek fans will know the race, or at least should.
Bugs:

This mod has been reported to not function when using AFT. I will tackle this issue when I have time, may not be for a long time, sorry for the inconvenience.
Change Log:
* 6-17-17 - THIS MOD NO LONGER HAS ANY REQUIREMENTS BESIDES Skyrim 1.9.32
Thanks to
rjoscher
!!! It's assets are also now packed into a .BSA.
MANY AGGRESSIVE THANKS FOR
Chaos_Hellfire
FOR THIS GRAND VIDEO!
(Coverage begins at 1:33)
(Spinning not included in Mod file, may have been a... 'aftermarket' addition??)
Description
This is a fully voiced follower mod, Norine is an 'Orion' and uses the race from my other mod,
Orion Race
based off of a species from Star Trek canon. This is actually a redone fully voiced version of
this
mod. Norine is a highly trained warrior, who uses a sword and shield mainly. She wears a set of light armor (
Khameleon Armor CBBE - 7Base - UNP - UNPB Body
) and wields a unique (
Unique Scimitars (Hammerfell Armoury)
) re-textured scimitar. She has a UUNP body. Her backstory is in development and will depend upon my success with the making of a quest to go hand-in-hand with this mod.
What I can say about Norine is that she is a sarcastic, quick spoken, self proclaimed 'witticist' (Yes I know, not a real word).  She is obsessed with her hair and diamonds, yet has a thick skinned battle ready heart which has been made so by some... serious training, in her past. For those who are currently playing a 'canon friendly' (can't say "Immersive" : p  ) playthrough, she does make comments which relate to our known world, but they are few and not really lore-breaking.
Lastly and most importantly, Norine the Temptress was voiced by the
brightly
spirited and enthusiastically driven
Kerstyn Unger
(!!!!! She has made this project so rewarding and never skipped a beat with my dialogue requests. I highly recommend her to any who seek talented voice actors/actresses.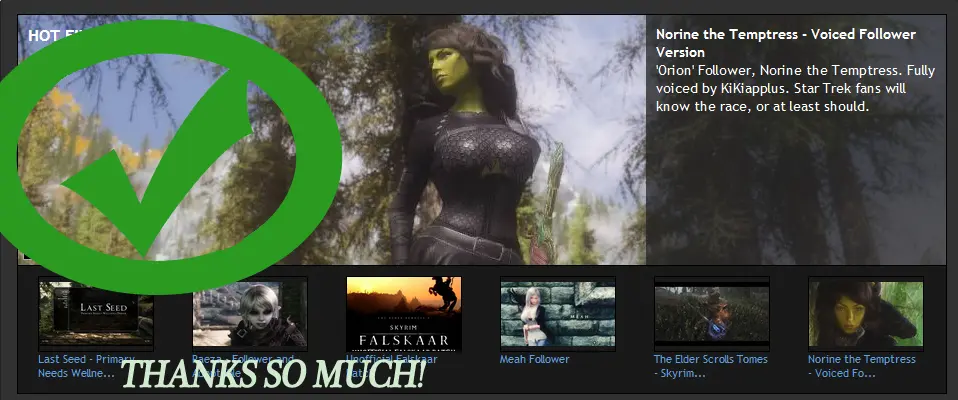 Having posted this, I admit that I only saw it when my account had somehow logged out... but when I logged in it wasn't in the Hot Files.
So in short I saw it there, but not sure... 'what the hell', n' all that.
THANKS ANYWAYS!!!!!
Location
* Norine the Temptress is waiting in Haelga's Bunkhouse in Riften.
Requirements
*Skyrim V. 1.9.32.0
Compatibility
* Will work with EFF, but will not be automatically managed by it. (Not sure about other follower managers, but it should at least function.)
Installation
* Use NMM.
* Manually decompress the 'Data' file folder to .... (installation path)\Skyrim
<<<Notes>>>
I have not had time to test Norine's dungeon specific dialogue, she is supposed to have commentary seeing, then inside of the following...
-Bandit Camps
-Caves
-Dragur Crypts
-Dwemer Ruins
-Falmer Hives
Also, It is possible Norine may be a little over powered.
I will try to test this myself in the near future. however I would greatly appreciate the users insight or observations.
As always, report any bugs please.
-Credits-
KiKiapplus
(Kerstyn Unger) - For Norine's voicing. 
https://kerstynunger.com/
rjoscher
- For helping me to make a more user friendly version.
Apachii
- For
Apachii Sky Hair

Davjes
- For 
Khameleon Armor CBBE - 7Base - UNP - UNPB Body
Farinelli
- For
Unique Scimitars (Hammerfell Armoury)

HydrogensaysHDT
- For
HDT High Heels System

Groovtama
- For
XM32 Maximum Skeleton Extended
JimTownIrish - For
True Eyes
and
True Brows
Bethesda  -  For making Skyrim.
The Nexus - For allowing me to host my indulgences.