MediEvil- Hero of Gallowmere FR
MediEvil- Hero of Gallowmere FR
File information
Created by
KorinOo - traduit par Sylom
About this mod
Traduction française de MediEvil- Hero of Gallowmere d'KorinOo / french translation of MediEvil- Hero of Gallowmere by KorinOo
Requirements

Permissions and credits

Mirrors
Traduction française du mod MediEvil - Hero of Gallowmere de KorinOo
RÉSUMÉ :

MediEvil: Héros de Gallowmere est un projet de fan visant à recréer les 4 premiers niveaux du jeu MediEvil, sorti en 1998 sur PSX.
Enfilez les bottes de Sir Daniel Fortesque, un chevalier mort depuis longtemps qui vient tout juste d'être ressucité ! Explorez le pays de Gallowmere durant votre quête pour attraper Zarok, un sorcier maléfique ayant volé l'âme des vivants pour ramener les morts à la vie (vous compris).
(pour commencer votre quête, lancez une nouvelle partie)
CE MOD AURA DE LOURDS IMPACTS SUR LES PERFORMANCES DE VOTRE JEU ! VEUILLEZ PRENDRE ÇA EN COMPTE EN CHOISISSANT LES AUTRES MODS QUE VOUS AUREZ EN L'UTILISANT !
CE MOD NÉCESSITE 2 DLC : DAWNGUARD & DRAGONBORN ! (ainsi que les fichiers du mod VO
CARACTÉRISTIQUES :

Les quatres premiers niveaux de MediEvil, refaits avec Skyrim. Ce qui correspond à peu près à 2-3h de gameplay.


Une aventure Halloweenesque dans un tout nouveau pays, rempli de personnages amusants et un peu fou.


Des zones et lieux magnifiques, faits manuellement.


Une bande sonore originale pour donner encore plus une petite "vibe" d'Halloween !


Un super combat de boss à la fin.


Une poignée de puzzle et de quêtes secondaires pour réveiller vos méninges et obtenir un meilleur équipement
(épée courte, épée longue, dagues de lancer, massue maudite, arbalète, marteau, boulier de cuivre et d'argent)

Un sens de l'humour unique.


La possibilité d'utiliser votre propres bras en guise d'arme.


Des objets à collectionner, dont des anecdotes sur le jeu d'origine (déverrouillées après avoir vaincu le boss)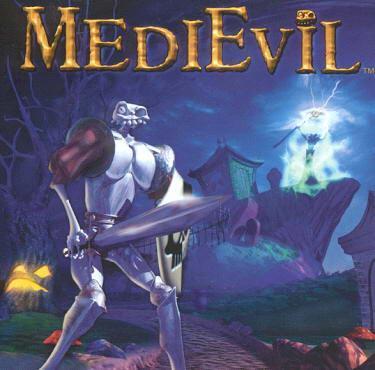 INSTALLATION:
1. Téléchargez et installez le mod VO.
2. Dézippez les fichiers vers un dossier temporaire.
3. Copiez le dossier scripts ainsi que le fichier Gallowmere.esp vers (dossier d'installation)\Skyrim\Data\ (REMPLACEZ SI DEMANDE)
3.a. Si vous possédez le mod Vivez une nouvelle vie, copiez le contenu du sous-dossier "Opt - patch Vivez une nouvelle vie" au même endroit.
4. Démarrez le launcher de Skyrim, cliquez sur 'Fichiers de données', et cochez la case près du fichier Gallowmere.esp.
N'OUBLIEZ PAS DE FAIRE UN BACKUP DE VOS FICHIERS ! EN PARTICULIER LE DOSSIER SCRIPTS !
THIS MOD REQUIRES TWO DLC: DAWNGUARD AND DRAGONBORN!
COMPATIBILITÉ :
Ce mod n'est PAS compatible avec la plupart des mods changeant le lieu de départ ("pas compatible" dans le sens "votre jeu ne devrait pas crasher, mais l'un des mods ne fonctionnera pas."). Il est, toutefois, compatible avec Vivez une nouvelle vie d'Arthmoor (ver 3.0.7 - du moins), grâce au patch de compatiblité.
Vous débuterez le jeu à la Fin des temps. Puis si vous choisissez d'aller en Bordeciel, vous serez transporter au lieu de départ du mod Vivez une nouvelle vie.
Pour vous assurer qu'il fonctionne correctement, veuillez suivre l'ordre de chargement suivant :
1. Skyrim, Update, DLC's
2. Alternate Start - Live Another Life
3. Alternate Start - Live Another Life (extensions)
4. MediEvil: Héros de Gallowmere
5. Patch de compatibilité avec MediEvil: Héros de Gallowmere
Ce mod est équilibré pour être un défi pour ceux qui jouent en difficulté Adepte au Skyrim vanilla. Utiliser une autre difficulté ou un autre mod de combat risque de détruire cet équilibre, et le jeu pourrait ainsi devenir plus difficile ou plus facile.
Même remarque pour les mods visuels. Tout ENB ou replacer peut potentiellement améliorer ou diminuer l'esthétique de ce mod. Utilisez-les avec précaution ! Ce mod est également assez sombre de lui-même, donc si vous utilisez des mods ou ENB assombrissant un peu les choses, vous devriez le désactiver pour jouer avec ce mod.
Si ce n'est pas trop demandé, essayez de jouer avec ce mod sans autre mod installé pendant quelques minutes, histoire de le voir tel qu'il devrait être normalement. J'apprécierais beaucoup :)
CE MOD AURA DE LOURDS IMPACTS SUR LES PERFORMANCES DE VOTRE JEU ! VEUILLEZ PRENDRE ÇA EN COMPTE EN CHOISISSANT LES AUTRES MODS QUE VOUS AUREZ EN L'UTILISANT !
PERMISSIONS:
"You are free to do any patches, bug-fixes, adding new stuff to the mod or
doing a translation as long as you do it in a form of Add-on (and not a
standalone thing)"
F.A.Q.


Q : Puis-je commencer un playthrough normal de Skyrim avec votre mod d'installé ?
R : Oui, vous pouvez. Passez la porte correspondante une fois dans le lieu de départ.
Q : Qu'arrive-t-il lorsque j'ai terminé le mod, ses quêtes et tout ce qu'il contient ?
R : Vous aurez une option pour continuer à jouer au Skyrim normal.
Q : J'ai récupéré quelques armes en faisant ce mod. Qu'arrivera-t-il si je décide de démarrer un playthrough du Skyrim normal ?
R : Elles seront placées dans le coffre du petit cimetière près de Rivebois. Vous pourrez les récupérer là-bas une fois sorti du donjon d'Helgen.
Q : Puis-je commencer une nouvelle partie, démarrer un playthrough de Skyrim, puis revenir et commencer la partie Héros de Gallowmere ?
R : Oui, c'est possible. Il y a un téléporteur dans le petit cimetière près de Rivebois, qui vous permettra de commencer la partie MediEvil de ce mod.
Q : Il dit que je peux échanger mes armes dans ce petit cimetière près de Rivebois ? Qu'est-ce que je recevrai en échange ?
R : Vous recevrez la même arme que vous avez écangé, mais avec des meilleures stats)
Q : Est-ce que vous créerez plus de niveaux de MediEvil ?
R : Non. Le projet était conçu pour ne contenir que les 4 premiers niveaux.
Q : Créerez-vous une version sans DLC ?
R : Non. Ce mod nécessite trop de ressources provenant des DLCs.
CRÉDITS :
Musique par :
Adam Oakman 
R.B. Evans
Ciarán Jai Cosway
Stefan Fletcher
Christopher Lewis
Simon Blanco


Vous pouvez écouter l'ost par ici : 
MediEvil: Hero of Gallowmere OST on YouTube

ou la télécharger ici : 
Dropbox
Doubleurs VO :
elementxstyle
- Gargouilles
Adrien G - Vieil homme
Lordwelshi - Tim le Rusé
John Rogers
- Woden
skinnytecboy
- Zarok, voleur
Holly Lindin
- Petite rousse
TrollFaceTheMan
- Squelette du calice
Daniel Dawson - Scrumf
Adam 'Digimon' Dergiman - Marchand
S. Kranendonk
- Squelette de la fiole de vie
Kristyn Mass
- Fille zombie
Darkvidenge
- Âme tourmentée
Patrick "Patrickj" James
- Papy squelette
Andrew "Anyproblems123" Ros,
Joseph De Leon,
Trent Martin,
Alexander von Koopa
J'aimerais remercier tous ceux qui ont contribué à ce projet. Ce projet ne serait pas ce qu'il est sans les ressources telles que :
-
TESA Resource Kit Project
-
Resources for modders by Runespect
-
Modders Resource Pack by Oaristys and Tony67
-Open Books Library by stoverjm
Grand merci à tous ceux qui m'ont permis d'utiliser des parties de leurs mods :
-
Ryu Doppler (Felt Hat)
-
J3X (Automatic Crossbow Script)
-quazaque (wooden furniture texture)
Aussi, merci à tous ceux qui ont fait de superbes modèles 3d et textures libres d'utilisation :
-ScreamingFox
-Turksandwich79
-luxxeon
-Obsidian Dawn
Et merci à tous ceux qui m'ont soutenu moi et tous les fans de MediEvil qui sont là ! En particulier Michal "Mielu" Mielcarek ! Sans lui, je n'aurais probablement jamais eu la détermination de finir ce truc !