File information
Created by
kojak747
About this mod
A standalone conversion of the Haafingar Oaks and Marsh Pines from Enhanced Landscapes. Special edition also available in the downloads section. Also included my own marsh overhaul called Dilon Vul. It's like a more sparse marsh tree mod, with dead trees and vistas plus new ultra lods.
Permissions and credits

Changelogs
This is a standalone conversion of the Haafingar Oaks and Marsh Pines plugin from AceeQ's Enhanced Landscapes
I really like the Haafingar Oaks and Marsh Pines from Enhanced landscapes and wanted to be able to use them as standalone mods so I converted them. I removed the Enhanced Landscapes dependency, thinned out the oak trees along Solitude ridge to allow better views through the trees and thinned out the oaks around Solitude Entrance, to make it compatible with Solitude expansions like TGES and Solitude Reborn. I also removed some oaks for ETaC compatibility at South Dragon Bridge. I have left the oak trees as is on the South side of the river. I disabled clipping pine trees and disabled pines where necessary to improve the views. 
Dilon Vul
My own marsh overhaul mod. I made this because I really liked the marsh treatment that Enhanced landscapes included in its original esp, but there was no way to 'extract' it, so I decided to make my own and Dilon Vul is the result.  It comprises of fewer trees, mostly dead tall pines and has ultra lods included. Check the screenshots.
Updates
New green versions for classic and SSE now available. Check the sticky.
SSE
There are versions available for the special edition in the downloads. They are the ones listed as form 44.
Installation
Install normally with your mod manager of choice or drop the files into your Skyrim data folder.
Requirements
None. You do not need Enhanced Landscapes to run this mod.
Load order
Shouldn't matter unless you have other mods that change the same things.
Credits & Permissions
AceeQ  - given for Enhanced Landscapes
http://www.nexusmods.com/skyrim/mods/68782
Hoddminir Plants and Trees - given for the oak tree resources
http://www.nexusmods.com/skyrim/mods/38651
Lupus Hegemonia for the Special Edition Stuff, new green textures and Lod work > https://www.nexusmods.com/skyrim/users/39468920/?
Threepkiller for the Special Edition work and fixing ultra - lods > https://rd.nexusmods.com/users/19474719
Nazenn and Katy420 for helping me work this all out.
Notes
This file contains an updated tree lod, TamrielTreeLod.dds that includes the oak tree lods.  If you use Dyndolod, you will find the necessary oak billboards in textures/terrain/LODGen/Enhanced Landscapes Oaks Standalone.esp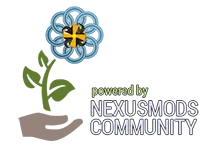 CLICK BELOW FOR MY OTHER MODS