File information
Created by
Sagittarius22
About this mod
Buy properties! Hire people! Build your own Economic Empire!
Requirements

Permissions and credits

Translations

Spanish
Portuguese
Polish
Italian
Hungarian

Mirrors

Donations

JOIN ME ON FACEBOOK
AVAILABLE ON STEAM WORKSHOP
What this mod does, is add a new way to get rich in Skyrim. How, you may ask? The answer is quite simple: by investing in properties! Not the vanilla way though; you will be able to invest in any shop or tavern even though you do not have the "Investor" perk. Investing in any property will give you gold. "Free gold?" I hear you ask. Not quite. Business is not simply dropping some coins and call it a day. You will have to do some micro-management if you want to get the most of the experience - or not, if you don't want to.
Let me explain details. You are a rich adventurer and want to get richer on the long term. You decide to go to, say, Bob and invest in his property. First twist: the price to pay is not the same everytime, as it depends on multiple factors: your race, Bob's race, your Speechcraft skill and his Speechcraft skill, if the property is located in a small city or not, etc. If Bob lives in a small town, in a minor Hold (example: The Pale is considered a minor Hold), if you are friend with him and are the same race as Bob, then the price will be much lower than if Bob had a greater Speechcraft skill, lived in a big city, etc.
Let's imagine you bought the property. You got a property title that you should keep somewhere safe. Now, everyday or so, you will be able to come back to Bob and claim your share. But, on a bright day, you get a letter saying that Bob's property is being extorted. Youn can deal with the situation as you want: go and kill the bandits, or put a bounty on their head:
This situation could have been avoided though. Because you can hire people to keep your property safe. These people are...
MERCENARIES

Mercenaries are people from all over Tamriel. They protect your property against threats like bandits. To hire a new mercenary, simply talk to Bob (or however the owner of the property is called, this is just an example) about it.
They cost a small amount of gold everyday, but it might be worth it. Once your property is safe and well-protected, you will want to boost your incomes a bit. To do so, you can hire...
EMPLOYEES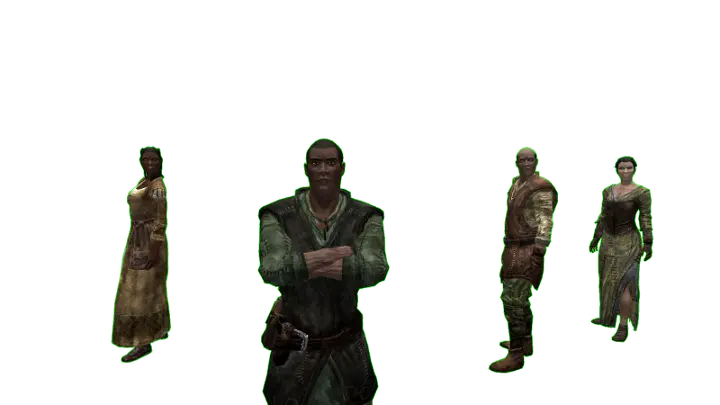 Employees are people who will help you with your property. Everyday, they will boost your property's incomes by a small amount. With a twist though: sometimes, when hired, instead of making you earn gold, some people will make you LOSE some. They will improve everyday by themselves though, but you can boost their training level with some training session (costs gold).
Available commands:
Fire
Re-hire (if previously fired)
"Let's talk about you" (shows the employee's stats)
"Let's train you a little" (boost his Learning Ability)
As I mentioned, employees will improve everyday, according to his "Learning ability". Let's take the example of Employee 1. Employee 1 is a bad employee: he makes you lose 5 Septims a day. He is also a decent learner: his learning ability is of a value of 0.5. It means that everyday, he will make you lose 0.5 Septims less than the previous day. On day two, he will make you lose 4.5 Septims. On day 10, he will not make you lose any gold, and on day 12 he will make you earn 1 Septim a day, and so on. Keep in mind that some people are slow-learner, some are skilled marketer but are slow learner, etc. It is your responsability, as a manager, to assess your employees and fire the very bad ones.
Keep in mind that mercenaries and employees are not instantly hired. They will actually appear and have an impact after a few hours, or even days. Recruiting takes time!
If you want to boost your incomes by a much larger amount, you will need the help of...
THE EAST EMPIRE COMPANY
You want to boost your property's incomes by a much bigger amount? Talk to Gullius Tallius or Vittoria Vici at the East Empire Company's office, on Solitude's docks. See the first video for more informations. 
THE MARKARTH'S TREASURY HOUSE
After buying your first property, you will get a letter from the Markarth's Treasury House. They will propose you to put your hard-earned gold in a private chest. Every ten days, you will get more and more gold, for as long as there is at least 5000 Septims in your bank chest. The Bank also allows you to collect your properties' incomes and put them in your chest, so you will not have to visit every of your properties. Talk to Manius Tidus at Markarth's Treasury House.
As you can see, there are quite some features to play with. Pro-tip; think long-term.
Will you be a... Landlord?
Donation is an optional thing, but I still want to thank the people who decided to donate! Thank you for supporting modders who create fan-made content: