File information
Created by
Gamwich
About this mod
A rustic retexture of the Hearthfires DLC oven. Available in 2K and 1K versions.
Requirements

Permissions and credits

Donations
RUSTIC OVEN - Hearthfires
is a retexture of the Hearthfires DLC oven. The oven is a popular addition to many of the custom player home mods, so it seemed worthy of a facelift. Since I already did a rustic retexture of the cooking station, it only seemed right to complete the set.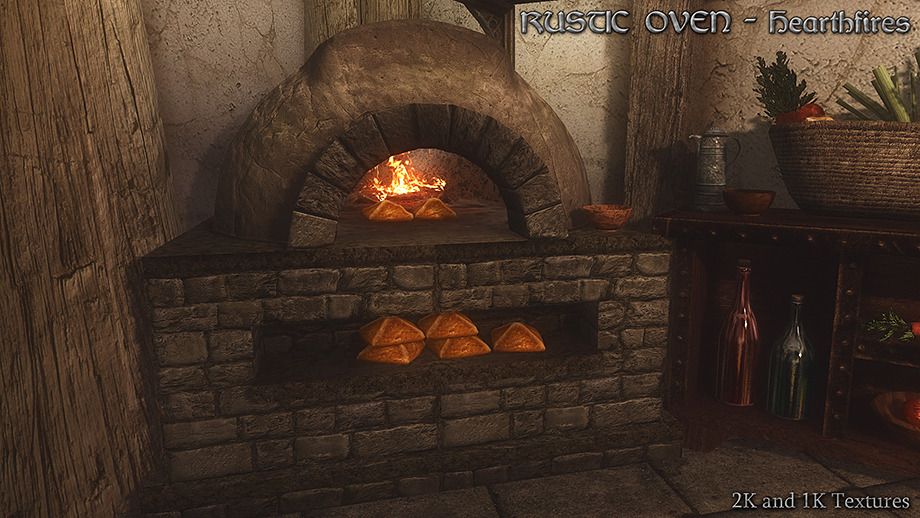 The Bethesda High Resolution DLC pack has 1K textures for the oven, but I never cared for their appearance. The brick face looks too much like modern mass produced bricks, and not like the stonework found in most of the game. The oven cooking dome also has an odd looking effect that applies cracks to the surface, but they don't respond to normal lighting. They just look ugly and odd to me. The idea was fine, but the execution was poor.
So, I endeavored to make the facing look like cut stone, as you see used for the city walls in places like Whiterun. I also negated the "decal" crack effect in favor of smaller (subtler) cracks in the diffuse and normal map textures. In general, I tried to impart more detail and textural interest to the oven, while giving it signs of age and wear.
It goes without saying, that you'll need to Hearthfires DLC installed to use this mod. The textures are available in 2K and 1K versions, so choose the appropriate size for your available VRAM.
Cheers,
Gamwich
UPDATE:
Added a new SparrowDome Edition that has a revised mesh included, so the dome of the oven now has it's own separate texture. This helps alleviate some of the blurriness that afflicted the regular version. It does come with some performance cost, however, so it's recommend for people with 2GB or more of VRAM. Thanks to
SparrowPrince
for revising the mesh to allow for this version.
For all things "Gamwich", here's the link to the all my mods on Nexus:
GAMWICH MODS