About this mod
Just downloaded an Armor Mod.? This tool extension allow you to see the items in a particular mod's .esp
which then is displayed on an item screen, you can click items to add them to your inventory.
Requirements

Permissions and credits

Translations

Turkish
Spanish
Portuguese
Hungarian
German

Changelogs

Donations
This mod is an experimental by towawot. 
And, I have published the results.
Require latest SKSE and UIExtensions !!DESCRIPTON:
This mod gives you an item that when activated gives you a list of all the .ESP/.ESMs that you have installed, selecting one will open a "container" (eg. a chest inventory window) giving you access to every item that plugin/master provides, you can then select items to place directly into your inventory just like a normal container/chest/NPC inventory, allowing the player access to take any item in any mod they wish.
REQUIRE:
Skyrim 1.9.32
UIExtensions v1.2.0
 by 
expired6978
SKSE v1.7.3
HOW TO USE: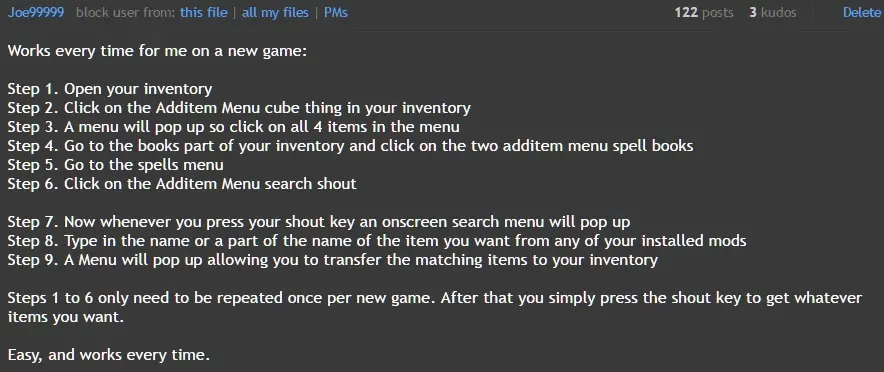 HOTKEYS:
[JUMP] key - Search.
[READY WEAPON] key - Sort plugin order.
[Sneak] key - Quantity change.
FAQ:
Q: Can't get a plugin list using the object.
A: Please drop the Misc item on the ground and pick em up.
Q: About how to update.
A: Uninstall old version. Launch game. Save. Close Game. Install new version. Launch game. Please use AIM2 pack in misc of inventory.
THANKS:
expired6978
himika
tktk1
hangakin
CREDIT:
UIExtensions
(or EFF) by 
expired6978