File information
Created by
GLAM BAZOONGA
About this mod
Rayya is a lovely Redguard lady preset I made. This preset is for High Poly Heads mod and for RaceMenu. The face preset of my GLAM Rayya NPC replacer mod, by requests.
Requirements

Permissions and credits
~*~*~*~ RAYYA PRESET ~*~*~*~

This is Rayya the Redguard preset, the face I made for my Rayya replacer mod.
Many people asked for the face preset, so I am publishing it here on the Nexus.
GLAM Rayya NPC replacer is
here
:
This preset is for Racemenu and the
High Poly Head mod
 is required. I mean required, not just recommended.
Also you need
Expressive Facegen Morphs
and
Expressive Facial Animation
, the SKSE thing and
RaceMenu
 mod.
All the other things that will make the preset look like in the screenshots, are for your choice. 
The very very recommended mods are:
KS Hairstyles
 and
bijin Skin
. 
Looks great also with
Unslaad Pale Skin
 mod.
I also like
Fair Skin
 eyes and teeth - to get the eyes looking so cute like this. 
Maevan's vanilla brows
is a perfect HQ retexture to the vanilla brows.
KS hair retexture by ShinglesCat
- for the detailed natural realistic beautiful texture of her hair
Female Makeup Suite by DomainWolf
for the flattering makeup: contour, eyeliners, lips
MFG Console
 and
Facial Expression Batfiles
 mods - for the face expressions 
Custom Light
for good illumination of the face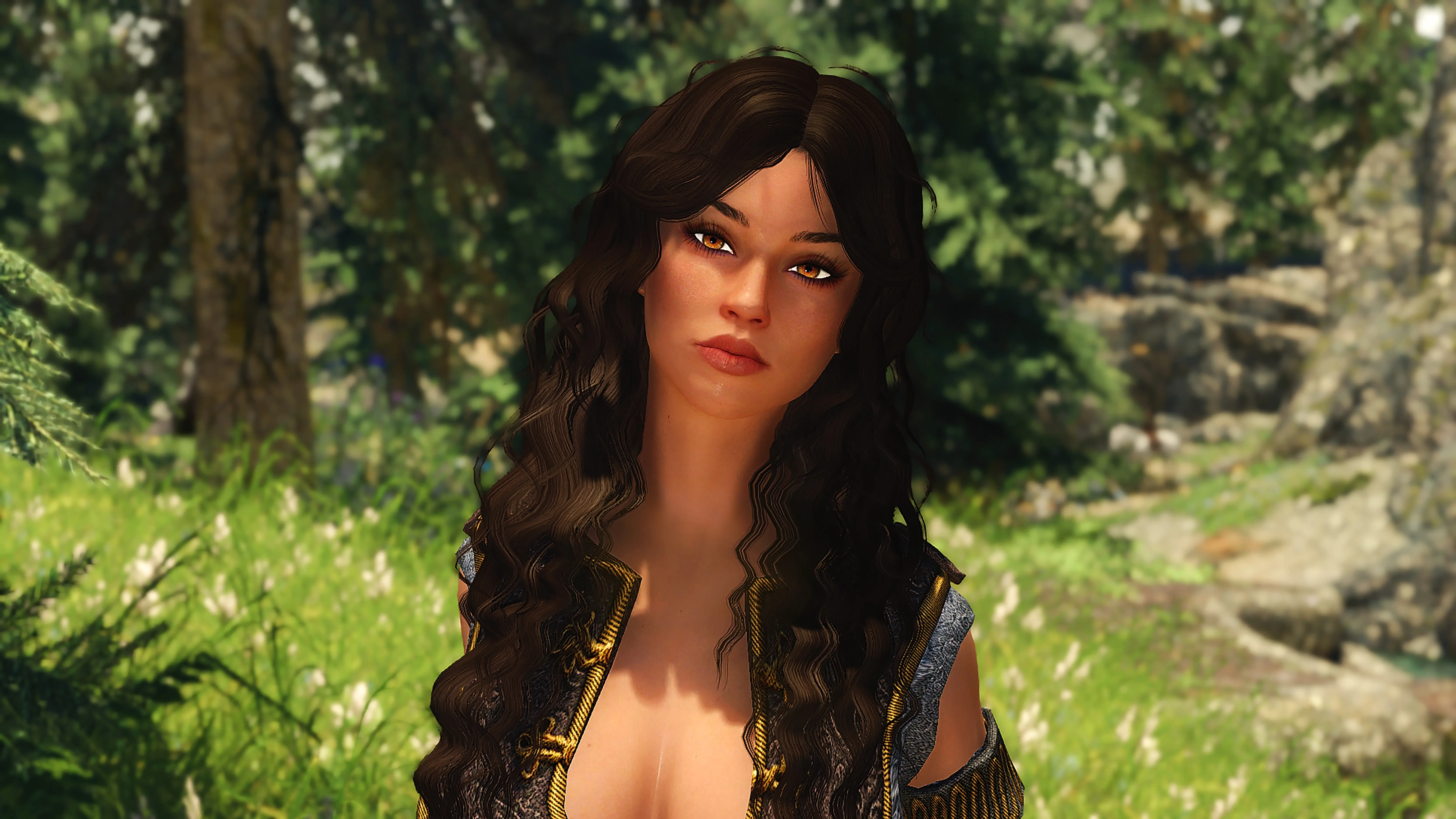 How to use this mod
:
1) Download the mod from the Nexus and install with your favorite mod manager.
2) If you do it manually: put the files in the right folders:
the preset (jslot) file put into the Data/SKSE/Plugins/CharGen/Presets folder
the NIF (and the dds) put into the Data/SKSE/Plugins/CharGen folder
3) Open your Skyrim game and load the save you want to use
4) type ~showracemenu to open character creation or go to the character creation in the beginning of the game
5) Change the gender to female and the race to Redguard and the weight to 70. 
6) In the Face Part slider - change to the High Poly. to the right ! 
7) Go to the presets tab- F9 load the preset (jslot) from the presets folder in the CharGen
8) Make sure the Face Part slider is on the High Poly.
9) Then immediately go to sculpt tab - F9 load the NIF from the CharGen folder
10) make a save 
11) Then you are free to open ~showracemenu again and to edit the preset to your liking.
use your imagination! Make her a cool nice player character!
Please upload screenshots of how she looks in your game. I appreciate it. I will be very happy to see you adding the pictures to USER IMAGES. 
And if you like this preset, please endorse the mod. 
If something is not working, let me know and I will try to fix it. 
HAVE FUN !