File information
Created by
Anduniel
Backported from SEE. Images are from SSE.
REQUIRES HEARTHFIRES
Soups, Stews, and... other Stuff in Bowls: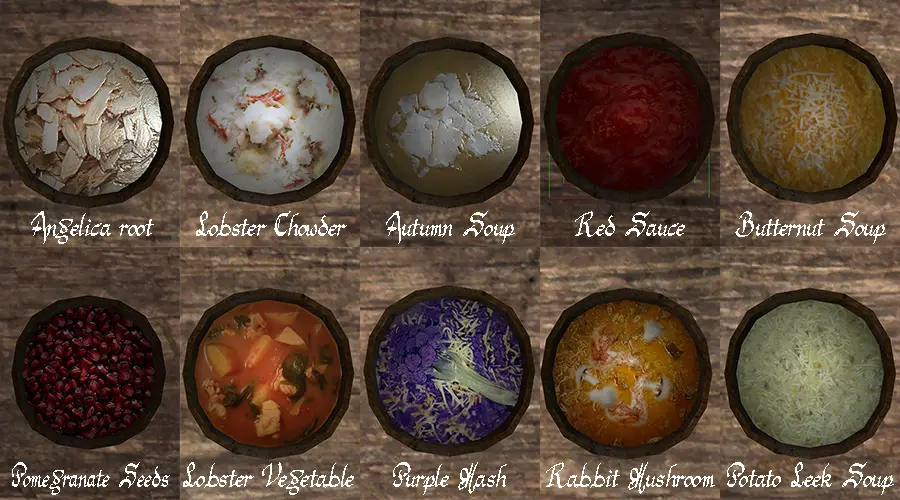 I made these for my Follow pack mod Anna NPCs, and decided to make them available as their own food mod.
You can of course use both mods together; you'll just have 2 entries of certain foods at Cooking Pots.
All have new normal maps to fit the textures.
Translations:
Traditional Chinese
by Stchi Wong
3 Additional Foods:
Butternut Squash (a retextured Gourd)
Sweet Potato (a retextured Potato)
Firebrand Whiskey (retextured Firebrand Wine)
Added to Inn Vendors:
You have a chance to buy them from all Innkeepers.
LItemFoodInnCommon
LItemFoodInnCommon10
Cook them at any Cooking Pot:
6 of the 10 pictured can be Cooked (the right 6). And Shepherd's Pie.
The Autumn Soup, Butternut Soup, Purple Mash, and Potato Leek Soup I made at home and took hi-res photos. (Purple Mash was made from home-grown purple potatoes and purple cauliflower). And yeah, they all have cheese on top. I like cheese...
Upload your Screenies! Auto-accept is enabled :)
PERMISSIONS:
You may use these in any SKYRIM mod, just credit me and link back to this page.
You MUST ASK ME to use in other games.
YOU MAY NOT USE THESE IN ANY MOD YOU CHARGE MONEY FOR.