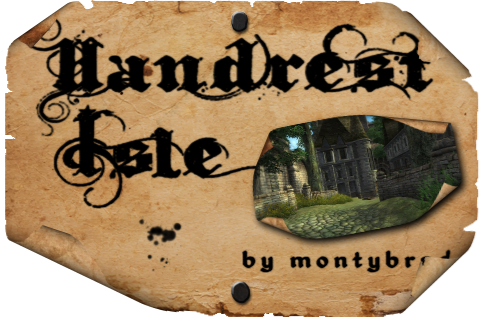 !!!Version 1.8 Out Now!!!AKA Bandit Creepy Castle
The Nostromo has been moved to eliminate a conflict with Better Cities.
The castle exteriors have been reworked to minimize pop up and increase immersion.
More details on this version later...
This will be part of Dungeons of Tamriel 1.1 soon...
Version 1.6 Upgraded Hayter, its now a exterior cell.
Version 1.5 Added another portal to the parallel plane: Inside the Est Wing take the door that leads to Stairwell.
Both versions of the cells Main Hall and Store House have been upgraded. The roof is destroyed and you can look up through the hole and see the castle. Added some more holes in some floors where you can fall to your death in the lava below :D
Also added a huge hole in the side of the castle and a precarious set off stairs thirty feet above a lava moat that connects to the cliffs. Ive also worked on the main exterior, redid the terrain textures there and added custom weather to the Doppelganger castle. Added a few notes to give a little detail about what's going on in Handrest. Removed the sewers in the parallel plane to improve game flow and as well as blocking off a few routes to better direct progression. There is still plenty of paths and freedom to explore. This and a lot more :)
Handrest Castle was abandoned after slavery was outlawed in Cyrodil and is now a haven for bandits and marauders.
Screens from Version 1.0.4 Out Now!!!
There is a lot of attention to detail, lighting and atmosphere. There's more than a hundred enemies: bandits, marauders, skeletons, goblins and more!
There are three castles:
- Handrest Castle, with both interiors, Exteriors and sewer dungeons.
- Another castle west of Handrest Castle, which is exterior only (just there because it looks cool).
- Wizard Lair, an evil looking version of Handrest surrounded by Lava, with interiors and exteriors. The whole castle is on a tilt having partially descended into lava. The contents of the interior have shifted and much of it is burning.
- All three castles have bandits and marauders. Wizard Lair has the same with the addition of Skeletons.
- The ship Nostromo in Anvil will transport you to Handrest.
Cool features:
- Use siege ladders to quickly get up to battlements and walls.
_ Battle enemies on the walls, battlements and interiors.
_ Dark and moody atmosphere.
_ No one around to say "Stop criminal scum!"
_ It's a clean mod.
_ Easy to install.
To get there:
- Board the ship called 'Nostromo' docked in Anvil.
Heres what people are saying about Bandit Creepy Castle:
This looks promising!
I really like the look of the lighting and set design. Very well thought out obviously.
>=) This was my face when I entered the first chamber. Nice and dark, and trashed.
>=D And this was my face a few rooms in, when I entered a circular room and found a gaping hole in the floor, and the floor beneath it, and the floor beneath it. Can't wait to see the rest of the place. Good job.
I liked it. (Handrest). Very creepy.
I really like it ;-)
Check out my other mods:
Dungeons of Tamriel
Chorrol Dungeon
Drafty Cave
Anvil Dungeon
[changelog] Version 1.4 Out Now!!!
Oblivion Handrest Castle interiors are upgraded. More fire and burning rubble :)
Other adjustments and polish.
[changelog] Version 1.3
Added four merchants
New areas: new sewers and other interior areas.
Split Oblivion Handrest Castle into two connected cells to improve performance.
Added detail and polish to many areas.
Finished incomplete areas and tied areas together better.
Npc's now carry some of the weapons and equipment found in the areas they inhabit.
A bunch more stuff that brings the whole mod up to a higher level of quality and completeness.