As you may have heard, Skyrim Anniversary Edition is coming out in a few weeks to commemorate the initial release of Skyrim in 2011 - a whopping 10 years ago! Along with this release, Skyrim Special Edition will also be receiving an update including new, free content. Great news, but this update also comes with some consequences for the modding scene regarding mods dependent on the popular utility Skyrim Script Extender (SKSE). There is no reason to panic though! In this post, we've put together all the information we have at the moment that might be relevant to you if you're modding Skyrim Special Edition, or if you're planning to get the Anniversary Edition.


What is Skyrim Anniversary Edition (Skyrim AE)?

Skyrim Anniversary Edition is a re-release of Skyrim celebrating its 10th birthday. It will be released for PC, Xbox One, Xbox Series X/S, PlayStation 4, and PlayStation 5 on November 11, 2021. The Anniversary Edition includes Skyrim Special Edition as well as 74 Creation Club mods - that is all 48 currently available ones plus 26 new, unreleased mods, adding up to a total of around 500 new gameplay elements.

Skyrim Anniversary Edition (shortened to "Skyrim AE") is not a free upgrade, but every current and future owner of Skyrim SE (Special Edition) - on every platform - will have the option to purchase it. Regardless of whether you've bought Skyrim AE or not, everyone owning Skyrim SE will also receive a free update and access to three free pieces of Creation Club content: Fishing, Survival Mode and even new quests with the Saints and Seducers mini DLC.

"Under the hood" Skyrim Anniversary Edition is the same exact game as Skyrim Special Edition - so, as far as we know - all mods that work for Skyrim SE will also work for Skyrim AE and the other way around. In fact, Skyrim AE will not even be a separate entry in your Steam library but rather act as a patch to Skyrim SE. This is why there will not be a separate game section for Skyrim AE on our site, as Skyrim AE is really just Skyrim SE with Creation Club content added to it. So, if you are a new player looking for Skyrim AE mods, you can simply browse our Skyrim Special Edition section, and our mod manager Vortex will work with Skyrim AE just fine.


The downside

In tandem with the release of Skyrim AE, Skyrim SE will also receive an update including the above mentioned free mini-DLC. While that is great, at the same time - as a side effect of that update - the current version of Skyrim Script Extender will no longer work with the game version and will need to be adapted by its developers.

Skyrim Script Extender (shortened to SKSE) is a requirement for many popular mods, especially for some that came out in the last couple of years (SKSE plugins / native code plugins). As a result, many if not all mods that depend on SKSE will no longer function until SKSE has been updated to work with Skyrim AE. Some examples of mods that may break due to this change include: Sky UI, Race Menu, XPMSSE, True Directional Movement - to name a few. Other mods may even need additional tweaking, so they might not start working again as soon as SKSE is adapted but will require more work from their authors to be compatible with Skyrim AE and the Anniversary Update.

But there is no need to panic: from what we know and expect, this is only going to be temporary disruption to the modding scene, especially until SKSE can be adapted to the update. You also always have the option of backing up your game (as explained below) or even rolling back.

This is no one's fault in particular so please do not message or harass any of the SKSE devs, or anyone at Bethesda. We're certain the SKSE devs are and will be working very hard on adapting the script extender as they have for many, many years now. Thank you for your continued work and best of luck!


Is it the mod apocalypse? Well, not quite.

It is not all doom and gloom as you may have read online. We know that the SKSE devs are talking to Bethesda to find a solution, and while it may take longer than usual for them to update the script extender, the current estimate we're aware of is that it will still happen relatively soon.   

In the days or weeks until SKSE is rewritten to work with the 11 November update, however, you may find that some mods no longer work. In addition to that, it is also possible that some SKSE plugins i.e. mods based on the script extender will need to be rewritten by their authors entirely, meaning they may stop working and won't magically start working again when the SKSE team have updated to a new version either, as extrwi - one of the SKSE developers - stated on Reddit. While that is definitely unfortunate and a blow to Skyrim SE modding, most SKSE dependent mods should be back in action days or weeks after the 11 November update - so, no, it is not going to be the end of all modding as we know it. To put that into perspective, Cartogriffi, Community Manager at Bethesda, highlighted that SKSE dependent mods might need "more work than usual" to be updated, and that on consoles there is "potential that the next-gen upgrade will require reworking some graphical and performance mods", but that overall, most mods will work fine.

Nonetheless, just to be on the safe side, you might want to backup your SkyrimSE.exe. To be even safer, you may also want to backup several files - or if you have the disk space available - your entire Skyrim SE folder.

List of files to backup on PC to be safe:
 
SkyrimSE.exe
Data/Skyrim.esm
Data/Update.esm
Data/Skyrim - Interface.bsa
Data/Skyrim - Misc.bsa
Data/Skyrim - Patch.bsa


To help you know what mods are and aren't working - we are keeping  a list of popular SKSE plugins that are confirmed working/non-working with the latest version of the game on our modding wiki, which we will be updating as soon as we have access to Skyrim AE and know more.


How can I backup up my EXE / How can I downgrade my game to avoid losing SKSE compatibility?

This only applies to the Steam version of the game. For all other platforms the game version will be updated automatically. 

Please note that by staying on or downgrading to SkyrimSE.exe 1.5.97 you are not going to receive the free updates and mini DLC. This option is purely for people who want to ensure SKSE compatibility for the time being until the SKSE dev team can update the script extender. Once you update the game, you will, however, receive the free mini DLC. As we don't have access to Skyrim AE, we cannot guarantee this will work with or without unforeseen side effects. Only attempt this at your own risk.

To avoid having your current mod installation broken until SKSE is updated - assuming you are using SKSE dependent mods -  you can simply prevent your game from updating to the latest version for now, and only update when you're ready or when SKSE and the mods you are using have been updated for compatibility.

Please note that we are not advising you to do this. It is generally considered good practice to keep your games updated. However, if you do not care about the free update and would rather just have all your SKSE dependent mods still working, then this is how to do it:


Back up your SkyrimSE.exe

Before the update comes around, so before 11 November 2021 you can make a copy of "SkyrimSE.exe" located in your Skyrim SE game folder. The default path is typically something like "C:\Program Files (x86)\Steam\steamapps\common\Skyrim Special Edition". You can then use this backup to overwrite the SkyrimSE.exe in your game folder. Please make sure to also set your game to only update when you launch it as described below.


Set your game to only update on launch

1. Go to your Steam Library 
2. Right-Click Skyrim Special Edition and select "Properties..."
3. In the left hand menu, go "Updates"
4. Under "Automatic Updates" select the option "Only update this game when I launch it"




Once that is done, make sure to only launch Skyrim SE via your mod manager or via the SKSE loader - "skse64_loader.exe". When you launch the game via the loader, please make sure that Steam is already running (if it isn't, running the loader will start up Steam and then run the game as normal, which is not what you want). That way, your game is not going to be auto-updated. If you do wish to update eventually, simply run the game through Steam to initiate the upgrade process.


Downgrading to an earlier game version, if you've already updated

While we tested this when the article was released, this, unfortunately,  no longer appears to be an option, at least not directly via Steam.

If you get caught out by the automatic update on 11 November, or if you simply decide you want to downgrade to Skyrim 1.5.97 (this the latest game version at the current point in time), but you did not make a backup, then you can download the older EXE from a Steam depot using the Steam console.

To do so:

1. Press your Windows key + R
2. Type "steam://open/console" (without the quotation marks) in the input field and press Enter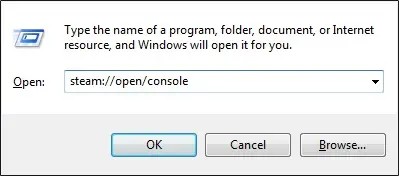 3. Steam will now open and you should see a "CONSOLE" Rider at the top next to your Steam username.
4. Navigate to the Steam console and type in "download_depot 489830 489833 2289561010626853674", without the quotation marks and hit Enter
5. This will download SkyrimSE.exe version 1.5.97 to the folder specified in the download completion message.



6. Navigate to that folder and copy this SkyrimSE.exe and overwrite the one in your game folder.
7. Make sure to now set your game to only update when you launch it as described above.

And that's it, this way you will stay on the current version of the game and ensure compatibility with SKSE dependent mods - at least for the time being and according to what we know at this point. 

With that said, we're all looking forward to the release of Skyrim Anniversary Edition with hopefully many new players discovering the magic of a fully modded game, and veterans of old returning once more to Skyrim.

Will you be returning once again? Let us know in the comments below!