HD More Alternate Fonts for DarNified UI
HD More Alternate Fonts for DarNified UI
File information
Created by
roxahris
About this mod
Made for 4k (3840x2160) monitors, but works on lower resolutions! Pleasantly sharp! Classic, rustic charm! Note: May have some small issues.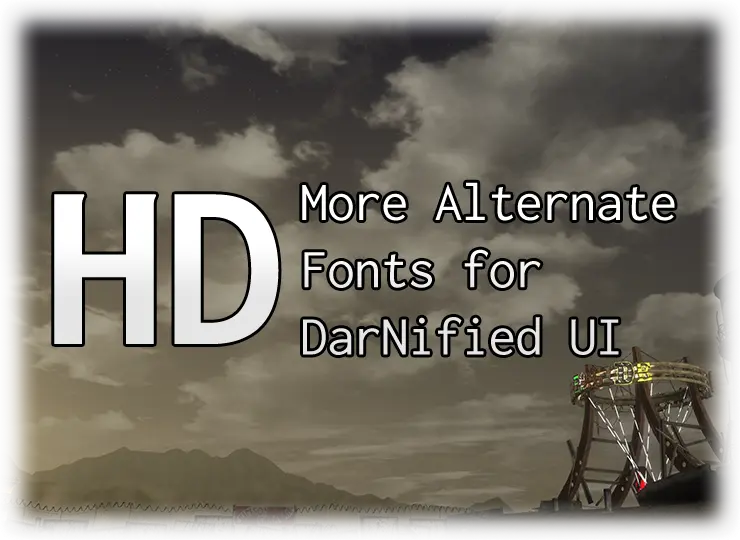 Designed for 4k!
What's this?
If you play at a resolution above 1920x1080, you may notice the interface fonts looking a bit blurry.  These fonts are rendered at double resolution to suit denser monitors. They're based on
Inconsolata
, a nice monospaced font designed for source code and shells. However, it also has a rustic look that fits New Vegas!
No, you don't need a high resolution monitor to use these fonts. They look fine in 1080p as well!
How do I install it?
If you use Mod Organizer, you can activate this mod and then enable the related INI Tweaks from the INI Tweaks section in the mod details. The same applies to Wrye Flash.
If you use NMM, move to the next section. Otherwise, copy the included files to your Data folder, taking care to preserve the folder structure. Once complete, the following files will reside in Data/textures/fonts:
r_Inconsolata_14_2x.fnt
r_Inconsolata_16_2x.fnt
Next, make the following changes to Fallout.ini:
This will replace only the fonts used in the HUD (for the most part). To also change the PipBoy and other dialogues, follow the same instructions, but with
sFontFile_1
and
sFontFile_2
in place of
sFontFile_4
and
sFontFile_6
.
Final notes
This is a test release. However, I've yet to run into any major issues.
Unfortunately, the currently available font generation tools have issues on modern systems or with generating large scale fonts. As it stands, I can't promise any support for problems with the font files themselves. 
All fonts are the property of their respective owners.
Other language support is not guaranteed, but the same as vanilla should be supported.