Good news for Kingdom Come: Deliverance modders! Our friends at Warhorse Studios have just released their Official Modding Tools and documentation - unlocking all new possibilities for KC:D mods. 


The Modding Support update is the final DLC on the roadmap for Kingdom Come: Deliverance and we know some of you could hardly wait to get your hands on some more powerful tools. Your patience has been rewarded! All you need to do is install the latest update (1.9.3) for the game, download the tools and let your imagination run wild. This may be the last official update for Bohemia, but it is a new beginning for KC:D mods.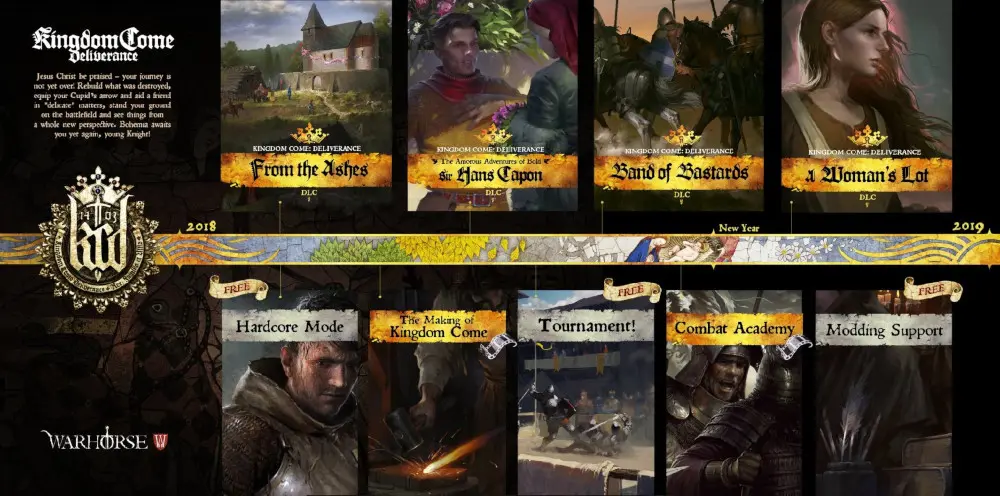 You can pick up a copy of the official Modding Tools from the download page here. The package includes several applications tailored to specific elements of modding, a database dump for setting up a local version of the game database and the raw game data so you can see exactly how features were implemented into the world. Using these tools, you'll be able to add new quests, characters, locations, items and more. 



The good people at Warhorse have also added detailed documentation to our wiki to help you bring your creations to life. If you are unfamiliar with Kingdom Come, check out the Before You Start section which will guide you through setting up your system for modding. Once you've done that, you can dive into the Basic Mods section which explains how to complete some basic modding tasks such as adding new weapons, new levels and quests. There is also a wealth of in-depth information on how to use the modding tools themselves in the Tools section. 

The core of this wiki was written by the Warhorse Studios staff, but it would be incredibly difficult for them to cover all the advice and best practices. That's why anyone in the community can edit and add pages to the wiki to help newcomers and experienced modding veterans alike to create the best mods possible for Kingdom Come: Deliverance. Nexus Mods is already home to nearly 700 mods created without the official tools so we're excited to see what new creations the community will come up with.


Vortex enhancements

To make modding even easier for users, we're currently working on an update to the Kingdom Come: Deliverance extension in Vortex. Below is a sneak preview of the new "Load Order" tab which will allow you to set the priority of your mods inside Vortex, rather than manually editing your mod_order.txt or renaming the mod folders alphabetically. This will be part of the next major update to Vortex, along with several other cool new features and improvements. If you start modding with Vortex now, you will be able to seamlessly upgrade to the new version once it's available. Watch this space!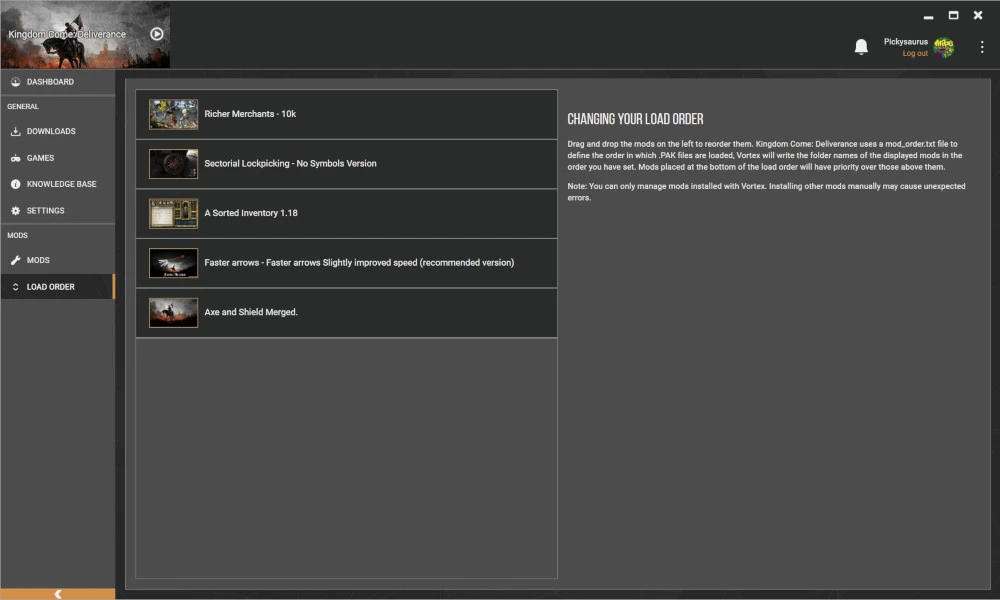 On behalf of the Nexus Mods community, I'd like to say a huge thank you to Warhorse Studios for making modding even more accessible in their game!

Do have a great idea for a mod in Kingdom Come? Share your thoughts with us in the comments section.