File information
Created by
Various
So, what is this?
In a
nutshell
, I could say it's
Epic Ald-Ruhn but with proper interiors 
for the new buildings and merged with Ald'Ruhn temple expansion. In reality, it's much more than that and the changes are so many that it's in fact a completely different beast since every bit from the original mods has been reworked. 
DESIGN PHILOSOPHY
The general design philosphy is inspired by the
conceprt art
drawing ofAld'ruhn.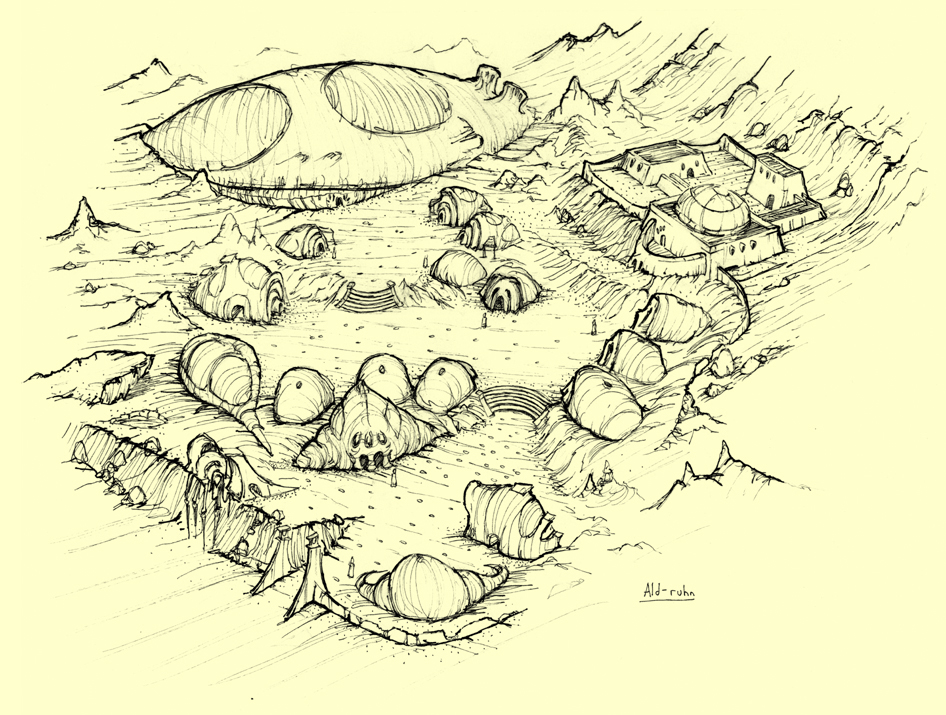 As you can see, the atmosphere is very open and I'd say almost "relaxed" with a lot of empty spaces.
I tried to keep and expand on that and I also included
Ald'Ruhn temple expansion
since that's an excellent mod was clearly inspired by concept art. 
Second key element
: Ald'ruhn is in the
middle of the ashlands
with frequent ash storms.
Considering this, I highly doubt they would leave too much clutter outside (the concept art also  shows this).
This means that this mod, differently from many others, doesn't really add a lot of stuff to the exteriors of Ald'ruhn. 
Third key element
, and the reason Epic Ald'Ruhn was the base for this mod: the city is just too small considering it's supposed to be the biggest Redoran settlement so I felt that adding
MANY
new buildings was very needed.
Epic Ald'ruhn had – at least in my opionin – the right idea of raising the Skar to create space for new buildings.
There are no new services as I feel Ald'ruhn already has enough of them so the new buildings are all houses. 
Apart from these "issues", vanilla Ald'ruhn is already very similar to the concept art drawing, well designed and original. 
I didn't want to completely change the atmosphere of Ald'Ruhn. Both the interiors and the exteriors are not overly creative, and you'll probably never go "oooh wow what's that? How cool!".
On the contrary, the goal of this mod is that a player should not be able to tell what's there from vanilla from what's been added by the mod. 
Note: as with the original Epic Ald'ruhn, this mod also overhauls the Buckmoth Legion Fort. This part of the mod has been completely redone so there's no similarities with Epic Ald ruhn'original design. 
I hope I achieved what I wanted and that you'll enjoy the mod.
A NOTE ABOUT THE RR_SKAR VERSION
If you decide to use it, you need to install the models from
here
this first. 
COMPATIBILITY

The main zip has patches for:
- Red Mountain Reborn
- RR Better Skar
- LGNPC Ald'ruhn and Pax Redoran
And there is also a version without edits to the interior of the Skar.
CREDITS

As with many of my mods, this uses resource and ideas from many talented modders.
Credits go to 
MikeandIke for Epic Ald'Ruhn
Xeth-Ban for Ald'Ruhn temple expansion and Zobator for letting me use his revised version
SammyB27 for lettig me use his work for the manor distric interiors
HOTV team for the concept art hut resource
Izi for the Buckmoth fort's resources and design  
Alternatives:
If you're looking for a more crowded, packed and dense design, Ald'ruhn X is the mod you want.