File information
Created by
Melchior Dahrk
About this mod
Adds a Fabricant Guar companion named Gizmo. Gizmo comes with many new features including petting him, giving him treats and folding into an anuic entanglement matrix.
Requirements

Permissions and credits

Changelogs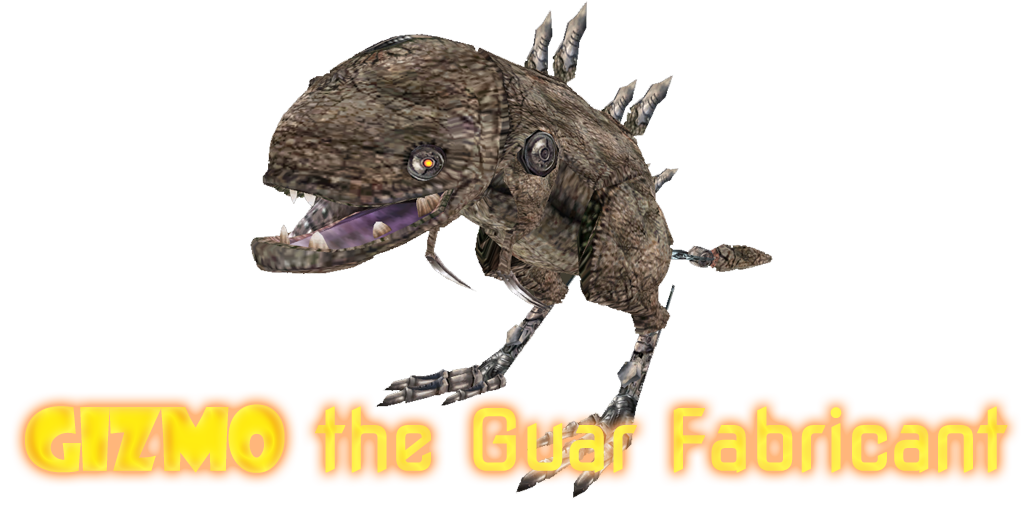 by Melchior Dahrk




After winning the Runner Up prize for my Tumblr mod giveaway, monaluxstesblog requested a mash up of a "Guar and the Clockwork City / Sotha Sil". So I created a Fabricant guar and made it a well-featured companion.
You'll find Gizmo wandering around outside of Ald Sotha. How did he get there? Only Sotha Sil might know...

Metal feetsies
Deadly blade paws
Upgrade Gizmo with augmentations!
Reward Gizmo with scratches, pets, or treats
Install a repair module to let Gizmo repair your gear
Send Gizmo to forage around the area for tasty morsels
Upgradeable storage capacity to carry more of your burdens
Check on the status of Gizmo's health, magicka, fatigue, and mood
Improve Gizmo's bioreactor so that he heals more when you feed him
Experience emotional turmoil with Gizmo when you visit the Clockwork City
Put Gizmo in your pocket with his matrix form to bring his optimism with you anywhere
Unlock Gizmo's hidden potential to transform into another more powerful but volatile form
Activate Gizmo's musk atomizer to attract nearby guar to your aid (including mod added guar!)
Enhance Gizmo's magicka capacitor to restore your own magicka or even fill soul gems
Death is not the end for Gizmo once his matrix form is enabled; revive him! At a cost...

This mod uses the 
alpha and thus experimental and not necessarily stable
 2.1-branch of MWSE, currently in development. By using this mod, you're basically asking to be a tester! If you encounter any issues 
please post a report, ideally on the MWSE bug tracker. 
You can download the latest nightly build from the link below.
This mod requires 
Morrowind Graphic Extender (MGE-XE) version 0.10.1
. Older versions will not work with MWSE 2.0+! Additionally, it will require the 
latest nightly build of MWSE 2.1
.
If you want Gizmo to follow you through teleports like Recall or Intervention, I recommend using
Easy Escort
by NullCascade.

I would not have been able to provide all the features I did in this mod without all of the help with MWscript or MWSE Lua coding!
Greatness7 - major coding help
Merlord - coding help
Petethegoat - coding help
PikachunoTM - coding help
rotouns - coding help
RubberMan - coding help
Leyawynn - playtesting and Gizmo's sounds
NullCascade - MWSE 2.1
Hrnchamd - MGE XE
Morrowind Modding Community Discord - help with brainstorming