About this mod
Adds some Dunmer armor to the game that I made for my overhaul project: Of Ash and Blight.
OAAB Armor Preview
by Melchior Dahrk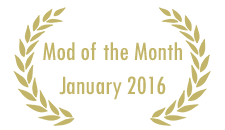 Description:
You can buy the armor pieces from a new trader in Ald-ruhn. He is standing outside of the Council Club.
The armor uses vanilla textures so it will work with texture replacers like Darknut or Saint_Jiub's armor textures.
Armor added by this mod:
Blue Bug Armor:
Same quality as chitin but with better enchantment potential
Green Bug Armor:
Lighter and stronger than chitin
Various Bonemold Pauldrons with some on-the-back accessories
29 bonemold helm variants
Dunmer Iron Armor:
Marginally lighter and higher enchantment potential than standard iron
Boiled Netch Leather Pauldrons
OAAB:
Of Ash and Blight is an overhaul mod I am working on for Morrowind. It aims to make the world of Morrowind a more dangerous and "dunmeri" place. Since OAAB is on the backburner while I finish Lyithdonea, I have decided to release these armors after many requests for them over the last few years.
Permissions:
You can use this armor in your own Morrowind mods, but please give me credit where it is due.