File information
Created by
Melchior Dahrk
About this mod
Eat waffles!
Throw waffles!
Shoot waffles!
Wear waffles!
Requirements

Permissions and credits

Mirrors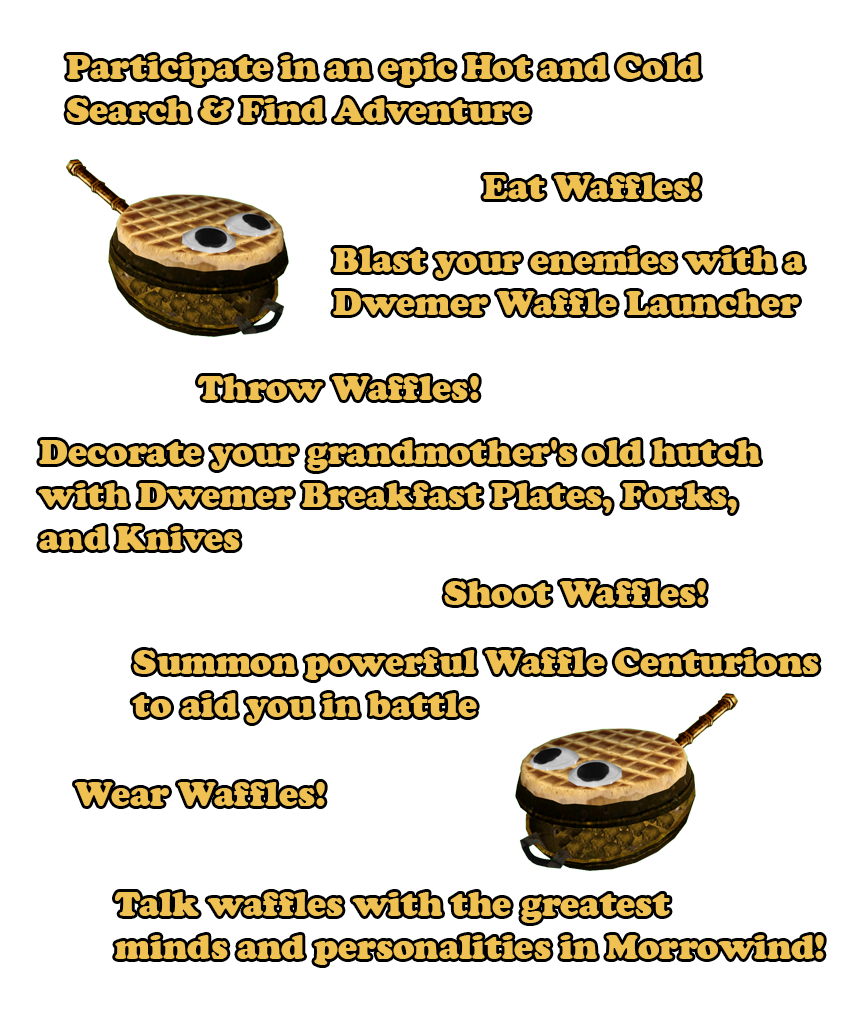 by Melchior Dahrk
In December 2015, I held a Follower Appreciation Event through my Tumblr blog in which the Grand Prize was a mod of your choosing for Morrowind. The Grand Prize Winner chose the
Corgi Companion Mod
. The Runner Up prize was to choose a weapon mod for Morrowind. The winner, our own Darkelfguy, requested a "Dwemer Waffle Launcher". I set to work, but what started as a humble breakfast food firing weapon mod turned into an all out waffle warfare compilation! Waffle Warfare is THE Waffle mod for Morrowind. There is none other like it.
-- If you just want to try out the new items I created for the mod, I have included a CHEAT version of the mod for quick access to them. ---- I have created a video to demonstrate some of what Waffle Warfare has to offer. --
If you take the lore-friendliness of every mod you install as the utmost of importance, then have no fear! For I have devised the lore-friendliest implementation of the Waffle Mod imaginable. You can even speak to Vivec and Almalexia about it. They'll vouch for me! And if you don't believe them, go pay Uncle Crassius a visit. Maybe he'll have something to say on the matter...
I hope that you enjoy this mod.