File information
Created by
RADRR1985
About this mod
This mod will add standalone 12 new scenery items related to Mosasaurus Feeding Show.
These items will appear just after the standard scenery trees, rocks, Park entrances.
Requirements

Permissions and credits

Changelogs
Mosasaurus Feeding Show Scenery Items 1.0
Greetings to all my fellow park managers, 
I'm delighted to release my 3rd mod here in NexusMods for Jurassic World Evolution 1 and this is my second standalone scenery mod pack.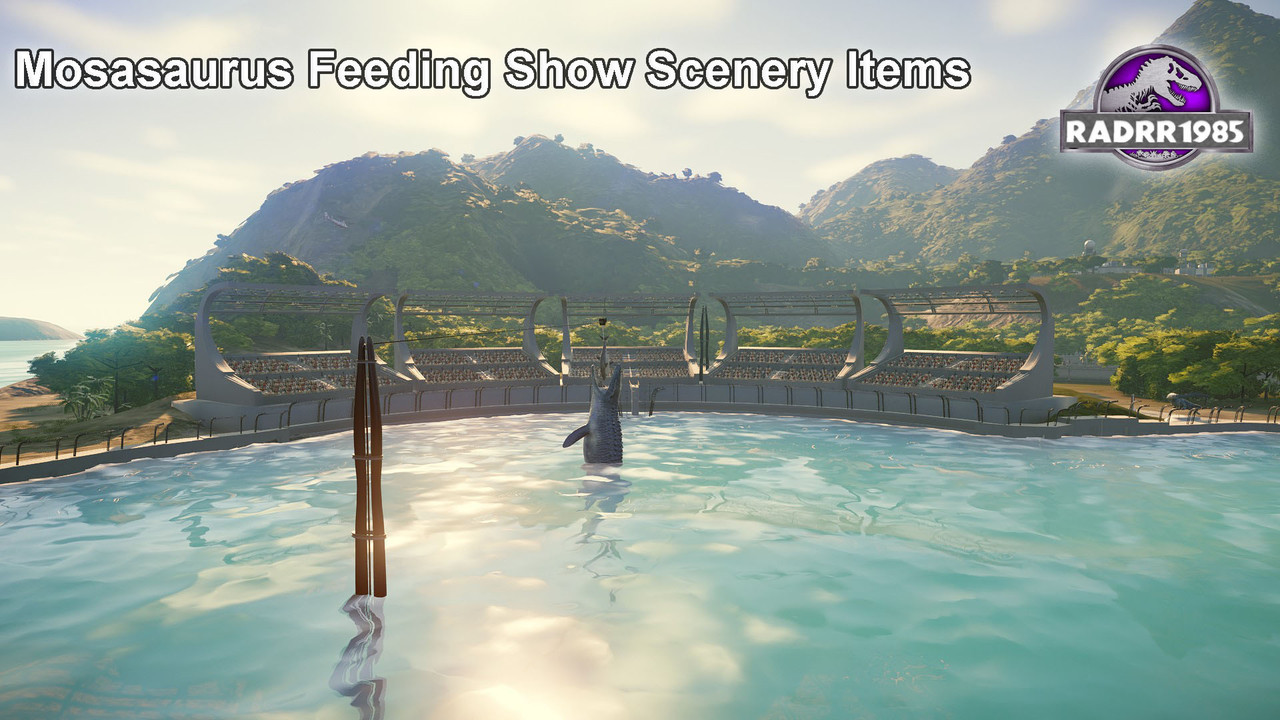 Functionality
===============================
-This mod will add standalone 12 new scenery items to Jurassic World Evolution Game and they will
appear just after the standard scenery trees, rocks, Park entrances.
01.  Base for viewing gallery
02.  Viewing Gallery
03.  Shark feeder for Mosasaurus
04.  Empty Shark feeder
05.  Lady Announcer
06.  Guests in your Mosasaurus Feeding Show
07.  Mosasaurus swimming in water
08.  Mosasaurus Jumping at Shark
09.  Mosasaurus Statue
10.  Coastal Fence
11.  Underwater Fence
12.  The Gate at Mosasaurus Lagoon 
Due to the games some of the limitations, I have to split some items in to separate parts. For example, the base and 5 viewing galleries ideally
should be 1 item, but due to the number limitations on the maximum number of vertices/faces per model, I have to separate them. So, you have to place them
like a modular system.
Make sure to flatten the ground before you start
. Otherwise, separate items will not be placed properly.  If you are facing difficulties with placing an item to the correct elevation, you may need to
adjust the ground and then try 
again.
I recommend to enable "
Terrain Contour Lines
" (Settings ->Gameplay-> Terrain Contour Lines-> enable 2 check boxes), so you can see the elevation map and fine tune the placement of these scenery items.
Also when deleting the scenery items, you might face difficulties if the hit box is not set in the center of the object. As a workaround, you can try to place the same object in same angle, so you can get approximation where could be the hitbox, so then you can delete it.
Coastal fence is little wider, so the placement should be overlap with each other coastal fences. I did this to avoid gaps when curving the fence line.
Please watch below YouTube Video to get some idea about the functionality and know problems of this mod.
Thank you
 Evolution Square
for covering this mod pack in your channel in the below video. :) 
DLC Requirements
===============================
-You do not need any other DLCs to use this mod, only base game is required. 
MOD Requirements
===============================
-No other mods required.
-But you can get better results if you have installed Ultimate Mixed Eras Mod 1.7 (or latest) by Kaiodenic. (Removes scenery and terrain
constrains which is very useful). Otherwise you cannot place scenery items on
the paths or too close to buildings.
- Also I recommend to use Expanded Islands map mod too.  
Installation Steps
===============================
-Download the Mod zip file (Size 20.6 MB)
-extract the downloaded .zip file
-Find the ovldata folder in your Game installation folder(For Example C:\Steam\steamapps\common\Jurassic World
Evolution\Win64\ovldata\)
-Copy extracted folder in to ovldata folder like other scenery mods. Make sure to verify the path to init.ovl file and it should be
something similar to this.
  C:\Steam\steamapps\common\Jurassic World Evolution\Win64\ovldata\MosaFeedShow\Init.ovl
-Open the game and check the scenery items..  
Known issues
===============================
- Once placed in the game, some scenery items will go invisible in different viewing angle. I
suspect this is due to some of the scenery items that I used the hit check box
bit far from the actual model for better placement. When the camera view is too
far from the hit box, the item will disappear in the scene. But when you change
the camera angle it will come back. Sorry I cannot do anything about it as it
is the way the game is designed to improve performance by hiding the objects
when they are not close the viewing camera angle.  
My Effort
===============================
I have spent my entire last 2 weeks to complete this and this is more than 50 hours of work.  
My Expectation from Community
===============================
- Please respect the effort that all the modders put on this game or any other game, not only me, all the modders out there.
- We are not getting any benefit from doing these.
- Only thing we need is your love, respect and appreciation of these works. The best way to show this is add some good thoughts in the
comments, endorse the Mod after downloading it.
-Please come back after downloading the mod to add your thoughts and endorse the mod.
-If you're using this mod for any other work, such as YouTube video, etc. please don't forget to mention about me and provide the
link to this mod in the description. 
Future plans
===============================
Depending on your endorsement, feedback and the free time I have, I may work on more mods in future.
Currently I have a plan to port some of beautiful trees from "Planet Zoo" in to JWE. Will see in the future. 
Note of Thanks
===============================
To all the
developers
who developed this great game, without them I won't have the opportunity to play the game or do this Mod. 😊
Creators of
Cobra-tools
which made modding possible for JWE.
My special thank goes to
Kaiodenic
for his wonderful
Ultimate Mixed Eras Mod
. 
3D models are not 100% my own creation. I have used reference models and edited those to my preference. Some of 3D model references
are from various web sites that I don't have track. Along them I would like to
give credit for below authors. 
DigitalDuck
: Mosasaurus model
Jurassic Explorer Season 2 (Michael Pearce & Andreas Strom) :
Base for viewing gallery, Viewing Gallery, Shark feeder for Mosasaurus, Empty Shark feeder, Coastal Fence, Underwater Fence, The Gate at Mosasaurus Lagoon
DerDandyMann
: For giving permission for me to use his Mosasaurus viewing gallery. But I have used "Jurassic Explorer Season 2" mesh mostly and used DerDandyMann's viewing gallery to add the entrance door area, but it is probably from the base game.
Jurassic World Evolution
: Lady Announcer, Guests in your Mosasaurus Feeding Show 
All the people who supported, encouraged while I'm doing this work (Including my wife, my little boy for their patience and
understanding) and all the people who encouraged and commented on my mods and picture
uploads.
All the users of this mod and for your endorsements and for the feedback. 
Enough typing/reading for now, enjoy the game , Mosasaurus awaits you. 😊
RADRR1985