File information
Created by
Cristian Lazaro
Stealth Suit
First of all, sorry about my english, it's not my native language.
A high tech suit to play as a stealth character, so all you need to do is craft this in the Chemistry Station and be happy.
The suit boost
AGI
and
PER
and have
Chameleon
on Suit and
Detect Life
on Headgear.
After upgrade to the new version, if you have a character equipped with this, unequipe and equipe again or maybe the effects won't appear.
Thanks for the video:
HOW TO USE



You can craft this on the
Chemistry Station
in the
Utility
recipe or in the console command, type the command "help stealth 4 armo" without quotes and look for
Stealth Suit
,
Stealth HeadGear
,
StealthHood
and 
Stealth Bandolier
number ID, then
type "player.additem ID Number" without quotes. Ex: player.additem 5f000802
CHANGE LOG
2.0 - Very thanks to
i0Bjhansen0
for fix the gloves of suit.
2.5 - Now it can be craft at the Chemistry Station.
3.0 - As promissed, all versions in one .esp file.
3.5 - Bandolier included, add 50 to the carry cappacity, just craft it.
4.0 - Fixed minor texture bugs.
4.5 - Now the suit have Chamelon Effect.
5.0 - Now the headgear have Detect Life Effect.
5.5 - Added a hooded version of the mask.
6.0 - Suport for females. (I recommend to play with the hooded mask, the standard have a minor clipping issue)
FUTURE PLANS

If people show enough interest I can finish the new version that I've created some months ago: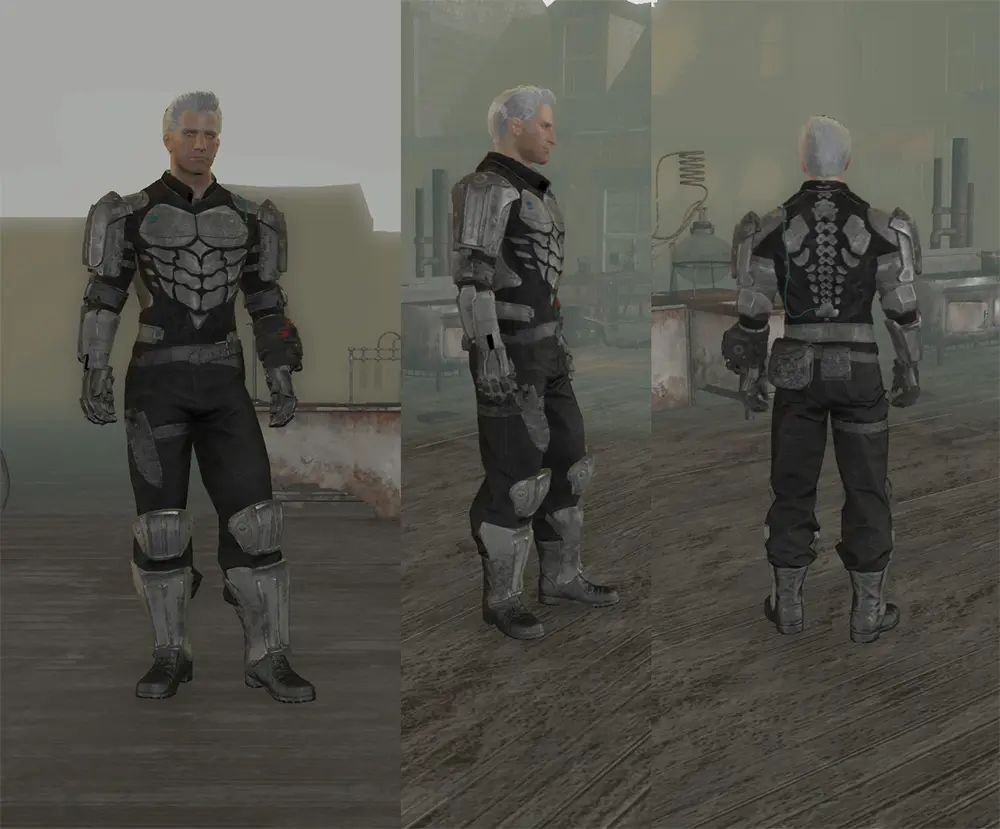 COMPATIBILITY
Thanks to
Gambit
now the Stealth Suit is fully compatible with
Armorsmith Extended
, you just need to download the Armorsmith Prototypes Extended.
The outfits are crafted in the Cybertech and Therm Optics menu in the Armorsmith Workbench. In addition to the usual AE modding he enabled thetherm optics mods on the outfits. The Nanosuit is now the female model for the Stealth Suits instead of them not having a female body model. He removed the chameleon and detect life object effects from the outfits and helmets since both effects are available from mods (therm optics booster and targeting HUD) and replaced them with specials boosts. He tweaked the stats a little bit and made them on par with the
other stealth suits in the patch.

MY MODS

Agent Venom
Superboy T-Shirt
Play as Skeleton
Eros the Husky
Stealth Suit
Superman Outfit
Red Hood Outfit
Synth Helmet Mk. II
Radiation God
Red Hood Outfit
Ninja Mask and Hood
C02 Assault Armor

Enjoy!