File information
Created by
TheTalkieToaster
About this mod
Gives companions infinite ammo for all basic weapons.
Requirements

Permissions and credits

Changelogs
Thanks to
FO4Edit!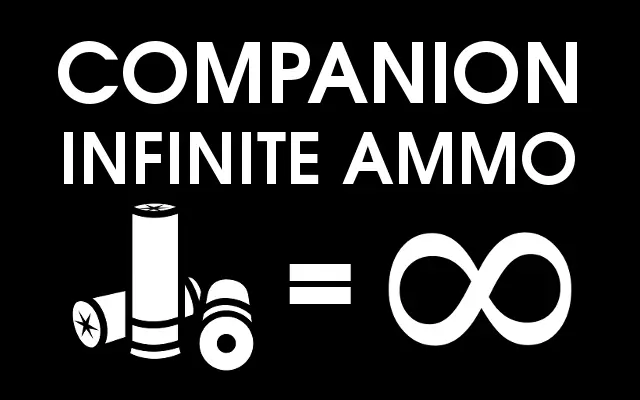 Does exactly what it says on the tin. Gives the vanilla companions infinite ammo for all weapons, just like settlers. As long as they have 1 round in inventory they can fire indefinitely- the only exceptions are weapons that settlers also consume ammo for (like the Fat Man).
Two versions are available:
SINGLE: This works for a single vanilla companion at a time (so, all you have in the base game). It doesn't edit the NPCs. It won't work with multiple-follower mods.
MULTI: This works for all the vanilla companions at once. It does edit the NPCs, so will conflict with any other mod that edits the NPC form.
I recommend the
SINGLE
version as it changes fewer forms. If you use mods that let you have multiple vanilla followers at once, use
MULTI
.
RELATED MODS:
Companion Infinite Ammo and Unbreakable Power Armour
- Stops you needing to repair broken power armour too.
(
NOTE:
If you want to use both Companion Infinite Ammo and Companion Unbreakable Power Armour, you *have* to use the combined version)