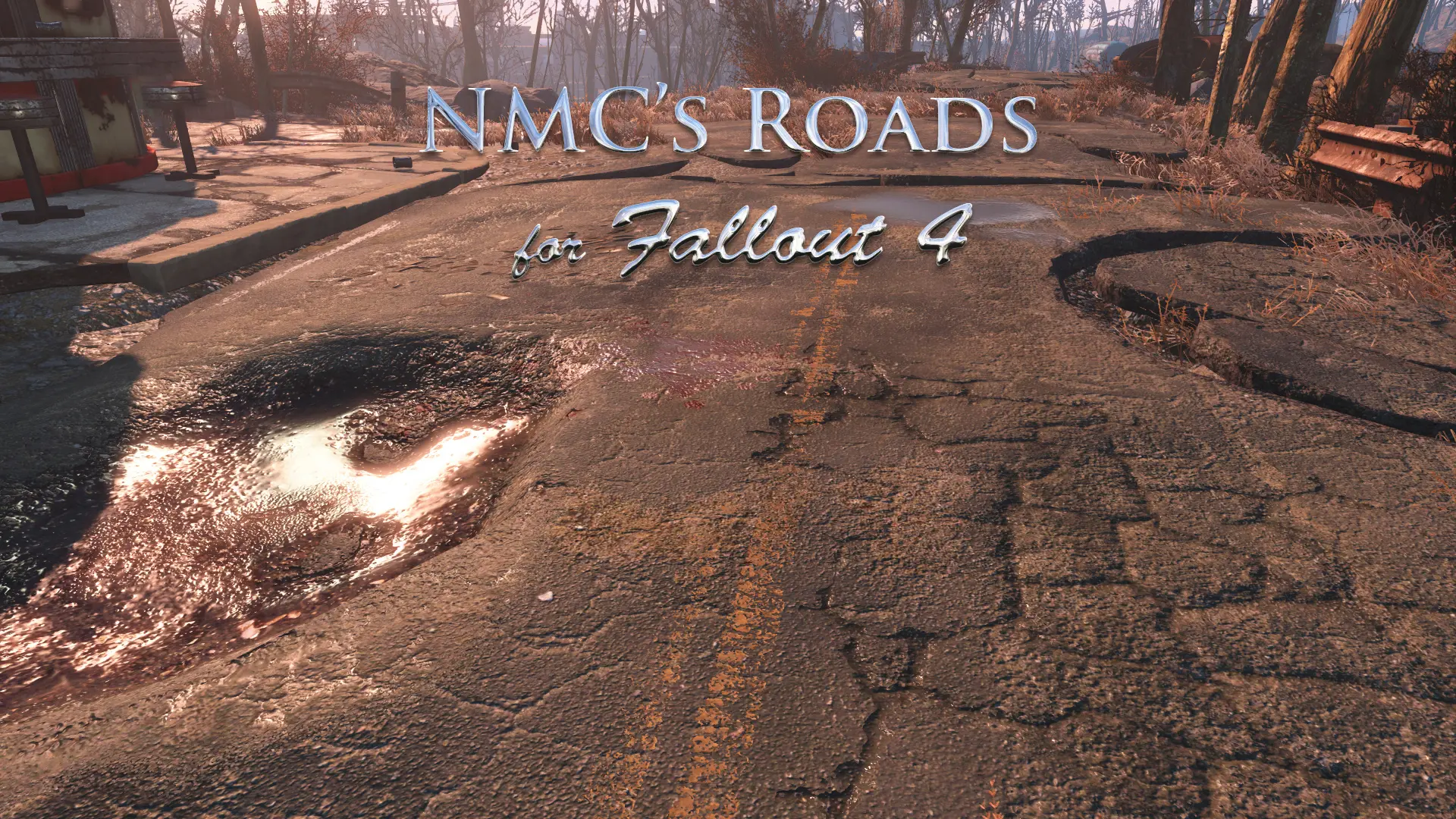 Introduction:
 "It's been a while since I have tried any texturing whatsoever. Making 2 texture packs for Fallout 3 and then New Vegas was pretty taxing, and I had intended to call it a day after their release...
However, recently I decided to have a try retexturing again with the new Fallout 4 engine which allows much greater scope graphically which gave me the opportunity to try out some new techniques. This is my take on how I envisioned the roads to look like in the Fallout 4 environment.
I hope you like the new look."
NMC.
Description
Retextures the asphalt roads, pot-holes, road-edge 'decals' and road sub-layer.
ie. the asphalt road only. No other road types (eg Sanctuary Road) are retextured in this mod
There are 2 versions, Maximum and High, however neither should impact much if at all on performance.
How to install:
1) Unpack the rar file in the game directory/folder.
2) If you have not already done this:
Add the line :
bInvalidateOlderFiles=1   (add this under [Archive])
...to your Fallout 4.ini file found here:
C:\Users\MyName\Documents\My Games\Fallout4\Fallout4.ini
3) The new textures should now appear in the game.
Credits
-
Textures.com for the original base road texture, but which was heavily modified, edited and multi-layered by myself.
Ethreon, for firing my interest in returning to modding again. Thank you!
IMPORTANT:

I am putting a blanket refusal on all requests for the use of all assets for all my mods and all textures I have made for any game, mainly
because I am receiving these requests on almost a weekly basis now. As you can probably imagine, this is becoming quite annoying especially as I have already set my permissions for asset usage on each of my mods at Nexus.
 Previously, I would consider each request on a case by case basis, but as I am being contacted over and over regularly, I have to refuse
everybody now.
Please do not PM me with any requests.