File information
Created by
Elianora
About this mod
Want to live in your old home in Sanctuary Hills but the gorramn Quincy survivors keep bumming in your house? Nate was home for a year and had a hobby project: A fallout shelter. Enjoy your new little keep.
Requirements

Permissions and credits

Translations

Mirrors

Changelogs

Donations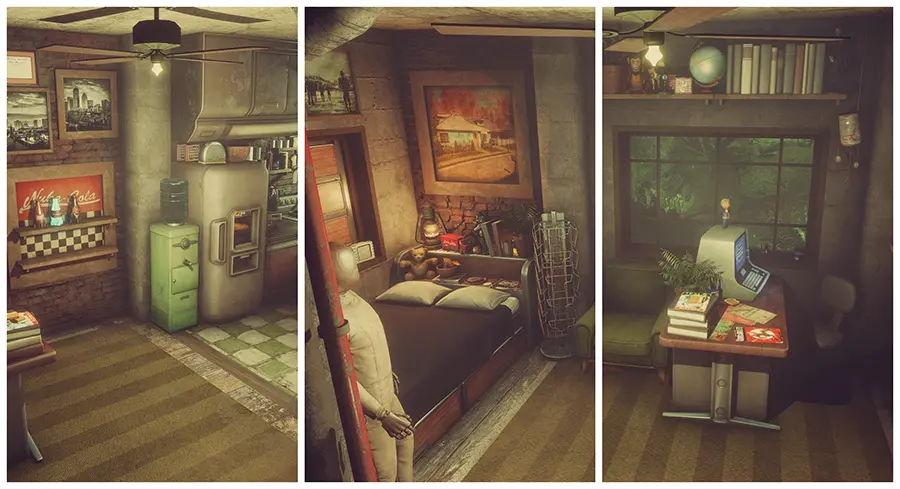 Mod adds a small bunker in the player's Sanctuary home backyard.
(see screenshot for location, it's well hidden)
Want to live in your old home in Sanctuary Hills but the gorramn Quincy survivors keep bumming in your house? This mod gives you some privacy, and cover from the extreme wasteland weathers as well.
Nate was preparing for the worst, as they didn't know about the Vault admission until the day of the nukes, so he made preparations for a shelter to take his family to. Codsworth kept the place nice and clean for two centuries and it's there just waiting for you. No need to sleep in your neighbours crappy dirt cellar or a house full of holes. Nate also left behind some sweet goodies in a footlocker so you can start the game with something better than a pipe pisto
l.
DO NOTE, I MADE THIS MOD ENTIRELY FOR MYSELF.
The requirements are what they are, the cheats (Nate's Stash) are what they are, if you don't like it, don't use it xD:: REQUIREMENTS ::

- DLCCoast.esm (Fahaba)
- DLCworkshop02.esm (Contraptions)
- DLCworkshop03.esm (Vault-Tec)
- DLCNukaWorld.esm (duh) 
:: FEATURES ::
- Mirror to change your appearance
- Workbenches inside the house are linked to Sanctuary workshop so they share items
- Armour, weapon, chem and cooking stations
- Functional terminal
- Bobblehead shelf
- Nuka-Cola display shelf that works with the DLC items
- Armour Rack
- Bed gives Well Rested bonus (or Lover's Embrace)
- Water source for survival
- Unique named storage
- Plenty of idle markers so your friends will sandbox nicely around the place
Navmeshed, as usual, what do you take me for, a hopeless newbie?
Cleaned with xEdit as well
:: RECOMMENDED MODS ::
- Rename Anything by registrator2000 so you can rename the storage boxes if you'd like
- The bonus file I added which makes Sanctuary a bit nicer to build a settlement to
:: KNOWN ISSUES ::
- When exiting the mirror chargen, draw a gun to fix the third person glitch
- Weapon barrel, bookcase and gear storage don't have quick loot, they're activators and work differently from "real containers"
- Some items are static and there for looks, not to be used (chair at desk, water fountain)
----
BONUS FILE: Sanctuary Walls + improvements:NOT RECOMMENDED FOR PEOPLE WHO WANT TO USE EVERY INCH OF THE BUILDABLE AREA IN SANCTUARY!!

Another quality of life improvement file made for personal use that some may find useful
Some of the original build area end up OUTSIDE the the walls so Sanctuary shrinks a bit
- Adds a junkwall around Sanctuary 
- Flattens and edits the ground behind two of the houses for optimal farming spots
- Fixes up the players house to use PREwar model with POSTwar textures (looks worn but not like broken-ass shiet) and have glass windows
- Repairs Sanctuary Bridge
- Adds trees. I LIKE TREES, OK?!
- Relocates the Root Cellar entrance to be inside the walled area
:: KNOWN ISSUES ::
- Works best with a new game
- Might have compatibility problems with mods that edit the player's house in Sanc (Z-fighting)
- Navmesh was not edited because, frankly, I don't care enough about some minor pathfinding derpyness ;]
MEGATHANKSIES:

- Ousnius for BodySlide and Outfit Studio <3
- jonwd7 for Nifskope <3
- Expired for the appearance changing mirror <3
- fadingsignal for workbenches from Compact Crafting
______________________________________________________________________________________________
Modding is like a second (dream) job for me, and takes up most of my freetime (♥). If you want to support my artistic endeavours, or thank me for something that has enriched your game, you can donate so I can buy more coffee to fuel my creative engine! 

You can either donate through Nexus, or join my Patreon.
Follow me on social media for WIP pics and stuff-stuff:


______________________________________________________________________________________________

PLEASE ADD YOUR SCREENSHOTS TO THE GALLERY !