About this mod
Dalton Station Blueprint 1.1 (Vanilla - Dalton Farm) - for use with Transfer Settlements 1.41 - built with only vanilla/DLC items, no mods required - Requires Automatron, Far Harbor, Wasteland Workshop, Transfer Settlements, HUD Framework, & F4SE - Power reactivation will be automatic after import
Requirements

Permissions and credits
Version 1.1 is here! 
Updated version fully compatible with Transfer Settlements 1.41 - no more manually re-connecting the power!
A relic of the Great War, Dalton Station was a military installation created to guard the coastline and provide advance warning about potential enemy naval activity in the Atlantic. Due to the strategic irrelevance of its location, It was quickly abandoned after the bombs fell. In the Post-War era, a family of wastelanders homesteaded the land surrounding the fortress. In a short time they came to be known on the Island as the Daltons, taking their name from the abandoned facility that overshadowed their farm.
FEATURES:
Created completely with vanilla/DLC assets - no mods required!
Enclosed crop-growing area for protected food production
Protected water purifiers for worry-free water farming
Controlled entry/exit points with powered doors
Military-style dormitory area with beds for 20 settlers
Mess hall & recreation area
Workshop area with all crafting stations (except robot workbench)
Clinic complete with beds and waiting area
Commissary area with all shop types
Multiple catwalks and ways to access rooftop areas
Dual guard towers with sniping platforms connected by catwalk
A completely ridiculous place to be if the fog condensers go down!
REQUIREMENTS:
Wasteland Workshop DLC
Automatron DLC
Far Harbor DLC
INSTALLATION PROCEDURES:
Prior to installation, be sure to have all required DLC installed. In addition, you should already have F4SE, HUDFramework, and Transfer Settlements - Shareable Settlement Blueprints installed.
NMM Install Instructions:
Download with manager and install.
Manual Install Instructions:
Download and unzip to C:\Program Files (x86)\Steam\steamapps\common\Fallout 4\Data
IMPORTANT NOTES:
The settlement alert siren may be active after import. Just run up to the top of the structure and turn it off.


The powered doors are controlled by a switch on the outside and a pressure plate on the inside. The outside switch must be off for the door to close.


When the import is complete, in order to restore navmeshing/settler pathing, proper crop functions, and make the settlement work as it should, you must save your game and then load the save. Then travel away from the settlement and either wait, sleep, or pass time in the game doing other things. When you save the first time after import, it is possible that it may take several minutes and your game will seem like it's frozen. If this happens, it's not frozen, just let it do its thing. This is a one-time thing. CDante, the mod author of Transfer Settlements , also strongly recommends that you not attempt to build or modify parts of the settlement until you've completed the save/load/wait procedure.
NOTE ABOUT FILE LOCATIONS:
This settlement installs to blueprint slot 6 by default. If you want it in a different slot then navigate to
C:\Program Files (x86)\Steam\steamapps\common\Fallout 4\Data\F4SE\Plugins\TransferSettlements\blueprints\6
and manually move the .json file into an empty folder named with a number 1-10 in
C:\Program Files (x86)\Steam\steamapps\common\Fallout 4\Data\F4SE\Plugins\TransferSettlements\blueprints
. If you already have another blueprint in slot 6 then you are advised to delete or move one of the two files.
MY OTHER SETTLEMENT BLUEPRINTS:
All of my settlement blueprints are updated for Transfer Settlements 1.41, which means power connections will work automatically!

Boston Airport Forward Command Center
Commonwealth Alcatraz (Spectacle Island)
Longfellow's Lighthouse
Vault 88 by Mayaterror
Visitors Unwelcome Center
Echo Lake Redoubt & Grille
Red Rocket Clubhouse
TROUBLESHOOTING:
Please refer to my
Vault 88 settlement page
for troubleshooting advice.
¯¯¯¯¯¯¯¯¯¯¯¯¯¯¯¯¯¯¯¯¯¯¯¯¯¯¯¯¯¯¯¯¯¯¯¯¯¯¯¯¯¯¯¯¯¯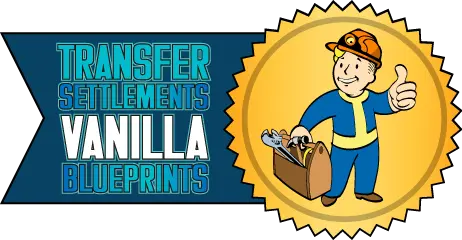 Making your Transfer Settlements experience easier!
Blueprints with this badge are confirmed Vanilla Blueprints which were built using
only
settlement objects from the main game and official DLC.
No settlement objects from 3rd-party mods or the Creation Club are used in these blueprints.
F4SE
,
HUD Framework
, and
Transfer Settlements
are the only mods required to use them.
Check out the confirmed Vanilla Blueprints by the following builders:
Blueprint creators who display this badge are part of the Vanilla Settlement Blueprints Association, a group of creators who offer
high-quality
and
mod-free
settlement blueprints. This group does not burden users by forcing them to track down and install endless mods in order to import a blueprint.
______________________________________________