About this mod
It makes certain collectibles glow, which weren't covered by any other glowing mod out there.
Permissions and credits

Mirrors

Changelogs



It makes certain collectibles glow, which weren't covered by any other glowing mod out there.

*You can check which items are affected and how they look during day and night, by watching the GIFs*

Yellow glow is for readable items which don't provide anything other than lore or certain quests.

Light-Blue glow is for misc items which provide something to the workshop or crafting menus.

Red glow is for Hidden Cappys which will only glow if you're wearing the Cappy Glasses.

White normal glow is for magazines.







*This mod is more of a continuation to several other glowing mods rather than a standalone one.
If you want to make other collectibles glow, then I fully recommend these mods*


ETSGS - Easy To See Glowing Stuff by herpderp2332 aka derp ( I personally only chose the bobbleheads and holotapes )

Glow Mags by Kootta ( Makes all vanilla magazines glow, while keeping their original color)






Q: Why did you do this ?
A: Because I prefer not to miss any collectibles when playing the game. Even after 700 hours on Fallout 4, I still manage to find something I never found before. So I decided to make every collectible that holds any meaning glow, so that I don't miss them anymore.

Q: I don't have X or Y DLC, but I still want to use this. Can I use it without any issues ?
A: Yes, you can. The mod only contains a few materials and one texture, which are not read by the game without the DLC.

Q: Why did you make them glow in certain colors instead of just making them bright ?
A: Because a torn note, a magazine or a recipe do no have the same impact on your character.

Magazines give you perks.

Torn letters, notes, journals and such, usually give you nothing but lore and sometimes a quest. I made them yellow as a reference to WoW quest markers, which are yellow.

Other items such as NW - Recipes or Automatron schematics are easily missed when exploring, that's why they're light-blue. These items give you something for crafting menus.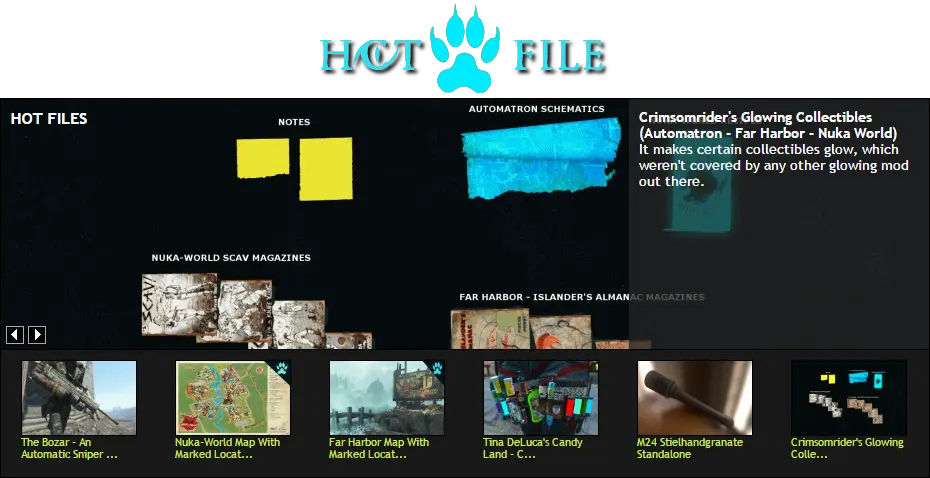 TOOLS USEDGIMP - For texture editingMaterial Editor - For material (BGSM/BGEM) editingBAE (Bethesda Archive Extractor) - For exporting materials/textures or meshes from the game