File information
Created by
King Shelby
About this mod
This mod brings to life the Un marked quest "Keller's Family Refuge"
Permissions and credits

Changelogs

Donations
This is the story of the Keller family's attempt to survive the nuclear holocaust.
This mod brings to life the quest "Keller Family Refuge" which gives the player access to the unique fat
man experimental MIRV and a ton of other loot.
The quest is slightly modified to build a little more onto the story line.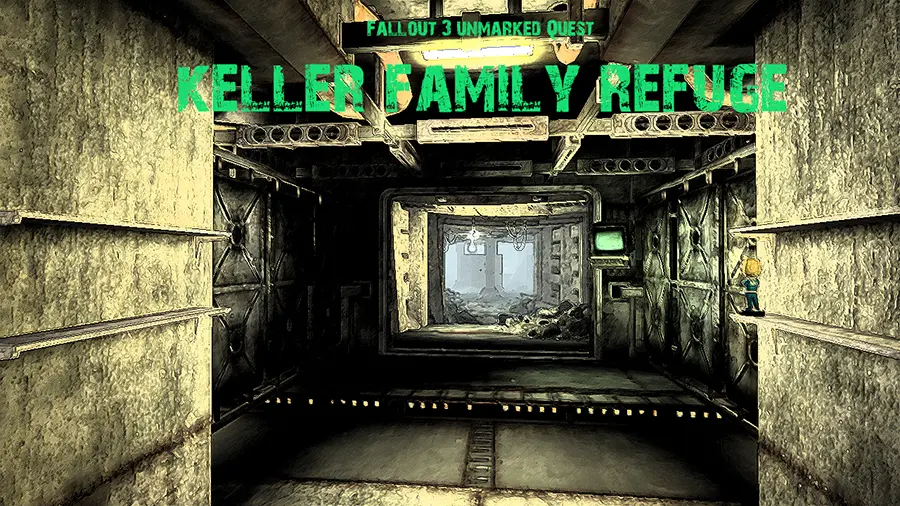 ----------------- Details ---------------

* Adds a note to a body that can be presumed to be Alex Keller

* Instant access to the bunker for those that don't want to search for the holotapes.

OR

* Access to a book that allows you to choose how you would like to search for the tapes.
* Compass and map markers
* Detailed messages
* Quest objectives
-------------------------------------------------

*Upon finding Alex Keller's body you'll notice a note which will start the quest.*
Where?
Well according the the documentation I've read he was arrested shortly before the bombs dropped, so I'd start looking around anywhere prisoners were kept.
Upon reading the note you notice something scribbled on the back, you choose what it says.
Your choice will affect the whole quest there after.
How?
Well if you choose the book path then you will need to find the Keller's "Bug-Out" book which will allow you to choose how you want to search for the transcripts to unlock the bunker. You can read about each one individually and get detailed instruction on where they are, you can choose quest style which will lead you to each one – one at a time, or you can have them all revealed to you all at once.
If you choose the security card path then you will need to find the card which will in turn give you instant access to the bunker, by holding it up to the terminals monitor.