File information
Created by
Kimchi aka Brotgrenadier
About this mod
A extensive Classmod that adds a completely new weapon type to the game: Rifles

Hate boring Ranger gameplay in DOS2? Want more interesting ranged DPS options? Then look no further

- Custom UI for Ammunition Management
- Brand new Class-Skills, over 20+ Musketeer Skills
- 3 different types of Rifles: Muskets, Blunderb
Requirements

Permissions and credits

Mirrors
The Musketeer Mod
It has been available on the Steam Workshop for a while now, finally decided to post it here as well.
>>Official Website Link<<
For questions, feedback or bug reports, feel free to send a mail to
[email protected]
, or contact me on the Larian Studios Discord Channel.
A completely new Class Mod, with custom weapons, skills, mechanics and UI modifications!
Requirements 
This Mod will not work without Norbyte's Script Extender and Laughing Leader's Animation Plus Mod!

Installation - Script Extender
The Script Extender can most easily be installed via Laughing Leader's Mod Manager. Download the Mod Manager directly from
here
, or visit it's
Github Page
and download it from the link provided there.
Once downloaded, unpack it wherever you like and start the Application. To install the Script Extender, press on
Tools
and click on the
Download and Install the Script Extender
-Button.
Installation - Animation Plus
Animation Plus can simply be installed by subscribing to it on the Steam Workshop here:
Animation Plus: Steam Workshop Page
Once subscribed/downloaded, it should be available in the Game's Mod Menu. Make sure to put
Animation Plus
above the
Musketeer Mod
! (See the picture below)
New Features
Features: New Weapons
The Musketeer Classmod introduces Rifles to the game as an alternative to traditional bows and crossbows. Unlike other ranged projectile-based weapons, rifles use ammonition and have to be manually reloaded. Reloading takes time and will occupy you until your next turn.
In total, 3 different types of rifles are available in this mod: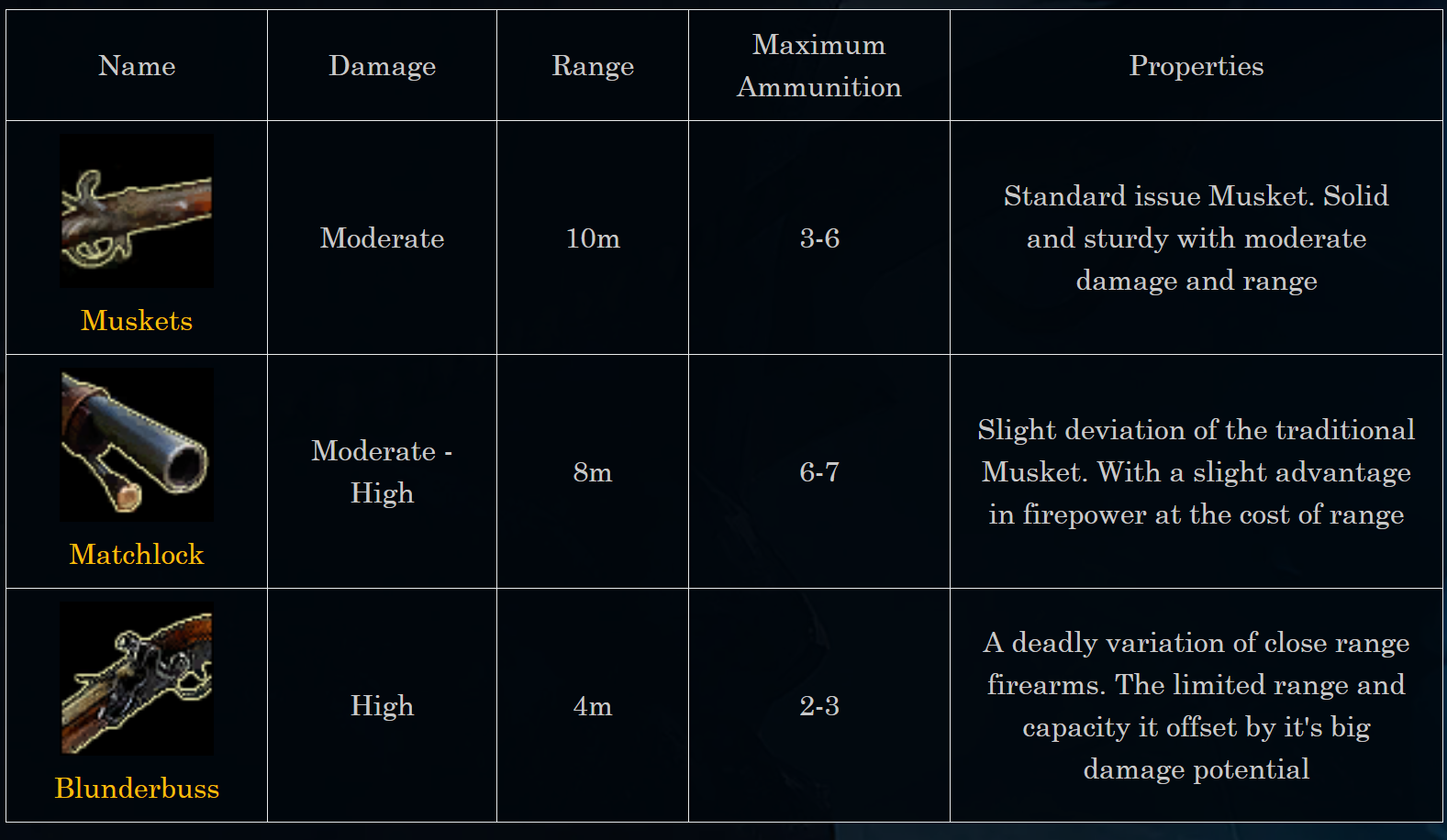 Features: Ammunition Bar
Unlike Bows that seem to have an infinite supply of arrows, rifles require ammunition. Muskets, Matchlocks and Blunderbusses need to be reloaded when empty, as you won't be able to shoot otherwise.
Features: New Skills
A total of 15 new unique Skills complement the Musketeer Mod, along with 6 different Ammunition-Types to spice it up even more!
A detailed overview of all the Skills can be found on the
Official Website
.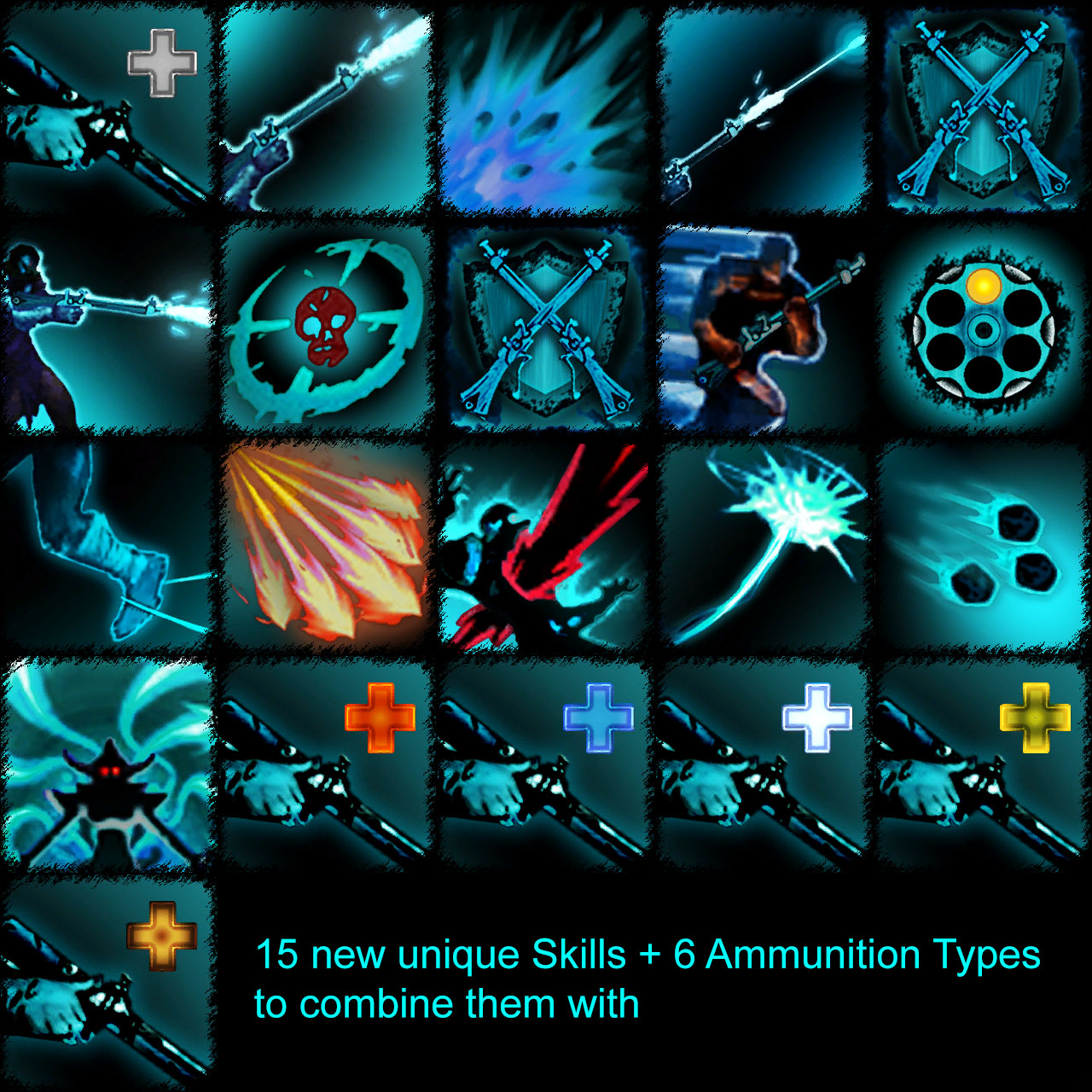 Features: Marking Mechanic
Most of the new Skills introduced by the Mod have additional effects when used on marked targets. Marking enemies works by using mark applying skills. Marking gives you the option to conserve ammunition and set up your next turn. Shooting off all your ammunition without thinking is a surefire way to run out of ammunition when you need it most!
Marks can be applied with the following skills:
Features: AmmoBar User Interface
Never lose track of your ammunition count. The AmmoBar will always show you how much Ammo you have remaining, how much Ammo a skill consumes or restores, what your weapons maximum capacity is and what Ammunition-Type you have equipped.
(PS: It's also draggable! So move it wherever you want it to be.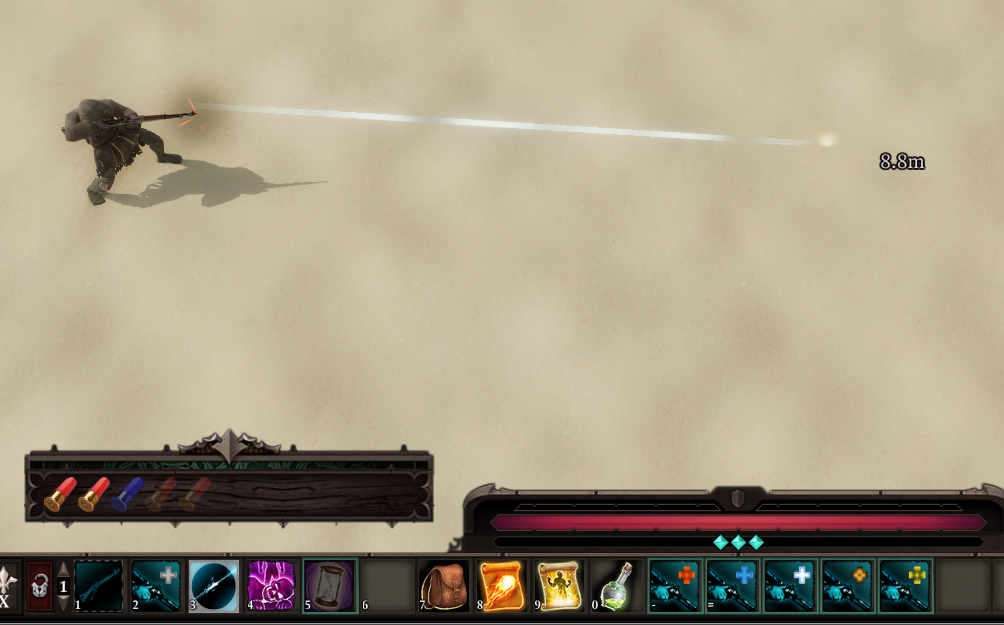 AmmoBar in Detail:
The Fiery-effect on top of the AmmoBar tells you, that you currently have Incendiary Ammunition equipped, have 5 shots remaining out of a maximum capacity of 5 shots. The Ammunition-Costs of all spells are noted in their descriptions and will be displayed on the AmmoBar as a flashing dark blue Ammunition-Symbol when you hover over a skill.
Entering or Leaving combat automatically reloads your currently equipped weapon. Using the bedroll out of combat will also reload your weapon.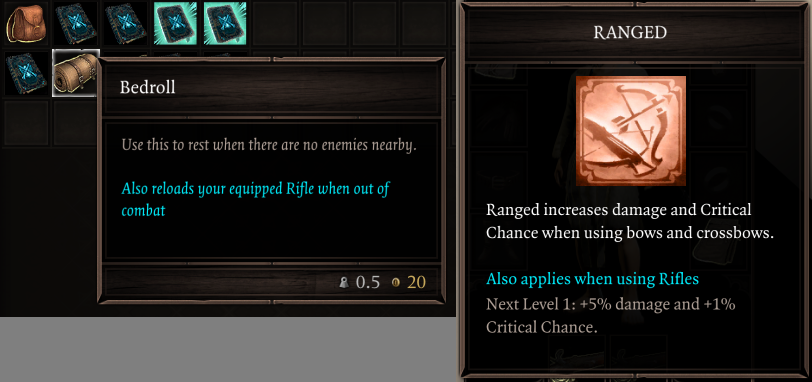 Gameplay: Where to get Skillbooks and Firearms
Firearms and Skillbooks can be bought at all Vendors that sell Huntsman gear and can also be dropped just like other Huntsman stuff.