Kiroshi Opticals - Crowd Scanner
Kiroshi Opticals - Crowd Scanner
File information
Created by
Alien and BadAssGodFather
About this mod
Generates a unique backstory for each crowd NPC scanned. Procedurally generates the background based on the NPC's appearance/gender. NPC's background is displayed in a new section on the scanner pane!
Requirements

Permissions and credits

Translations

Turkish
Spanish
Russian
Portuguese
Polish
Mandarin
Korean
Japanese
Italian
German
French
English
Czech

Changelogs

Donations
NOW UPDATED FOR 1.5 AND LATEST REDSCRIPT

Installation Requirements

Requires the latest version of 
Redscript
 (
v0.5.1
)
Installation Guide
IF UPGRADING TO THE LATEST VERSION ENSURE YOU DOWNLOAD THE LATEST VERSION OF REDSCRIPT

Steps
1. Download and extract the mod from here
2. Drag the r6 folder into your Cyberpunk 2077 game folder
Features
Adds an additional "info" section to the Kiroshi Optical Scanner
Crowd NPCs will have a unique, procedurally generated background story displayed in the panel
Uses NPC's appearance to generate a more relevant background story. Rich/Corporate NPCs will typically have more positive/affluent events while Poor/Homeless NPCs will have had much more difficult lives.
Usage
Scan an NPC using the game's scanner tool (
tab 
by default) to see their unique background story.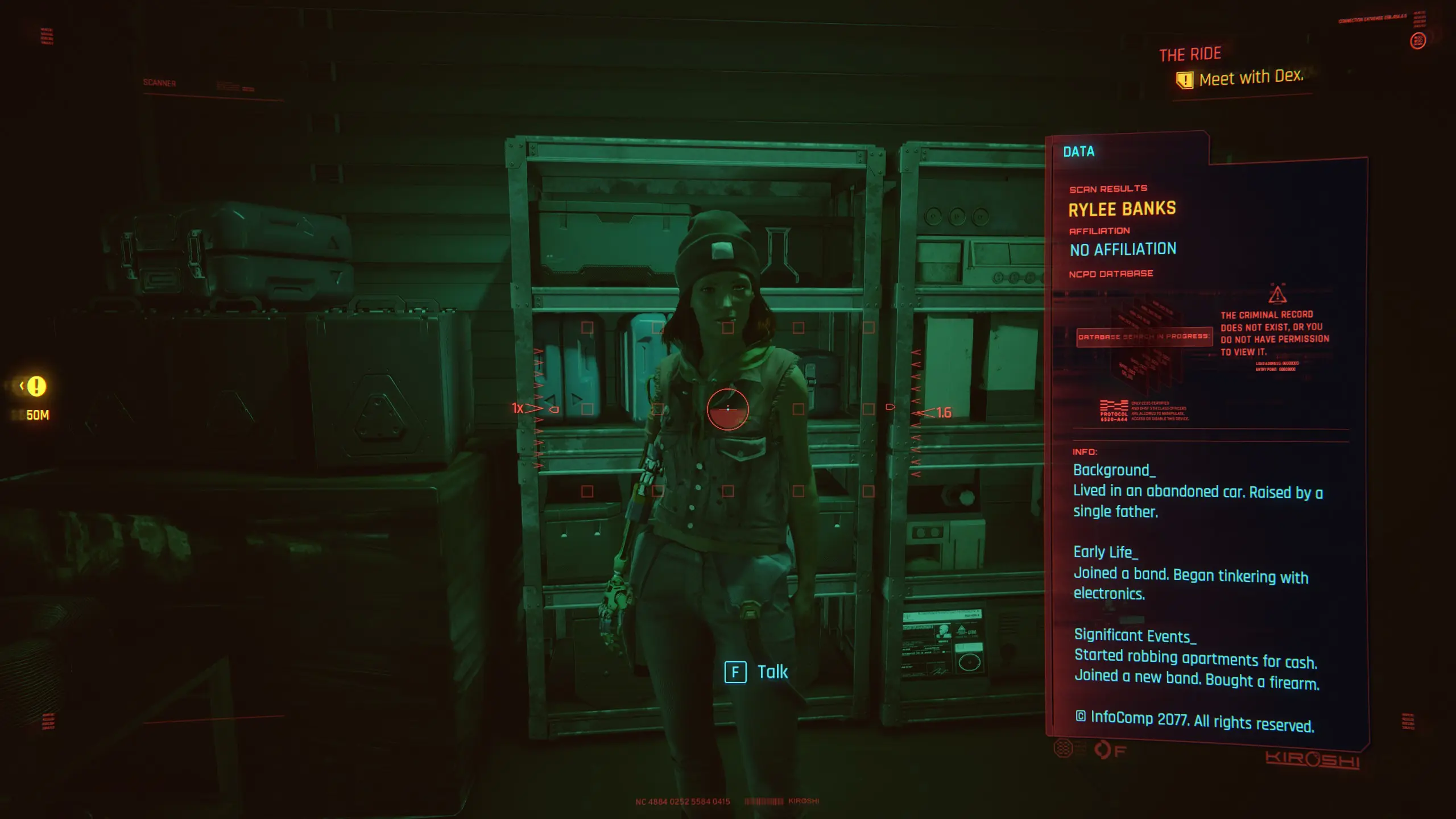 Notes

Tested and working with Cyberpunk's 1.3 Patch
You may see duplicate NPCs walking around with the same appearance/backgrounds. This is because of the way the game currently handles crowd spawning/despawning. Hopefully will be fixed in a future update by CDPR.
If you find any bugs or odd behavior, post a comment and I'll work to address it ASAP.

Roadmap

Generated stats for each scanned NPCs
Integration into other game systems/mods
Compatibility

Likely not compatible with other Redscript mods that modify the scanner device
Translations

Anyone willing to provide translations, please feel free to do! 
How To Make Translations

The
text.reds
file includes all the strings used within this mod. You'll want to modify each variable in that file with your translations.
Both male and female variants of text strings are defined in 
text.reds
. By default, male variant strings are not required, if it is not defined the female variant will surfaced. English text strings are generally written in a gender-neutral way so a lot of strings will have only "female" variants defined.  If your language is gendered you may provide a string for both the male and female variant strings which will be surfaced depending on whether the subject of the scan is male or female.
Once your translations are complete, you can replace the default
text.reds
 file with your translated version to test them out in-game.
Hosting Translations

Please upload your translations to Nexus and link them to this mod. Screenshot on how to do this: 
https://i.imgur.com/epT1n7J.png
To ensure that your translations are compatible with any updates/fixes for this mod be sure to include only the modified
text.reds
 file in your upload. You'll want to structure your uploaded zip file as follows: 
r6/scripts/backgroundScanner/text.reds.
 Your
text.reds
 file should overwrite the one in this mod.
Credits
Massive thanks to BadAssGodFather for his contributions/coming up with a ton of new events
Huge thanks to jekky for his excellent Redscript compiler
Based on the CP2020 Lifepath Generation Program by Mark A. Hassman
Thanks to everyone over at the 
CP77 modding discord