File information
Created by
Clanzion
Party Spawner Compatibility
Install the RandomizerComp pak first   Install Only this for compatibility PartyRandomizer 2

Install the PartySpawnerComp pak Party Spawner

Finally install the JukeBoxmod pak.

How to Install
Create a folder called ~mods in Steam\steamapps\common\CODE VEIN\CodeVein\Content\Paks\
if you don't have one


Put the .pak file in there.


To uninstall, remove the pak file.


Go to HOME BASE to activate the mod.

INCOMPATIBLE MODS

PVP
FIGHT ARENA
Party Spawner (Fixed)



MAIN FEATURES
Fully functional UI (currently lacking polish and sound)


The Ability to Change Hotkeys of mod functions


Random Roaming Enemies (untested)



Hotkeys Tab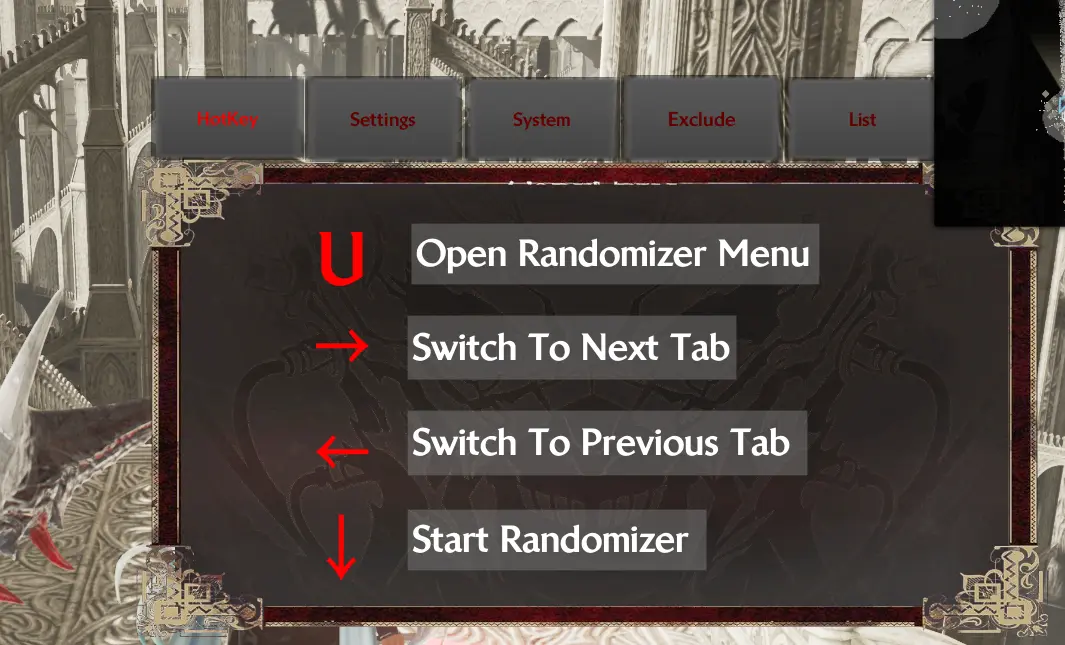 Down ArrowKey - Manually start the Randomizer in cases where it doesn't work such as ToT (Not Recommended) Doesn't work if the randomizer has already started once.


U  - can be used to both OPEN and CLOSE the User Interface



Settings Tab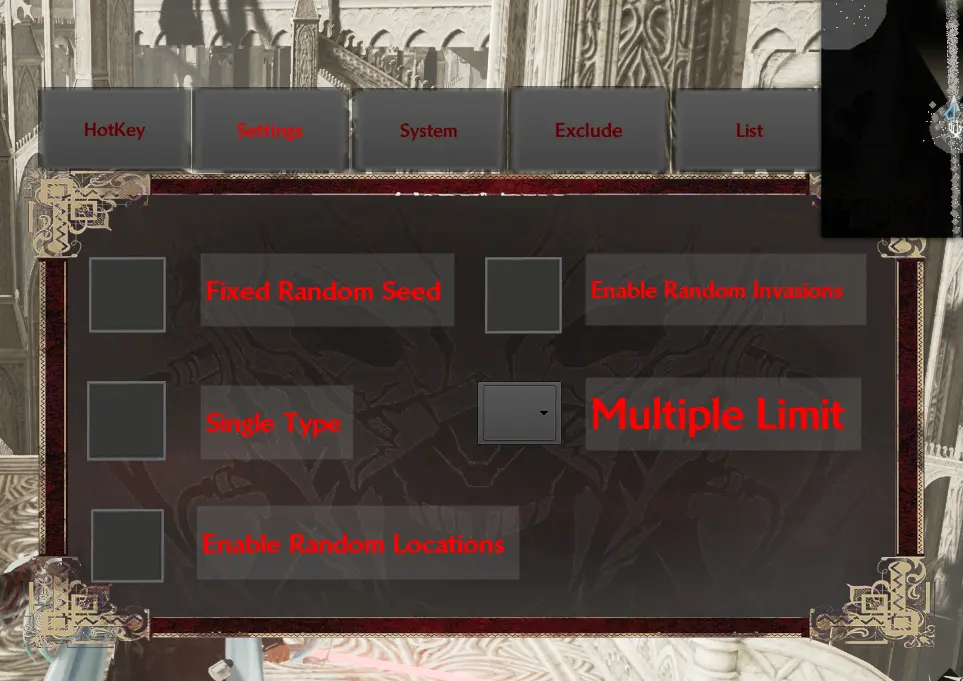 FIXED RANDOM SEED -  Removes complete randomness, making so that the same enemy types will appear.



SINGLE TYPE -  All enemies will be randomized to the same type. The enemy type changes each time you teleport or die.



RANDOM LOCATIONS -  Locations are completely random instead of taking the replaced enemy's location
ENABLE RANDOM INVASIONS -  Basically invasions with random enemies, a enemy type can be replaced with this instead.


MULTIPLE LIMIT - Max # of enemies to replace an enemy unit upwards to 10 (Recommended 3 MAX depending on your comp specs)



System Tab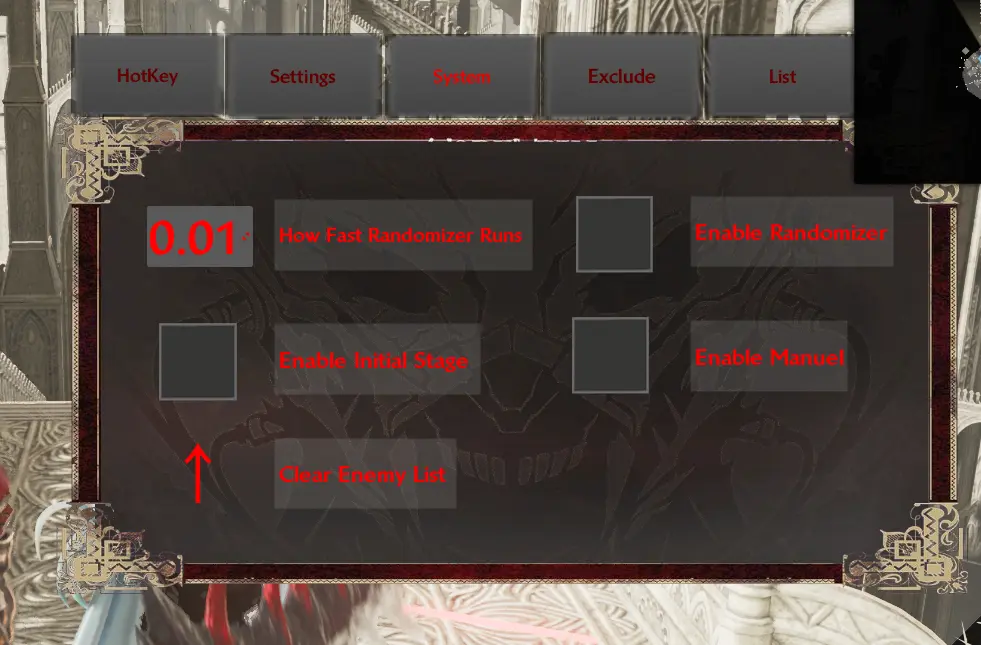 HOW FAST RANDOMIZER -  How fast do you want it to run? The higher the amount, the less severe the lag spike (generally brief) becomes but also much slower in randomizing depending on how many enemy types exists in the current area.



ENABLE INITIAL STAGE - Option removed, instead this stage will automatically fire the first time you teleport or move to a new area.



CLEAR ENEMY LIST - Clears the temporary enemy type list; needed when teleporting to new area but not when traveling.



ENABLE RANDOMIZER- Allows you to disable the automatic randomizer in cases where you don't want it to fire.



ENABLE MANUEL- Disables manual randomizing and clear enemy list buttons in cases where you might accidentally fire them when not wanted.



Exclude Tab

Allows you to add and remove enemy types over a range of values. To remove one type, make MIN and MAX the same number



List Tab

A list of all enemy types available to the randomizer, only the bosses are properly named while the rest are named according to their game files.


GREEN - Enemy Types are excluded from SPAWNING


 PURPLE/BLUE - Enemy Types are excluded from REPLACEMENT (ALL BOSSES)



Planned Features

Random idle animations for non roaming enemies


Support for cliffhangers


More randomness, such as constantly respawning enemy that does not die, or ridiculously tanky but weak enemies.



Credits

Big Thanks to skacikpl for his tool, IV DRIP https://www.nexusmods.com/codevein/mods/324


Shift for providing pretty most of the textures for the UI


The modding discord for their guides. https://discord.gg/VvfvWn9